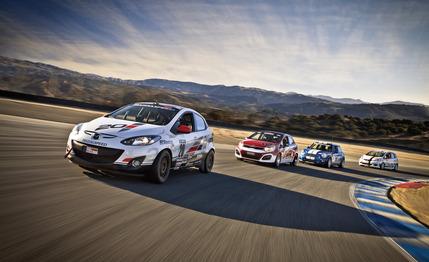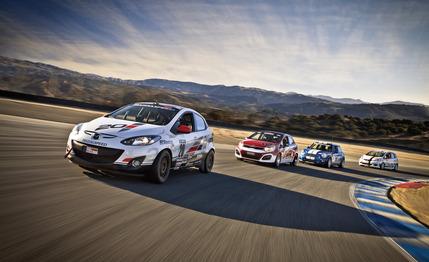 Comparison Tests




On the list of mankind's vital pursuits, racing ranks with procreation, fine dining, and the consumption of refreshing beverages. Speed is fundamental to any human's spiritual well-being. So, when the Sports Car Club of America (SCCA) tempted us with a new easy-entry B-Spec road-racing category, primal urges drove us to find out which of the four cars gathered here offers the quickest path to enlightenment.
We've trod this road before. Forty years ago, when the SCCA invented Showroom Stock sedan racing, Car and Driver took the bait. Within seven years, two editors had ascended the speed ladder to compete at the 24 Hours of  Daytona. Patrick Bedard, C/D's quickest shoe, accelerated from squalling econoboxes to Indy cars in a decade.


Like everything, Showroom Stock benefits from an occasional pick-me-up. Two years ago, Mazda's director of motorsports, John Doonan, and Honda's production racing authority, Lee Niffenegger (an engineer and two-time SCCA champion), met at a trade show to brainstorm ways of making entry-level classes more enticing. Niffenegger envied Mazda's status as the king of amateur road racing. Doonan smelled fresh blood.
Discussions focused on the smallest, cheapest cars in each brand's portfolio: the B-size Honda Fit and Mazda 2. Both were fun to drive and loaded with racing potential. Honda and Mazda exercised care to avoid past pitfalls—the tendency for Showroom Stockers to go stale after a few years and the uneven-playing-field syndrom, wherein the alpha models hog all the glory.
The B-Spec class that emerged resides in the middle ground between the SCCA's Showroom Stock category, where nearly no modifications are allowed, and its faster Touring classes where various engine and chassis alterations are permitted. Tinkering is encouraged, but no hard-core fabrication (beyond constructing a full roll cage) is necessary. Those on a tight budget can reach back to previous model years as their B-Spec starting point.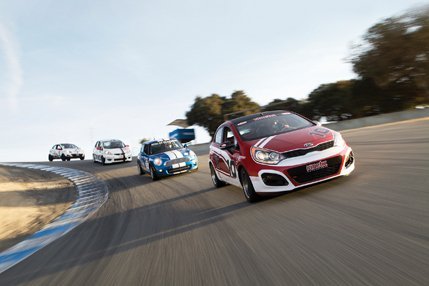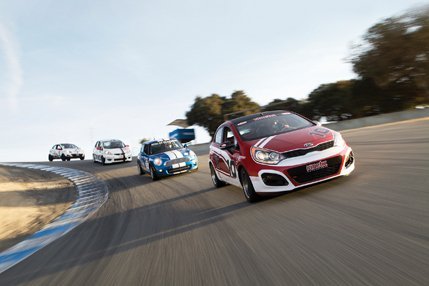 A high degree of portability was core to the B-Spec plan. To assure that one set of rules could play at several sanctioning bodies, interested carmakers maintained an open dialogue and limited the performance-enhancing changes to chassis areas (wheels, tires, brakes, suspension—see sidebar). To fix the weight-to-power ratio at roughly 23 pounds per pony across the board, consulting engineer Kevin Fandozzi determined an appropriate race-ready weight and intake restriction for every eligible car. A test of four cars driven by several drivers at a Michi­gan track and on a portable dynamometer confirmed that Fandozzi's recommendations were in the ballpark.
Two B-Spec cars made their track debuts in 2010 at the National Auto Sport Association's 25 Hours of Thunderhill event. This year, they're eligible to compete in nine support races held during three SCCA Pro Racing Pirelli World Challenge weekends and in six races run in conjunction with Grand-Am events. The SCCA currently grids B-Spec cars with Showroom Stock C (SSC) racers; when their numbers rise, the club is likely to grant this category its own class. A total of nine cars are eligible so far. In addition to the Honda Fit, Kia Rio5, Mazda 2, and Mini Cooper tested here, the B-Spec category is also open to the Chevy Sonic, Fiat 500, Ford Fiesta, Nissan Versa, and Toyota Yaris; our call to compete found none of those models ready to race.
In January, Voytek Burdzy of Schiller Park, Illinois, recorded the first SCCA B-Spec finish by driving his Mazda 2 to third overall in a field of  four SSC cars at a Sebring national race. That set the stage for our acid test: lapping Mazda Raceway Laguna Seca flat-out for a day to expose the category's highs and lows. Four C/D editors strapped in to buzz four Bs. Following tech inspection, we recorded extensive cornering, braking, and accelerating data to help prospective competi­tors place their bets on a car to take racing.


The first discovery was that none of the cars mustered for this test complied with the letter of the rules. Every car but the Mazda 2 was a touch lower than allowed. Intake restrictors installed in the Fit and the Rio were too large. The Mini Cooper was equipped with adjustable shocks (which we didn't adjust), and the Rio was more than 100 pounds underweight.
Our second revelation was that each prep kit did a fine job of converting a fun but floppy road car into a track demon. None of these cars tipped, dived, or wobbled when spurred to their impressively high limits. The most egregious mechanical foible was one loose wheel. All of the cars we tested will entertain drivers of  widely  varying skill levels. A week after the dust settled, our necks still ached from the sustained g-load punishment inflicted by these Bs. What they lack in chest-thumping power, this foursome makes up in tenacious grip, thanks to astute suspension calibrations and the sticky BFGoodrich g-Force R1 "street legal" slicks fitted to each car.