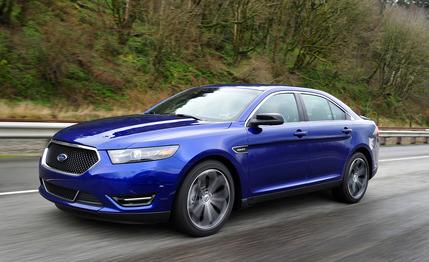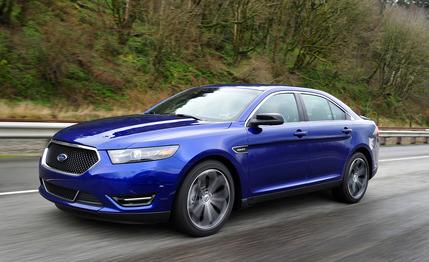 First Drive Review
Although it's upstaged by the glamorous 2013 Fusion—an all-new take on the mid-sizer slated to appear in showrooms later this year—Ford's updated 2013 Taurus looks to be a stronger player in the large-car game, with freshened styling, more engine options, NVH upgrades, and improvements to the MyFord Touch infotainment system.
That last item is important. Ford claims MyFord Touch has been a deal closer for many buyers, but the technology has been confusing to some, irritating to others, and prone to glitches and crashes, and it has provoked a barrage of media flak. It's also a major reason Ford plummeted in recent J.D. Power Initial Quality Study rankings, an important—if extremely flawed—metric for car shoppers.
The refinements to MyFord Touch include bigger touch-sensitive controls that don't require quite as much pressure to activate, control labels that are easier to interpret, simplified screen layouts, and larger display fonts. Like the evolution of BMW's iDrive control collective, the updated MyFord Touch system is easier for a novice user to understand and employ, although it's far from simple, with a voice-command element that can still provoke occasional user yelling.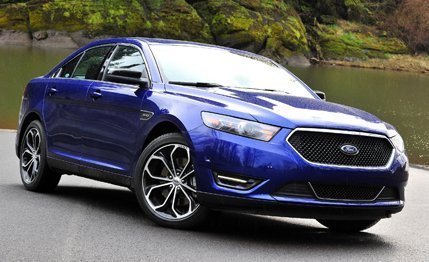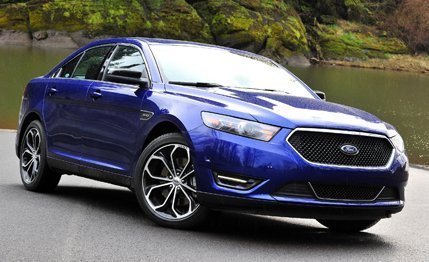 The Taurus Trimotor
For 2013, Ford adds its 2.0-liter EcoBoost turbo four to the lineup, making it the first four-cylinder for this car since 1991. The turbocharged-and-intercooled direct-injection four is rated for 240 hp and 270 lb-ft of torque and will command a price premium of $995 when it becomes available later in the model year. Ford expects this model to be the Taurus economy champ. Although not yet certified by the EPA, Ford projects fuel economy of 22 mpg city and 31 mpg highway. The standard Taurus engine continues to be Ford's familiar 3.5-liter naturally aspirated V-6, but the addition of twin independent variable camshaft timing raises output from 263 hp and 249 lb-ft to 288 hp and 254 lb-ft, and EPA ratings of 19/29 for front-drive models represent a gain of 2 mpg on the highway.
As for the version we had an opportunity to sample, the SHO, its twin-turbo, direct-injection 3.5-liter EcoBoost V-6 is unchanged at 365 hp and 350 lb-ft of torque. All three engines will be paired with six-speed automatic transmissions, each with its own specification tailored to the powerplant. All-wheel drive is standard with the SHO and optional with the naturally aspirated V-6; 2.0-liter turbo models will be front-wheel drive only.
Inside and Out
The 2012 Taurus SHO was far from raucous, but its successor boasts a noticeable reduction in ambient noise levels, thanks to a number of sound-deadening measures such as fabric-wrapped roof pillars, acoustical sealing, and wheel-well liners. Interior materials have been generally upgraded, with lots of soft-touch surfaces, and optional features include hedonistic goodies such as massaging front seats. A particularly welcome touch: Head restraints with four-way adjustability are now standard. Ford head restraints of the past few years, with their heavily forward-canted shapes, have been close to medieval in terms of comfort.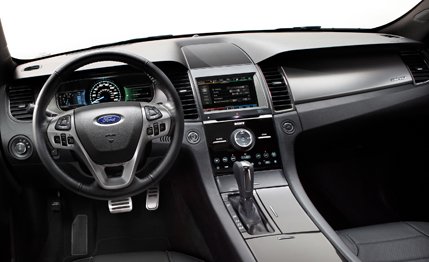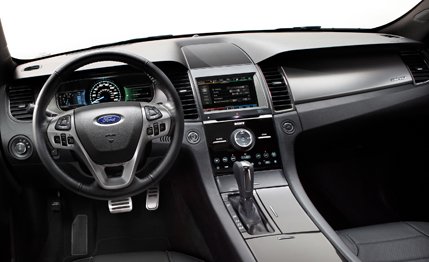 Exterior updates include a new hood design, a wider grille, a new lower fascia, redesigned LED taillamps, and wider wheels and tires that lend a bit more muscle to the car's appearance. The SHO gets more differentiation from its tamer stablemates with a new black mesh grille insert and a modest wing perched on the decklid. All models offer a new self-parking feature, as well as adaptive cruise control.
On the Road
Enhancements to the car's stability-control technology enable torque-vectoring functionality and what Ford calls "curve control." These features are aimed at helping owners who might otherwise find themselves mowing down the scenery in overly hasty cornering. Both involve selective application of the brakes based on input from the car's sensors.
Brake master cylinders in all models are bigger for improved pedal feel, and the SHO is set apart with bigger brakes. Performance of the upgraded system in our preview driving on wet Oregon back roads was impressive, with an easily modulated pedal and plenty of stopping power. The binders were one of the previous SHO's biggest drawbacks—besides its being big—as we experienced marked brake fade in our first road test. Our sample SHO was also equipped with a new Performance package—20-inch wheels with performance rubber, a quicker final-drive ratio, stiffer suspension tuning, and stability control with a "true off" track mode.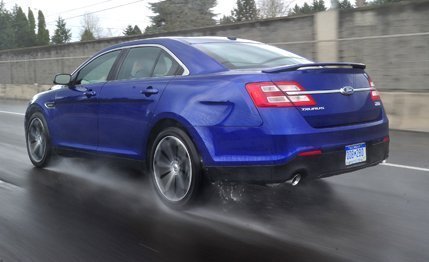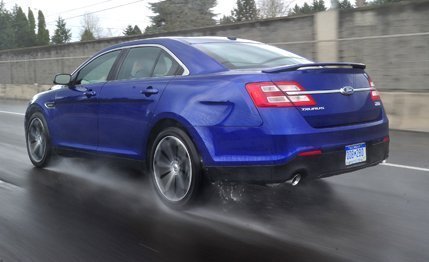 The SHO has a specially calibrated version of the Taurus's electric power steering, which was newly adopted for 2013. Although the system has a high degree of tactile secrecy in other applications—the 2013 Flex, for example—it performs well in the SHO, being quick and accurate.
The Bottom Line
There are four Taurus trim levels, beginning with the base SE sedan at $27,395. The mid-grade SEL starts at $29,595, and the fancier Limited goes from $33,795. SHO pricing starts at $39,995, and our preview SHO had $6480 in optional features—a voice-activated nav system, adaptive cruise control, and the Performance package with 20-inch aluminum alloy wheels.
The net, based on a short day of driving, is a Taurus SHO that should stand out among rivals with sports-sedan pretensions. It's agile, composed, quiet, and comfortable (as long as you're not in the tight back seat), with smooth, linear power delivery that holds up well against cars with prestigious German pedigrees. Given the lack of changes underhood, we expect performance figures to remain steady, with 60 mph coming up in a quick 5.2 seconds and the quarter-mile passing in 13.7. If this sounds good, you can check out the revised SHO on dealer lots right now.