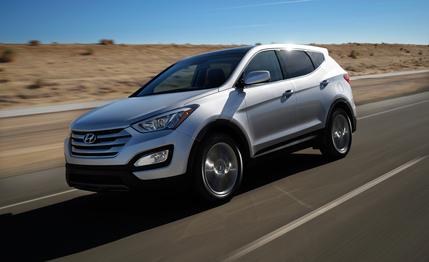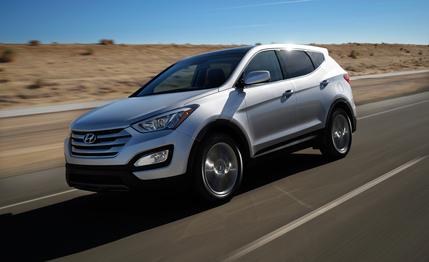 First Drive Review
Santa Fe. Simply reading the name of New Mexico's capital city immediately conjures visions of mountainous terrain, Southwestern mission-style architecture, and turquoise-bedazzled silver baubles. Positioned a lofty 7000 feet above sea level, Santa Fe is surrounded by miles of dusty roads and washes, some extending all the way to the desert floor. So when Hyundai invited us to sample the shorter, five-passenger version of its 2013 Santa Fe crossover with a 2.0-liter turbocharged four-cylinder engine, we packed our bags and headed to…Utah?
Rarefied Air
Even elevated as it is, the city from which this crossover takes its name can't quite match the 10,000-plus-foot peaks of Utah's Wasatch Mountains, the backdrop for our drive. Despite the altitude, the turbocharger kept the Santa Fe Sport supplied with air, and the ute had little trouble tackling the long, tortuous ascents and navigating dirt and gravel fire roads to heights of more than 8400 feet. With 269 lb-ft of torque on tap starting at 1750 rpm, low-speed hustling on the unpaved paths was easy. Likewise, the 264-hp four—it has 24 more ponies than does the direct-injected EcoBoost four in the Ford Edge and Escape—keeps a cool head during highway travel from 50 and up mph. We did notice a hiccup in the performance with the engine spinning between approximately 2700 and 3300 rpm, at which point it becomes a bit difficult to modulate the accelerator and maintain smooth progress. It's only a slight annoyance, and if the twin-scroll turbo engine's performance weren't so otherwise impressively smooth, it might not even be worth a mention. We looked down at the tach numerous times, only to find the needle hovering around the four's 6000-rpm power peak, the experience remarkably free of strain, vibration, and commotion. A naturally aspirated 2.4-liter direct-injection four with 190 hp and 181 lb-ft of torque is the base engine.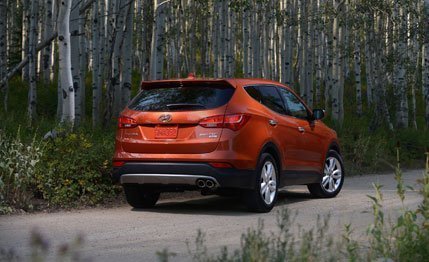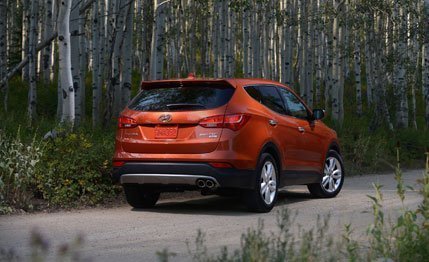 Every workplace has a nearly invisible taskmaster who keeps things running smoothly behind the scenes without calling attention to him- or herself, and the six-speed automatic transmission serves that role in the office of the Santa Fe's drivetrain. You can shift it manually via the console-mounted shifter, but you know the job is going to get done just fine automatically and, in most cases—mild off-roading excluded—probably better than you can do it anyway. That said, we're sad to see no manual is available, as Hyundai had been doing a decent job of offering sticks across most of its lineup.
The Santa Fes we drove were equipped with the optional all-wheel-drive system, a continuously variable setup that constantly monitors driving conditions to provide maximum traction. It also coordinates an electronic, brake-based torque-vectoring function in conjunction with the vehicle's stability control. According to Hyundai—and Magna, the manufacturer of the AWD coupling used in the Santa Fe—the system can even anticipate traction and stability needs by analyzing prior driving conditions. What this means to you is that the Santa Fe won't flip like a pancake the first time you enter a parking garage a little hot. Although the front axle can be "locked" via a dash switch, a Magna engineer riding with us explained that the shifting of output still remains variable to all wheels. It's only the threshold of slip that's raised, particularly when the front wheels are pointed straight ahead. The system remained transparent in both modes, even during short bursts of Paddy Hopkirk/Ken Block–inspired (pick your hero based on your age!) travel along dirt-lined mountain passes; we simply couldn't detect its operation. It's doubtful that the parking lot at Old Navy will offer up equally perilous terrain, but it's reassuring to know the capability is there.
Single-piston calipers pinch 12.6-inch rotors in front and 11.9-inchers in back. Steep descents of several thousand feet produced no fade. The pedal is conscious, but—as in most of the competition—its communication skills are a bit lacking.