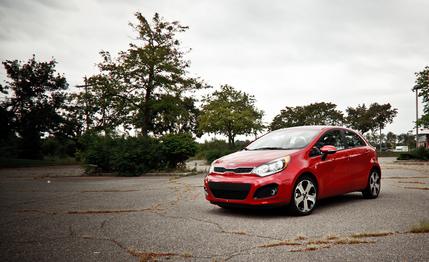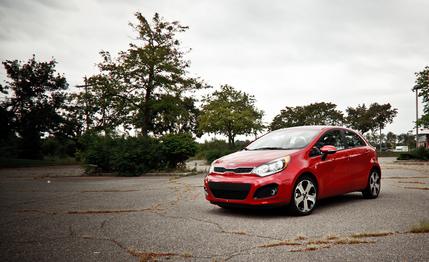 Instrumented Test


Car and Driver's global "Save the Manuals!" initiative works!
Rolling proof is the 2013 edition of Kia's Rio5 subcompact with upper-crust SX trim and a six-speed stick alternative to the automatic transmission selected by most shoppers. The SX-with-manual combo was previously forbidden as of the 2012-model-year redesign. Anticipating a manual take rate of five percent, Kia initially made the automatic standard in all but the low-rent, crank-window LX. Protests from C/D, other members of the fourth estate, and peeved customers prompted a rethink. Kia rectified the situation the simplest way possible: by offering its manual transmission in all Rio5s.
The specific remedy is a production run of 400 stick SXs built in one specific configuration. At a delivered price of $18,650, you get the regular SX gear—a sport-tuned suspension, 17-inch wheels and tires, high-grip cloth seats, split-folding rear seats, and a tilting-and-telescoping steering column—plus a few items transferred from the automatic model's optional Premium Equipment package: pushbutton start, navigation with a 7.0-inch display, and Sirius satellite radio. In other words, instead of issuing the $1000 or so price credit that comes with most other manuals, Kia filled the gap with extra equipment. The one hardship is that, if you can't live without leather trim, you're stuck with the six-speed automatic.
To gauge the benefits of full-driver-controlled transmission operation, we fed the Rio5 into our road and test-track evaluation regimen. What we found is that life with the stick is, for the most part, more entertaining.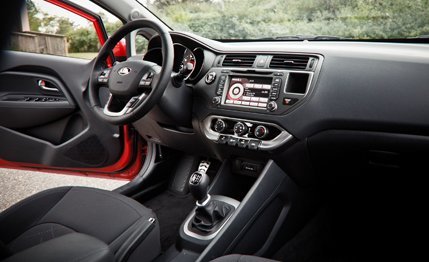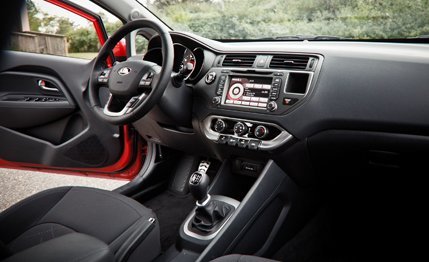 Compared with the automatic Rio5 SX that finished fifth in a six-car subcompact confrontation last year, this manual edition is about 100 pounds lighter and significantly quicker in accelerating. The run to 60 is trimmed from a turgid 9.5 seconds to a more enthusiastic 8.2; likewise, the quarter-mile dash is quicker by 0.6 second, and the trap speed rises by 2 mph to 83. We found the stick had the edge in cornering (0.81 g versus the automatic's 0.79) and that both Kias stopped from 70 mph in a bit over 180 feet. The manual car's Hankook Optimo radial tires are V-speed rated, but their all-season specification trades some dry-pavement adhesion for better wet and cold performance.
Kia did an excellent job of spacing the gear ratios in this transmission to provide decent launch performance, 60 mph at the top of second gear, and reasonably quiet highway cruising. Above 80, the engine starts to boom, but at legal speeds, it hums along at 71 dBA, a number comparable to that of our favorite subcompacts, the Honda Fit and the Mazda 2. More important, the Rio5 seriously lead-pipes those two five-speed competitors with its sterling EPA ratings of 30 mpg in the city and 40 on the highway. We logged an average 30 mpg during our driving.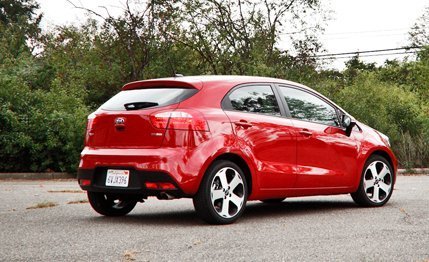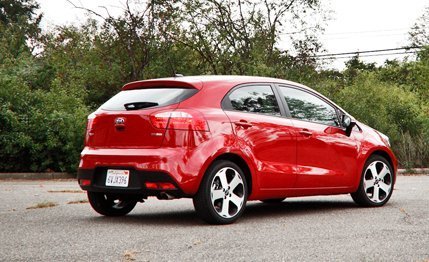 Unfortunately, all is not sweetness and light with the stick. The Rio5's brake pedal is firm and nicely calibrated to provide excellent feedback during stopping, but the clutch pedal is a numb turnip underfoot. Engineers responsible for those controls need to compare notes. In addition, the generally excellent shift linkage—it's light, smooth, and accurate in its operation—occasionally clangs out a metal-to-metal report. We're guessing it's the lever striking the edge of the metal floorpan opening during aggressive upshifts. We also noticed a nasty sag in engine output following a speedy 1-2 shift. That hesitation—it occurred not only at the test track but also during around-town squirts through traffic—easily adds several tenths to any acceleration run.
In spite of the few remaining rough edges, wider availability of a stick shift in the Rio5 is great news. The manual version is quicker, more entertaining, and over the long haul, likely to be more fuel efficient. We're impressed by the speed of Kia's response and its sincerity in reacting to customer feedback. It's a significant step for a brand that's serious in its desire to surpass current rivals—Chevy, Toyota, Honda, Ford, and Mazda—on its way to the top of the subcompact heap.