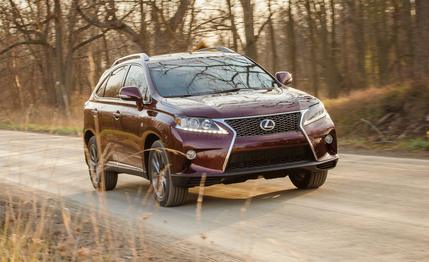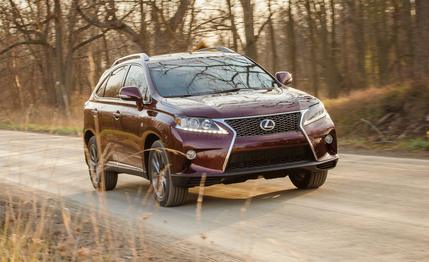 Instrumented Test


"Sport" is a term that gets almost as much use as "all-new" in the car biz, and seems to be just as elastic. Lexus employs both in its description of the RX350 F Sport, and both get a pretty good stretch.
"Sport" and "sporty" certainly are not words we've associated with the Lexus RX clan, which received a refresh for 2013 and includes the base RX350 and the RX450h hybrid. Descriptions such as "comfortable," "smooth," "posh," "roomy," and "quiet" all apply, but the idea that an RX350 might be entertaining to drive—so, uh, sporty—has not been among our perceptions. But according to Mark Templin, Lexus division general manager, the new-for-'13 F Sport is different, "a full-fledged performance package." Really?
Cross-Damping
There are two key elements that distinguish the F Sport from a base (if "base" is the right word for any vehicle in this class) RX350 with four-wheel drive. The first is a new eight-speed automatic transmission, complete with paddle shifters and the option of manual operation. It's limited among RXs, at least for now, to the F Sport. The standard RX350 carries on with the six-speed auto, and the 450h employs a continuously variable automatic. The second, and more intriguing, element is a suspension enhancement that Lexus calls "a unique lateral performance damper system."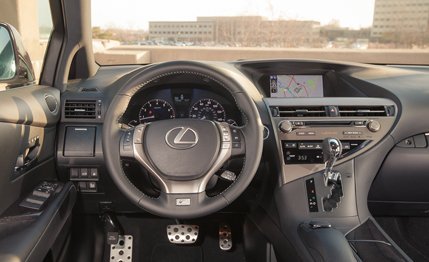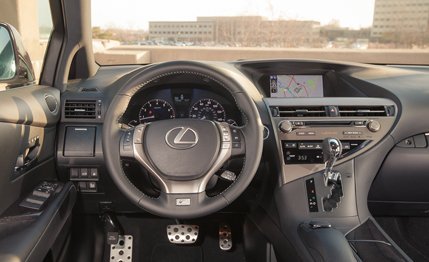 Unique in this case means unique to Lexus. The system is similar to the one used in the CT200h hybrid hatchback, a car that is exactly as sporty as a pound of mozzarella cheese. It consists of two braces that bridge the front and rear chassis rails; each includes an integral gas-charged shock absorber. Unlike a chassis enhancement such as a shock tower brace, which lends rigidity, the lateral dampers' function is to compensate for small body-shell deformations and vibrations. Lexus makes no claims for increased stiffness. Rather, by damping structural quivers, the system is designed to reduce vibration and enhance ride quality.
Beyond that, the F Sport's dampers and springs have a little more starch than the base RX350's, and 19-inch aluminum wheels wearing 235/55 all-season tires are par for the course. (An 18-inch wheel-and-tire package is standard on the RX350).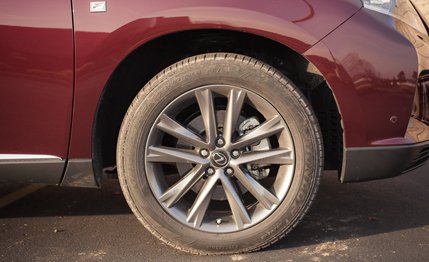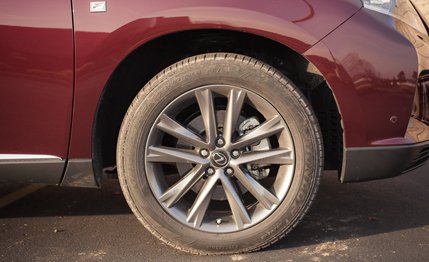 Pow-Pow-Powertrain
Powertrain distinctions between the F Sport and base RX350 are confined to the eight-speed automatic and the fact that all-wheel drive is standard on the former. The 3.5-liter aluminum V-6 is unaltered, and its output—270 hp, 248 lb-ft of torque—ranks near the bottom among competing SUVs and is down slightly in both measures compared with the 2010–12 RX. (Those models required premium fuel, whereas this one drinks regular unleaded, which accounts for the slight output disparity.)
Straight-line performance ranks midpack. Several competitors offer more output as well as forced induction, the 300-hp BMW X3 xDrive35i and the torquier 2013 Audi Q5 3.0T prominent among them. We haven't yet tested the new-this-year Audi, but the BMW hit 60 in 5.5 seconds. That said, the F Sport's 0-to-60-mph run—seven seconds flat—feels brisker than it is, largely thanks to its initial lunge when the light turns green. The last RX350 we tested, a 275-horse 2010 model with a six-speed auto, hit 60 in 6.8 seconds and weighed basically the same.