Instrumented Test


From the August 2013 Issue of
Car and Driver
TESTED
The '80s are back in style, or so says my wife after bringing home a teal-and-turquoise striped duvet cover from IKEA. It looks enough like an Ocean Pacific polo I wore in high school that I'm willing to believe her, but the five-door Chevy Spark puts the same sentiment in terms more understandable to car guys.
This modern interpretation of the classic econobox accurately captures the sluggish performance of small cars from the hair-band era. Remember double-digit zero-to-60 times and having to downshift a gear (or two) to maintain speed up a slight grade?


With a 1249-cc four-cylinder comes a very quiet riot. Making just 84 horsepower, the Spark hits 60 mph in 11.2 seconds and runs the quarter in 18.3 at all of 75 mph. That's just a bit quicker than a 1987 Ford Festiva LX, even one with a tape deck blaring Whitesnake through Pioneer 6x9s. When the Spark's tach is below 3000 rpm, you might as well get out and push. Even near its 6400-rpm power peak, it feels gutless, leading to aborted downshifts when the realization comes that hunting for more power will only over-rev the engine. A good workout with a five-speed 'box is one of life's great pleasures, but in the Spark it becomes butter-churning drudgery.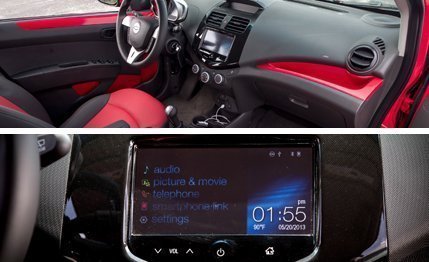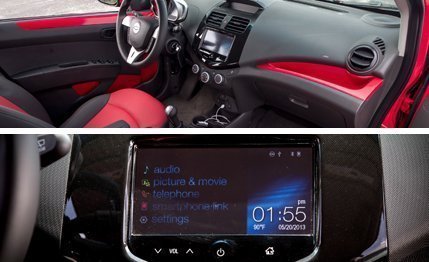 Gleaming the cube—outdated skater-speak for pushing limits—isn't much fun either. The Spark's steering is electric in only the literal sense. It's light and overboosted and offers a few degrees of play off-center before it flicks the front-driven wheels into action. A suspension as tight as a B.C. Rich's high-E string is welcome, but limited travel means high-amplitude bumps send the 2299-pound subcompact smacking its stops with all the force of Lars Ulrich. Heavy braking gets the car all sketchy, and plenty of body roll reinforces its marginal cornering abilities: 0.79 g on the skidpad.
At least on the inside the Spark is of this century, so much so that there's no CD player offered, an omission made palatable by Chevy's excellent MyLink infotainment interface, which works with a smartphone to deliver music, apps, and navigation. You'll have to step up $1600 to the LT trim from the $12,995 base LS model to get it, but all Sparks include amenities like power windows and locks, air conditioning, and 15-inch aluminum wheels. The interior is a nice enough combination of petrochemical products, and the design is simple with good panel fit. Options are limited, but your Chevy dealer can install body-colored inserts in the dash and door panels for $140, which is $815 less than Porsche will charge to do the same to your 911.
So the Spark is not a sports car. It's not even much of an everyday car, but it does take a shot at being an American-sized city car, with rear doors and a back seat that can hold two adults in a pinch. It's too bad, then, that its fuel economy isn't all that great (we saw 33 mpg) and its price is not cheap enough that a more substantial car, like Chevy's Sonic, ends up making better sense. One of  these days, a carmaker might solve that Rubik's Cube, but GM hasn't done it here.