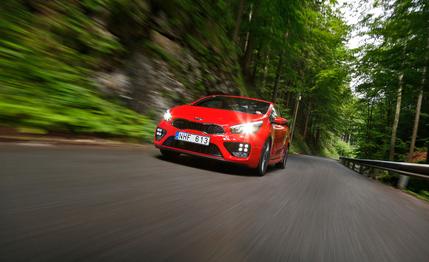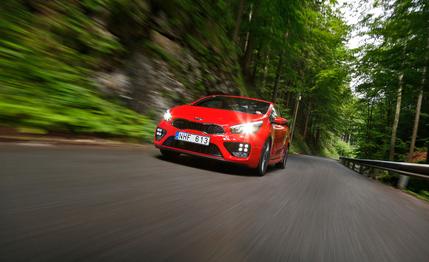 First Drive Review
The inexorable rise of Kia is a success story that few anticipated—perhaps not even its own parent, the Hyundai Motor Company. A combination of steadily improved reliability, proven technology, and great design has catapulted the brand forward and, at least in sales, ahead of a few well-established competitors. Kia's model strategy is tailored to each market. For the U.S. and Asia, Kia offers the Forte in as many as three forms: an awkward-looking four-door sedan (called the K3 in some markets), a five-door hatchback, and the two-door Koup. Europe gets the distinctly styled Cee'd family instead, consisting of a five-door hatchback, a station wagon, and a three-door Pro_Cee'd hatchback (pronounced, "proceed").


The previous generation of the Cee'd and Pro_Cee'd was easy on the eyes, but the two were merely average performers on the road. Now Kia aims higher with a GT version, powered by Hyundai-Kia's 1.6-liter turbocharged and direct-injected Gamma engine. This four-banger already puts the squeeze on the hot version of the plucky Hyundai Veloster and will soon be launched in the U.S.-market Kia Forte five-door and Koup. But the European Pro_Cee'd is arguably the most-sophisticated-looking vehicle so far to feature the turbocharged Gamma. Styled in Europe under the tutelage of Gregory Guillaume, it is one of the most attractive vehicles in its class. The GT version is differentiated from the regular Pro_Cee'd largely by its aggressive lower front fascia.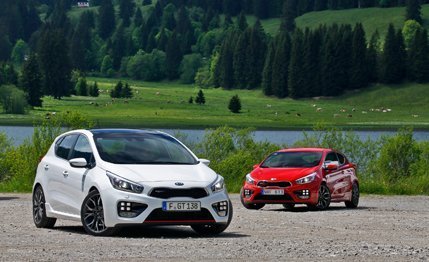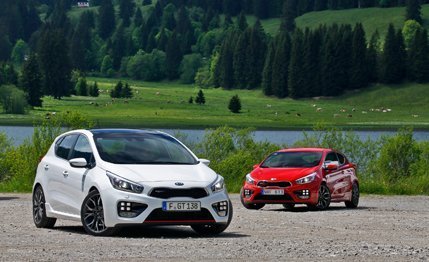 In terms of practicality, the three-door Pro_Cee'd is only slightly inferior to the five-door Cee'd, which is also available as a GT version. The driver and the front passenger enjoy ample space, and the back seat is comfortable enough for two passengers once they have wriggled their way aboard. The driver-oriented dashboard is upscale-looking, with a high-definition center display that can be configured to show an analog-look speedometer or a digital one with a torque and boost-pressure meter. The contrast-rich screen is sharper than those on premium models by carmakers such as Jaguar or Cadillac.
Putting on the Squeeze
The GT's 1.6-liter turbo produces 201 horsepower at 6000 rpm and serves up 195 lb-ft of torque at 1750 rpm. Mated exclusively to a satisfactory six-speed manual transmission, it propels the car to 60 mph in an estimated 7.2 seconds and on to a drag-limited 143-mph top speed. Kia says the sound is tuned to be sportier than on the regular Pro_Cee'd, but we still feel it leaves quite a bit to be desired. We hear that, down the road, Kia will offer a sport package that includes an intake-sound enhancer, such as that found in the Ford Focus ST. (The Pro_Cee'd GT we drove will cost €19,319 in Germany. For comparison, a Focus ST is €22,640, and a three-door VW GTI goes for €23,227.) Eventually, the turbocharged Gamma engine will be mated to an optional seven-speed dual-clutch automatic; the six-speed slushbox currently offered in other markets is obviously deemed unworthy of European customers.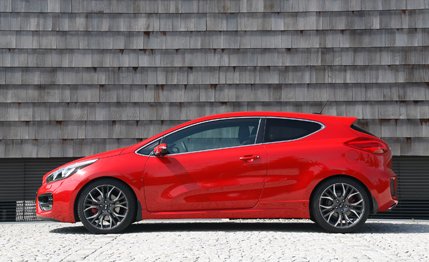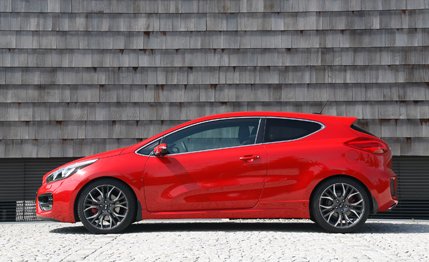 Kia's chassis and suspension technology was in dire need of catching up with the competition, and progress has been made. The GT models in particular benefit from stiffer dampers, higher spring rates, stiffer front bushings, and a larger rear stabilizer bar. Standard rolling stock includes 225/40 tires on 18-inch aluminum wheels. Body motions are now much more predictable, and there is far less roll in corners than in previous models. Brake feel could use more precision, and the steering needs to brush up on its communication skills. Nevertheless, there is sufficient power to make this a fun car to drive quickly, and that is a huge step in the right direction.
Kia has launched its share of interesting cars in the past few years, but more often than not, the vehicles did not deliver what the styling promised. Not so with the Pro_Cee'd GT. It doesn't just look great; it comes as a well-rounded package that's more prepared than ever to take on the established players. Let's see if this newfound sportiness finds its way into the brand's upcoming U.S.-market offerings.