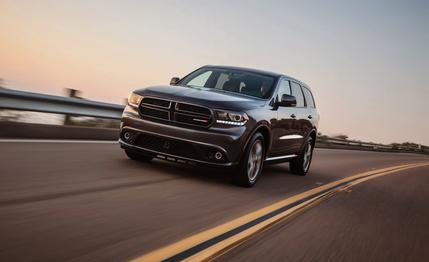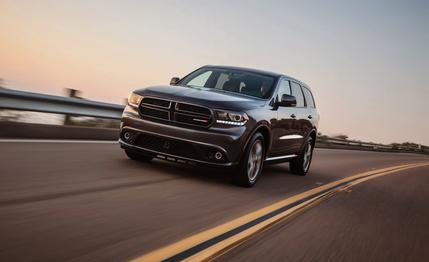 First Drive Review
With its glaring, squinty eyes; jutting cross-hair nose; and wide, muscular stance, the current Dodge Durango hit the market for the 2011 model year as no shrinking violet. It's now been updated for 2014, and it cops even more attitude than before. Designers shaved down the height of the grille, made the headlamps squintier, and added LED running lamps. At the rear, the '14 Durango inherits the ringed, "racetrack" taillamp treatment from the Charger, a hard-to-ignore 192-LED parting shot that accentuates the truck's wide stance.
Big, but Not Huge
The Durango rides a stretched version of the unit-body platform that underpins the Jeep Grand Cherokee. A tweener among SUVs, it's bigger and heavier than front-drive-based three-row mid-sizers such as the Ford Explorer, Honda Pilot, and Toyota Highlander and smaller, more fuel-efficient, and a bit more nimble than rear-drive-based full-sizers such as the Chevy Tahoe and Ford Expedition. Yet it's Chrysler's largest SUV, comfort food for Pentastar fans interested in generous towing capacity (up to 7400 pounds) and the easy torque of an available V-8.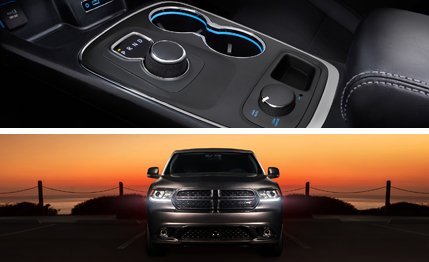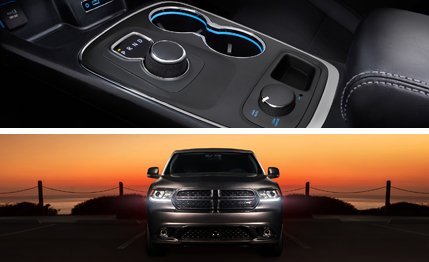 That V-8 would be Chrysler's 360-hp, 5.7-liter Hemi, back for a return engagement for 2014, despite ever-tightening fuel-economy regulations. The 5.7 V-8 keeps its fuel-saving cylinder-deactivation system that idles four cylinders when cruising under light load. Also helping in that department is a new eight-speed automatic transmission, complete with a rotary shift knob (like that of the Ram pickup) and steering-wheel-mounted paddle shifters for full manual gear control. The ZF-sourced automatic offers a wider ratio spread than that of the six-speed autobox offered in 2011–13 Hemi-powered Durangos, and EPA highway estimates improve from 20 to 22–23 mpg for 2014, depending on the driveline.
Shifting Fortunes
The eight-speed makes an even larger difference behind the Durango's standard 290-hp, 3.6-liter Pentastar V-6 (295 horsepower in the Rallye), which was hooked to a five-speed automatic in previous years. Combined with a shorter final drive and lower first-gear ratio, the 2014 version of the V-6 moves out smartly from rest, and the smaller steps in the eight-speed's gearing allow the engine to stay in the fat part of its torque curve more of the time, making for pleasing drive quality and good response, even at part throttle. Because the V-6 now doesn't have to work up as much of a lather, you don't have to step into the throttle as deeply.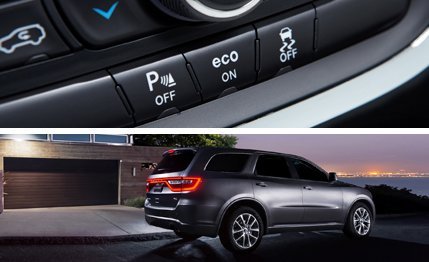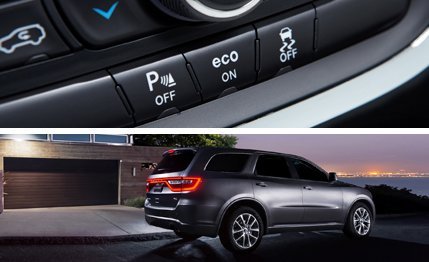 Also new with the 2014 engines is an Eco mode (good for about 1 mpg) that offers a less aggressive throttle calibration and earlier upshifts under light load. Eco mode is the default condition on startup, but it can be deactivated (allowing quicker throttle response and higher revs) for more-spirited driving at the push of a dash button. That latter characteristic most certainly helps with the Durango's EPA ratings, which improve from 16/23 mpg city/highway last year to 17–18/24–25 this year. Multiply those highway estimates times the Durango's largest-in-class 24.6-gallon fuel tank, and you could go 600-plus miles between fill-ups.
Serious four-wheelers take note: The Hemi versions of the Durango are still available with a 4WD system with a 2.72:1 low range for crawling over terra unfirma. And Durango V-6 models can be had with an on-demand all-wheel-drive system, albeit with no low-range option. But for the most part, the Durango remains a stylish, aggressive-looking truck with available V-8 power, plenty of towing ability, and some new fuel-economy technology lurking behind its menacing face.