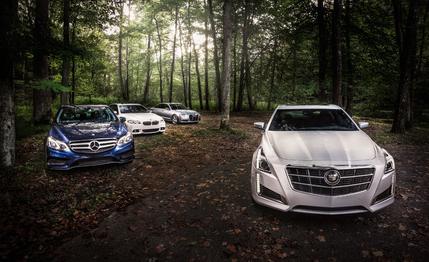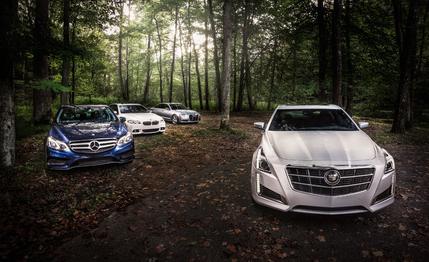 Comparison Tests


From the December 2013 Issue of
Car and Driver
TESTED
Behind the rural gas station that serves as Car and Driver's pork-cracklin's-and-beer depot during southern Ohio comparison tests squats a small, unadorned cinder-block structure slathered in white paint. Somehow, we'd never noticed this building on previous trips. It has a central glass door flanked by two small windows. All of the glass is blacked out. A handwritten sign taped to the door indicated that the establishment was open and warned that alcoholic beverages and smoking are not allowed.
Because we are pure of heart, we naturally assumed this was some sort of sex shop for locals who hadn't yet discovered the internet. Or maybe it was the clubhouse of a Satan-worshipping sewing bee. Or could it be an NSA outpost posing as the clubhouse of a Satan-worshipping sewing bee? So, with sunflower seeds and Twizzlers in hand, we pushed open the door. Now, I want you to imagine the scene in Animal House where the guys enter the Dexter Lake Club with their dates and there's a moment of stunned silence from everyone. It was like that, only there was no Otis Day and the Knights or dancing couples. There were instead about 12 eyes staring at us in a way not unlike those of a raccoon you've discovered digging through your trash can behind the garage.  And the only light in this one-room structure, other than the Tuesday-afternoon sun now streaming in through the door, came from video-gaming machines that lined the walls to our left and right. Eventually, the dude standing on a small platform at the back of the room called out, "Well, hey, guys! Come on in." The gamblers turned back to their machines.
"Oh, well...uh...we've got to go do the...thing...with, uh...thanks."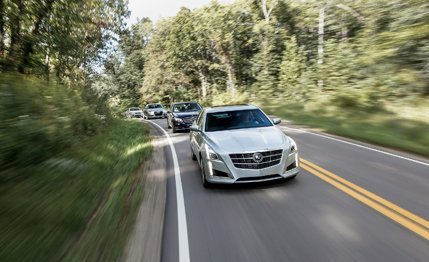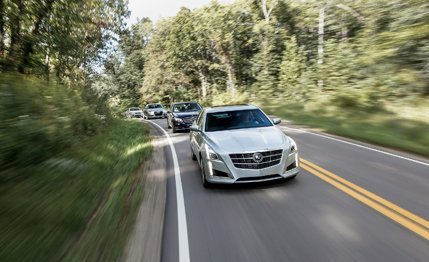 What does this reveal about the state of the mid-size-luxury-sedan market? Or the probability that the Cadillac CTS, now in its third generation, can compete in a straight-up fight with the German sedans that inspired it? Not much, except that if you want to afford one of these four vehicles (with an average as-tested price of $65,228), you're probably going to want to stay out of cinder-block buildings behind gas stations.
We hopped in our Radiant Silver 2014 CTS (with sassy polished 18-inch wheels) and blasted back into the Hocking Hills, where we would reconvene with the rest of our group. They were busy trying to figure out how far an average adult-male human would have to walk to be equivalent to a one-inch caterpillar (named Aaron) moving 11 feet.
Here were parked our contenders. Our rear-wheel-drive CTS received motivation from the mid-level engine choice, a 321-hp 3.6-liter naturally aspirated V-6. It's the slightly up-powered version of the 3.6 familiar from the previous CTS. Our test car wore Premium-level trim, which brings a huge load of both useful and frivolous features, such that it stickered for $67,075. A less-opulent CTS with the same engine can be had for about $55,000.
The three other cars were the established triumvirate that Cadillac has been stalking for the past decade or so. First up: the reigning comparison-test champ, 10Best-award winner, and all-around agreeable car, the Audi A6. We opted for an A6 with its mid-level engine option, the 310-hp, supercharged 3.0-liter V-6. The Audi is the only  vehicle in this test not significantly changed from last year. It carries the comparo's lowest as-tested price of $62,745, even while equipped with optional adaptive cruise control and a sport package among other less costly stuff.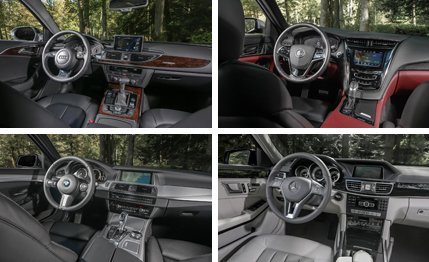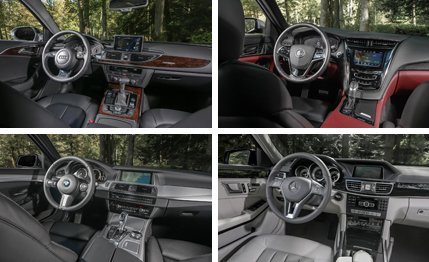 Clockwise from top left: Audi A6, Cadillac CTS, Mercedes E350, and BMW 535i.
Next is the model that was once the ultimate bogey for Cadillac: the BMW 5-series. Specifically, we asked for the face-lifted-for-2014, rear-drive 535i. That not being available, we accepted a four-wheel-drive 535i, powered by the 302-hp, turbocharged inline-six. Thanks to its M Sport package ($3150) and a couple of expensive convenience bundles, the 535i rang in as our priciest entrant at $67,600.
To finish out the German trifecta, we grabbed a Mercedes-Benz E350, which, like the BMW, has been face-lifted for 2014. Ours wore the "sport" version's curvy new nose, not the staid face of the "luxury" model. This means it carried no Alterman-satisfying hood ornament, but, according to the window sticker, it came with a "lowered sport suspension." Try as we might, we could not find any evidence of sport in the suspension. But with leather seating and a whole bunch of infotainment features, our E350 arrived with a comparatively reasonable $63,490 price tag. It is powered by a 302-hp 3.5-liter V-6.
The Lexus GS350 would be eligible for this competition had it not already lost a comparison test to the Audi. So it was just Cadillac versus Germany. And, sadly, we could find no competitor with a real name—just a mess of numbers and mostly capitalized letters.
We noticed as we drove away from the gas station in the brick-shaped CTS that its fancy, dual instrument-panel screens with their fancy multicolored animations bore some resemblance to video-gaming machines. Coincidence?