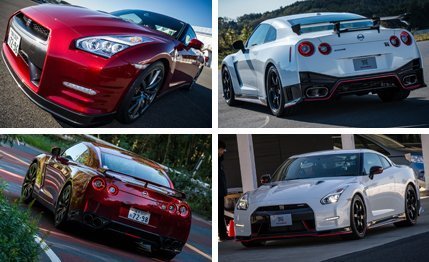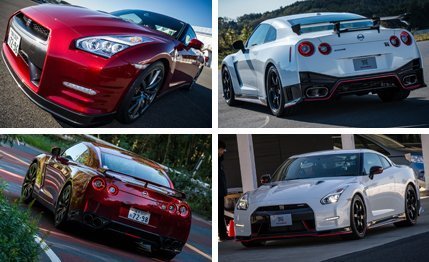 Prototype Drive
Hyundai's ambitious 2009 Genesis sedan targeted top-tier luxury brands but landed alongside the Chrysler 300. Falling short of the lofty goal was hardly a failure, though. Packed with features and convincingly upscale, the Genesis lacked only the chassis refinement of the established German and Japanese luxury competition. With rear-wheel drive and a near-$40,000 price, the Genesis proved Hyundai could play in a new arena, and the simple fact that it wasn't a sales flop, a marketing debacle, or a dynamic embarrassment was license for Hyundai to refine the original formula into a better second-generation Genesis.
It's that second attempt at cracking the luxury market that has brought us to South Korea, where it quickly becomes clear that the 2015 Hyundai Genesis, code name DH, is just as big a deal for the determined Koreans as was the first car. Hyundai flew us 6600 miles to Seoul and bused us another two-and-a-half hours to drive fewer than 10 miles in the confines of the Namyang R&D center. Our driving impressions might be limited, but there's no lack of evidence of Hyundai's shifting mind-set. The new-generation car clearly has BMW in its crosshairs.
Steely Good Looks
If you can get past the blunt front end, the Genesis possesses the handsome proportions of a proper sports sedan. The new model is 0.2 inch longer, and the wheelbase has grown by three inches. With the A-pillars largely unmoved, the extra stretch between the wheels gives the impression of a longer hood while allowing for the trendy sloping roofline. Hyundai calls the Genesis's new style Fluidic Sculpture 2.0, although any connection to the Sonata's original Fluidic Sculpture design language is lost on us. Not that we're complaining. We prefer this Genesis's cleaner, more-subtle lines and tasteful brushed-aluminum accents—you won't find a lick of chrome inside or out—even if it isn't as beautiful or resolved as an Audi.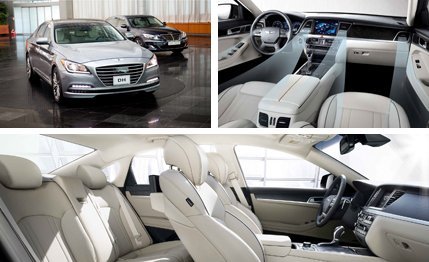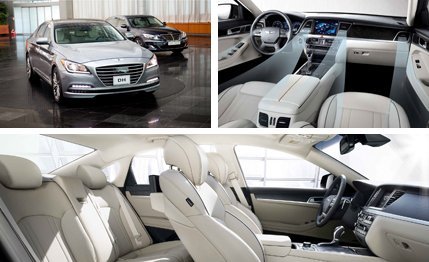 Beneath the skin, the structure consists of more ultra-high-strength steel than mild steel, a point that Hyundai emphasized by dr'iving a Genesis into a wall at 35 mph while we watched. Although its preponderance of ultra-high-strength steel is high for any car in the industry, the Genesis doesn't use aluminum for a single body panel or structural component. Consequently, the Genesis bucks the trend of slimmer Hyundais and swells by roughly 130 pounds compared with its predecessor. And that's before you add in the weight of the new, optional all-wheel drive. The system, known as HTRAC, was developed in conjunction with Canadian supplier Magna and uses a baseline front-to-rear torque split of 40/60 percent. HTRAC has a wide bandwidth and can send up to 90 percent to the front wheels in slip conditions or as much as 100 percent to the rears at high speeds.
Focused on Fundamentals
As in the outgoing model, the new Genesis offers the choice of a 3.8-liter V-6 or a 5.0-liter V-8, each paired with Hyundai's home-grown eight-speed automatic. Outputs haven't been confirmed, but don't expect significant changes from the current ratings of 333 and 429 horsepower. There is no engine stop-start system, and Hyundai has no plans to offer a four-cylinder or diesel as the Germans do, so the new Genesis isn't likely to be substantially more efficient. That's a reminder that Hyundai is plenty busy trying to dial in fundamentals like handling and ride quality.
Even as the luster wears off some vehicles wearing the Bavarian roundel, the Koreans have plenty of polishing to do if they're going to achieve dynamic parity with BMW. Engineers note they made the obligatory pilgrimage to Germany's Nürburgring Nordschleife with the new Genesis, as if a passport stamp qualifies for membership in the exclusive ranks of honest sports sedans. Our condensed test drive suggests Hyundai has made strides, but the Genesis still isn't a serious threat to the Audi and BMW establishment. The Genesis's adaptive dampers now can be controlled independently side to side to firm up the outboard shocks and soften the inside units in corners, yet we experienced ample body roll on Hyundai's handling track. A midcorner wrinkle in the asphalt course also set the rear end wallowing in a distinctly unsporty manner.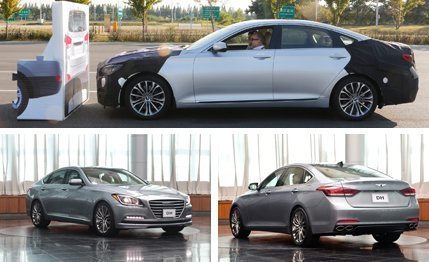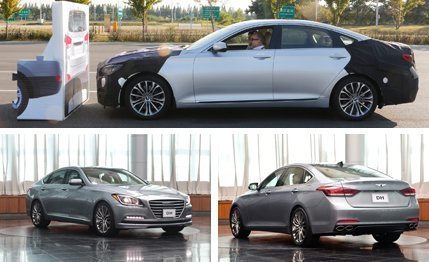 The outgoing car's hydraulically assisted steering has been replaced by an electric power-steering setup working through a variable-ratio rack. Notably, this is Hyundai's first use of a rack-mounted assist motor, as opposed to a column-mounted unit that increases the inertia and friction in the linkage and saps steering feel. We were pleasantly surprised by a helm that's more linear and less rubbery than those of the previous Genesis and other electrically assisted Hyundais. Yet the greatest boon to handling might be the lower H-point of the front seats; piloting a Genesis now feels like driving a car rather than a crossover.
Our chief complaint with the outgoing car had more to do with comfort than cornering behavior. The old Genesis was crippled by limited rear-wheel travel that led to stilted impacts over expansion joints and potholes. We're told engineers have addressed this problem by sacrificing some trunk space to reposition the dampers, but our drive offered no opportunity to experience impact absorption, so we'll have to wait for a longer drive to pass judgment there.
Practice Makes Perfect
There's no shortage of ambition at Hyundai, but we can't shake the feeling that its engineers still operate under a belief that luxury and sport are boxes to be checked, not experiences to be crafted. Those who succeed in this segment know it takes a practiced, talented team to perfect the integration and execution that make a good sports sedan. Hyundai might not have the know-how to threaten the BMW 5-series just yet, but this new Genesis is precisely the kind of experience that moves the Koreans one step closer to their goal.