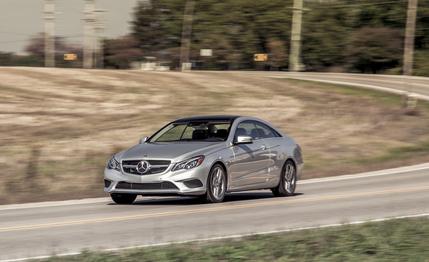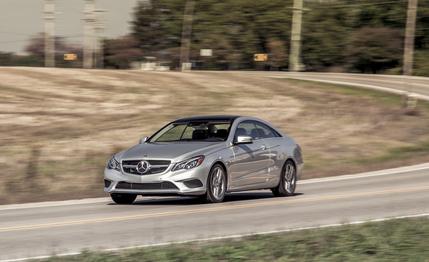 Instrumented Test TESTED
Try punching in the following criteria for your next car search: two doors, swoopy styling with a long hood and short rear deck, minimal ground clearance, sticky low-profile tires, and a prestigious logo. What does that say to you? Sports car? Grand touring? What kind of car do you think might get spit out?
The coupe version of the redesigned Mercedes E-class might pop up. It's neither a GT nor a sports car, but sports coupe isn't a stretch, especially if your concept of this vehicle type doesn't necessarily require big horsepower. Aside from megathrust under the hood, the 2014 E350 coupe has pretty much everything one might desire in a personal luxury car—flowing sheetmetal, an elegant interior, symphonic audio, track-day bucket seats, and an athletic suspension.
This is not to say the standard E350 suffers from a power shortage. Its twin-cam 24-valve 3.5-liter V-6 provides yet more proof that internal combustion is a long way from finished, courtesy of a high compression ratio (12.0:1), direct injection, a short stroke, variable valve timing, a lofty 7000-rpm redline, and a healthy 86.2 horsepower per liter.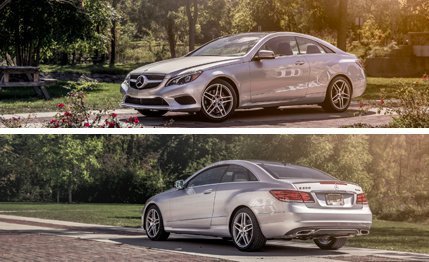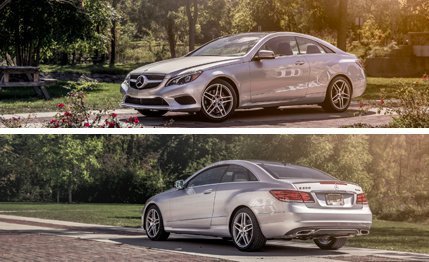 The output specifics are 302 horsepower at 6500 rpm and 273 lb-ft of torque at 3500 rpm. That might seem a little tepid compared with the 402 horses and 443 lb-ft on tap from the E550's 4.7-liter V-8, and it becomes absolutely pallid compared with the heady output of the E63 AMG sedan's twin-turbo 5.5-liter V-8 (550 horsepower and 531 lb-ft) and the even headier E63 AMG S (577 horses and 590 lb-ft). And let's not forget the twin-turbo 3.0-liter V-6 (328 horsepower and 354 lb-ft) that's on the near horizon for the U.S. market, propelling the E400.
Nevertheless, allied with Mercedes' sweet seven-speed automatic, the naturally aspirated V-6 generates enough snort to propel this all-wheel-drive, two-ton coupe to 60 mph in 5.5 seconds and across the quarter-mile stripe in 14.2 at 100 mph. Yes, the E550 will knock about a second off that 0-to-60 sprint, and the AMG version (sedan or wagon, no coupe) will reduce the time-to-speed by about two seconds. But those upticks come at considerable expense: Add more than $4000 for the E550 4MATIC coupe and north of $35,000 for E63 go power. But how fast do you need to go?
Transmission Factor
The smooth and quiet demeanor of the V-6 make it an amiable traveling companion in its own right, but the seven-speed automatic is equally important in making the most of the available output. However, drivers seduced by the right-now shifting of the Volkswagen and Porsche dual-clutch gearboxes won't be particularly impressed with the response speed of the Benz's paddle shifters—although they're certainly no worse than average in this respect. Also, our test track report noted that the transmission "does not hold gears in any shift mode."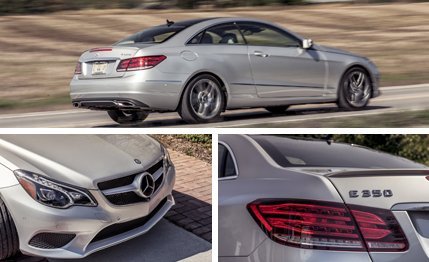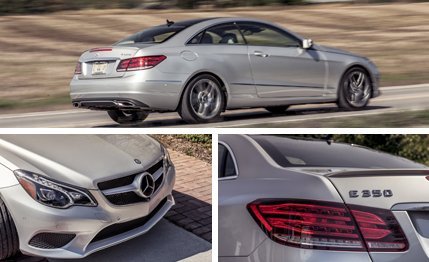 Impressive by anyone's standard, though, is the way the transmission responds when it's employed as a conventional automatic. Upshifts are smooth, tangible enough to reassure the driver that he's not driving a CVT, and downshifts are just a toe tap away. Check the 30-to-50- and 50-to-70-mph times. The seven-speed will kick down from top gear to third or even second in what feels like a nanosecond, always matching the right gear to the driver's demand.
---
• Sign up for the
C/D
newsletter for reviews, news, and more
---
In the same vein, the E350's stop-start system continues to be among the best in the business. Engine restarts are almost transparent, and the elimination of engine idling at most stoplights helps drivers shoot for what are respectable EPA fuel-economy estimates for a car this heavy: 20 mpg city and 28 highway. We recorded 22 mpg, one below the EPA combined rating.