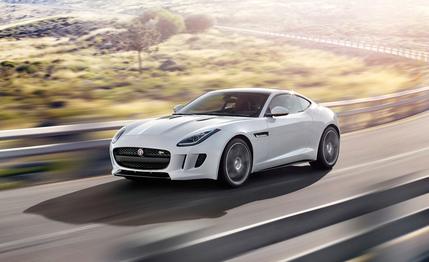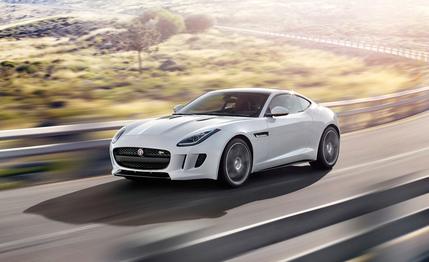 First Drive Review


From the April 2014 Issue of
Car and Driver
The F-type R coupe tops Jaguar's new sports-car range; it's the most powerful series-production Jag model ever. It responds accurately to even the smallest of steering inputs through an exceptionally stiff body. It is fearsome, loud, and fast.
Does that description seem fitting for a Jaguar, which for decades has been the place you go for comfortable high-speed sitting rooms? Chief engineer Mike Cross replies: "It's time for a change. This car is more than just the coupe version of the F-type roadster. It's a high-performance sports car with a completely different character."
With the F-type R coupe, Jag establishes a moral center for the brand. Doesn't the XJ make a lot more sense after seeing this car?
"Completely different" might be overstating things a bit, but it did strike us as more intense than the already fully committed F-type roadster. The coupe has the same basic dimensions and proportions as the convertible and comes with the same interior, which is relatively narrow. It features a beautiful, sweeping roofline with a rear window that reminds us a bit of the E-type coupe. The roof panel is available either as aluminum or panoramic glass, which adds about seven pounds. Weight, especially in the roof, is a major perform­ance killer. It's no stripped-down Porsche GT3 RS, this car.
But the biggest visual payoff is at the rear, due in part to the glorious absence of a spoiler—at least, an obvious one. When the car exceeds 70 mph, an air deflector nesting in the tapered shut-line rises to reduce lift by a claimed 265 pounds. It retracts again when you slow down.
Besides its silhouette and rear end, it is the R coupe's precise driving dynamics that distinguish it from the top roadster version, the F-type V-8 S. Thank the car's extremely rigid aluminum unibody. Hydroformed aluminum beams that sweep up the A-pillars, along the roof edges, and back to the beltline replace the structural contribution of normal B-pillars. Cross asserts that the F-type coupe is the most torsionally rigid production car Jaguar has ever built.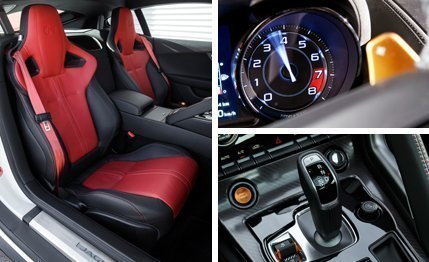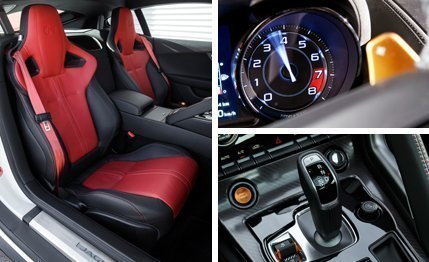 Its extraordinary rigidity enables the R coupe's sharp steering and sensitive adaptive dampers, which respond to road-surface changes every half second. The net effect for the driver: detailed information on road conditions with no need for hyper-stiff springs and shocks.
The direct-injected and supercharged 5.0-liter V-8 comes with 55 more horsepower than the V-8 S roadster for a total of 550 horses at 6500 rpm, just a hair more than Jag's 1992–1994 XJ220 superflop. In the F coupe, that's enough stonk to push the car over 186 mph. A higher top speed would require tougher tires, so to save costs, Jaguar engineers limited the R coupe to 186 exactly.