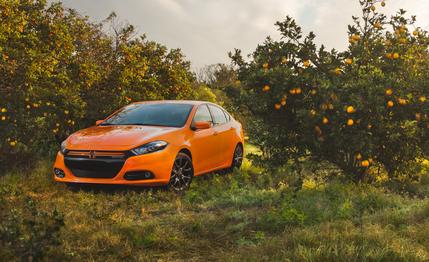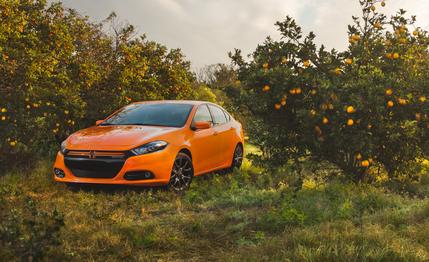 Long-Term Road Test Wrap-Up
Months in Fleet: 15 months
Current Mileage: 40,007
Average Fuel Economy: 29 mpg
Average Range: 465 miles
Service: $625
Normal Wear: $0
Repair: $0
Damage and Destruction: $1087
As we say goodbye to our bright orange long-term Dodge Dart test car, which completed its 40,000-mile test in our hands in an on-schedule 15 months, there's no better way to sum up the experience than to point out that the car no longer exists. Sure, Dodge still sells the Dart, but you can no longer buy a car spec'd identically to ours. And that is a very good thing.


Save the Manuals!


You see, Dodge axed the turbocharged 1.4-liter four-cylinder engine that powered our 2013 Rallye model from every Dart save the Aero fuel-economy special. Great, we say, since nearly every comment in the long-term Dart's logbook spat fury at the Fiat-sourced MultiAir turbo four, which produces what feels like half a pound-foot of torque from idle to just above 3000 rpm, almost single-handedly ruining the Dart's otherwise acceptable driving experience.
Technically, the engine makes 184 lb-ft of twist at 2500 rpm, but we never felt it. One staffer minced few words when it came to the powertrain, emphatically describing it as "awful." Most on staff were in consensus over the ideal launch technique for the Dart: Mat the throttle, side-step the mushy, uncommunicative clutch, and hope the turbo kicks in. Most were of equal mind, too, that this technique is hardly acceptable in town, around your mother-in-law, or near cops.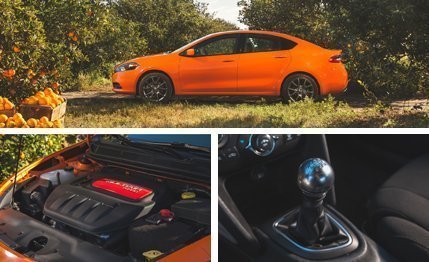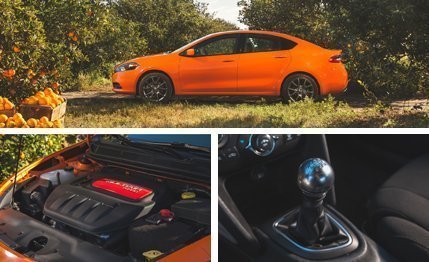 Freakishly snowy conditions in our Michigan environs prevented us from performing our usual raft of end-of-40,000 instrumented testing before the car was whisked away, but the Dart made it to 60 mph in a ho-hum eight seconds when new. Typically, our well-broken-in 40,000-mile long-termers manage the sprints to 60 mph and through the quarter-mile slightly quicker than when they first entered our fleet.
Cruisin' the (East and Middle-ish) U.S.A.
Whereas the Dart's balky low-speed response created frustration driving in town, the car's peachy highway demeanor made it a frequent road-trip companion. On the freeway, the Dart hums along quietly, with a decent sense of straight-ahead and a comfortable ride. Its highway acumen helped keep our average fuel economy to a high 29 mpg over the duration of our test, as it visited locales as exotic as Ohio, Wisconsin, Iowa, New York, North Carolina, Tennessee, Florida, and New Jersey.
Visible wear and tear in our Dodge's cabin were almost nonexistent, thanks to the mostly black-colored interior. Chrysler's ubiquitous Uconnect touch-screen infotainment system was universally praised for its ease of use. We did wish for a temperature knob for the HVAC system, instead of tap-up and tap-down buttons, and some drivers found the driving position cumbersome. A few of us even found that butts could sink through the seat foam before settling on hard structural members.
Being the offspring of a still-bouncing-back Chrysler and Italian Fiat, the Dart's reliability was our biggest pretest concern. However, we experienced only two electronic snafus, both around 20,000 miles, that were fixed under warranty. Scheduled maintenance costs started out reasonably, but a $408 30,000-mile service bill turned that table over, thanks to the Dart's crazy-expensive proprietary spark plugs. (The three other services cost $59, $80, and $157.) Our only non-maintenance-related expenses were $449 for a new windshield and $638 to repair the front-right fender after a ladder fell from a van and struck the parked Dart.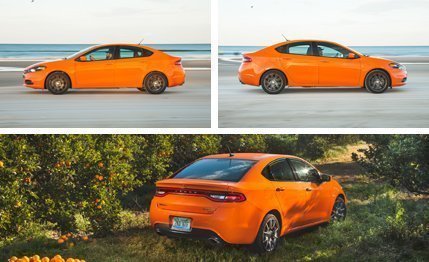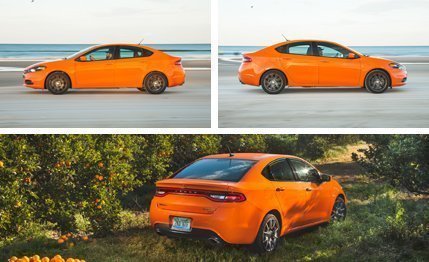 1.4-Liter Turbo Four No More
Given the 1.4T's nearly total elimination, it's worth pointing out what engines buyers can now get in the Dart-osphere. For 2014, Dodge has relegated the Dart's standard 160-hp, 2.0-liter four to the base SE trim level. Previously, it was in the SE, SXT, Rallye (that is now an option group, not a trim level), and Limited. The 1.4-liter turbo comes only in the Dart Aero with a six-speed manual or dual-clutch automatic; the rest of the lineup—the SXT, the GT, and the Limited—gets a naturally aspirated 2.4-liter four. A manual is standard in the SXT and GT, and a six-speed automatic is optional (it soon will be replaced by a nine-speed ZF unit); the Limited gets the automatic standard.
The 184-hp, 2.4-liter four makes a huge difference, being smoother and more linear than the pesky, peaky 1.4-liter four. Demerits are lower fuel-economy estimates versus the turbo's—22 mpg city and 35 highway instead of 27/39 mpg for manual models—and the same disconnected-feeling clutch action we felt in our Dart. Also, despite packing 24 more horsepower, the 2.4-liter produces 13 fewer lb-ft of torque, meaning that, according to our test equipment, a similarly equipped, manual-transmission Dart is 0.2 second slower to 60 mph.
But pedal-to-the-metal numbers don't tell the whole story, and here it's the flexibility, improved throttle tip-in, and crisper part-throttle response of the 2.4-liter in everyday driving that counts, although we'd still prefer the more fun-to-drive Ford Focus or delightful Mazda 3 as a daily driver. Even though the Dart served us well as a commuter car, it didn't excel at any one thing except swallowing real-size humans in the back seat. Aside from its new engine, the Dart remains merely a decent choice among a gaggle of excellent compact cars.