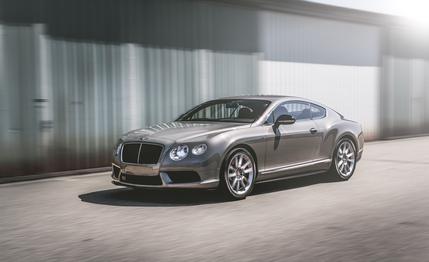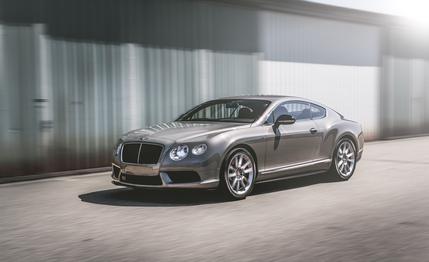 Instrumented Test
Driving a Bentley is always special, even when it's another variant of the familiar Continental GT line, but our V-8 S test car's stunning Quartzite paint stopped us in our tracks. Keys in hand, we had to fight the urge to drive the thing and instead deployed folding chairs to stare at it like gentry taking in the Preakness Stakes. Of the Continental's sea of paint options, this might just be the fairest of them all.
Mixed with the V-8 S black-mesh grillwork and red accents, the hue lends the now-familiar Continental shape a timeless feel. Every S gets dark Beluga-colored trim for the rocker panels and fascias, exclusive 20-inch wheels, and red-painted brake calipers. The eight-speed automatic, all-wheel drive, and twin-turbocharged 4.0-liter V-8 carry over from base V-8s, although the S's engine is tweaked for 21 more horsepower and 15 more lb-ft of torque for totals of 521 and 502.
Fast Is as Fast Does
Ceding 46 horsepower and 14 lb-ft of torque to the Continental GT W-12, but weighing 102 fewer pounds, the V-8 S's true forte is going really, really fast. It loses the fight against the atmosphere at 188 mph, making it marginally slower than almost every 12-cylinder Continental we've tested. Sprints are a different story: We hit 60 in 3.9 seconds, 0.5 second quicker than the GT W-12, thanks mostly to this car's two additional transmission cogs. (The W-12 now has an eight-speed, but we haven't tested one so equipped.) In every acceleration metric we record, the GT V-8 S trails only the 2010 Continental Supersports.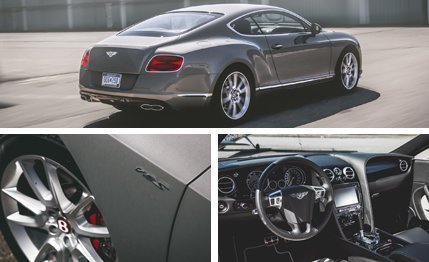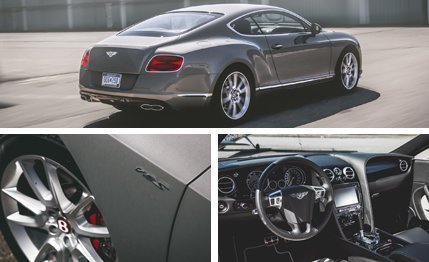 One hundred mph comes up in a jaunty 9.2 seconds, and deceleration is equally impressive, thanks to the astoundingly strong brakes. In operation, the pedal is a bit soft, but mashing it at 70 mph brought the V-8 S to a standstill in a chest-collapsing 156 feet. That kind of stopping reserve is useful when the car's stability and cabin serenity lull an inattentive driver into extralegal territory; 120 can feel like 55, but the gendarmes likely won't accept "refinement" as an excuse for doubling posted limits.
Handling by the Chicago Bears
Similar to the Continental GT W-12, the GT V-8 S is less a sports car than it is a really fast isolation vessel. Mat the throttle, and the scenery blurs, a basso profundo rumble rises from beyond the firewall, and that's it. There's harmony between the car's classic looks and laid-back driving experience. It never begs you to blast down a back road, although with less engine mass over its front axle, the better-balanced V-8 S bites into corners more eagerly than any 12-cylinder Continental.
Objectively, the four-corner, air-suspended V-8 S's 0.91 g of grip puts it in rarified air. The hydraulic steering is accurate and quicker than you'd expect, but there's no hiding that this big fella weighs over 5000 pounds, and when it lets go, it's in a flurry of understeer. The car's a lot like Brian Urlacher, the 250-plus-pound former Chicago linebacker who could cover 40 yards in fewer than five seconds and lay a mean hit but would no doubt have two left feet on the ballroom floor. Also, like the Continental, he didn't have launch control.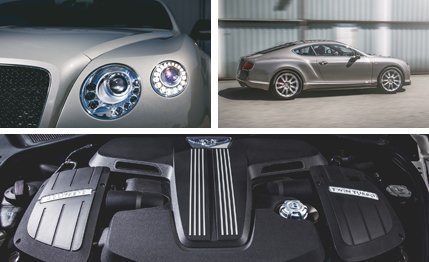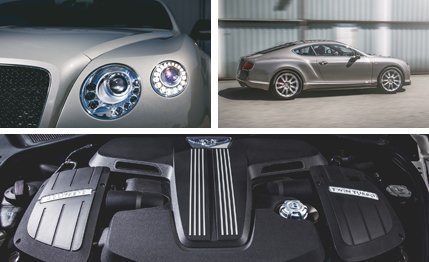 The Continental does, however, have leather and wood so pungent you'll hallucinate hedge-fund returns cresting 97 percent, which would have helped cover our test car's $32,245 options tab. Massaging front seats were a relative steal at $950, as was a backup camera (for a Bentley, that is) at $1215. Other financial hits came from the car's Naim audio system ($7300), adaptive cruise control ($2730), contrasting interior stitching ($1905), the must-have sport exhaust ($2480), that gorgeous paint ($12,660!), and a few other odds and ends.
If You Have to Ask
Sure, at nearly a quarter-million bucks, our $231,470 V-8 S test car is solidly in fourth-house and sixth-wife territory, but it represents the strongest bargain in Bentley's lineup. Its performance makes the $5000-less-expensive base W-12 superfluous, and even though slightly more speed might be found in the Continental GT Speed, those extra miles per hour will cost another $20,000.
With a basic architecture dating back more than a decade, the Continental is graying at the temples, with a few quivers detectable through its structure and a rather dated-looking infotainment system. But having driven the Speed, we can say this V-8 S is the de facto eight-cylinder "Speed" model of the Continental family. It's also the best of the breed, regardless of the color.