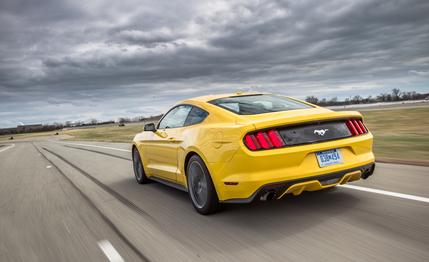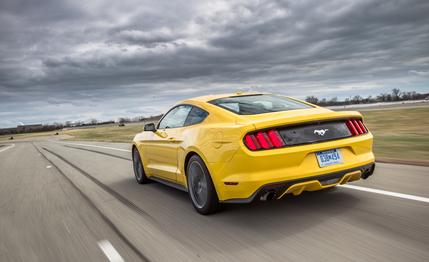 First Ride
Now, we're not saying we helped develop the all-new 2015 Ford Mustang. That's mostly because we totally didn't help develop the all-new 2015 Ford Mustang.
What we did, though, during our early ride in a Mustang powered by the 2.3-liter EcoBoost four-cylinder engine, is help make sure that eventual Mustang owners don't annoy their neighbors. While we were at Ford's proving grounds in Dearborn, Michigan, the Mustang guys were deciding what sort of alert the car should make when an owner gets out of the running car with the remote key fob in his hand. Now, again, Ford didn't exactly ask our opinion on the matter, but we suspect they're quite accustomed to us expressing our opinions anyway. So when a team member demonstrated for chief engineer Dave Pericak two options—one a full-force double blow of the horn and one a lower-decibel, double half-honk—we advocated for the latter. That everyone was in agreement does not diminish our belief that our vote won the day.
The rest of our time with a prototype EcoBoost Mustang was spent in the passenger seat taking notes and trying to ignore our growing nausea. At the wheel was Pericak, who was driving smoothly and expertly over Ford's short but hilly and tortuous handling course. A word of caution: The car we were in was not yet fully baked, so if you see in the photos of the yellow car that some bits of the interior or the body panels look a bit cobbled together, that's because they are. This is a development car, not a production car; looking pretty ain't its job.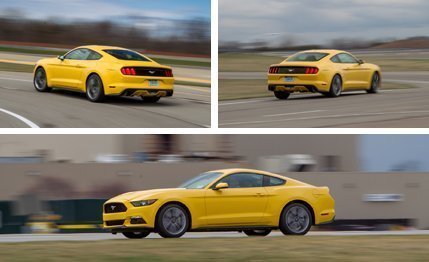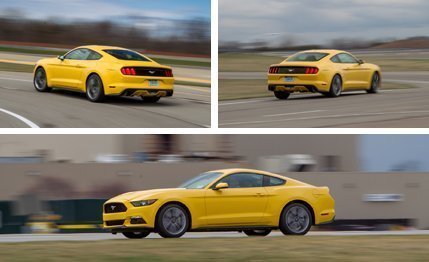 The EcoBoost Mustang feels balanced and nimble from the right seat. And, with the revs up, the four-banger doesn't sound half bad, either.
Our aim was to determine—as much as we could from the right seat—if the new Mustang lives up to the hype and, further, whether the optional direct-injected and turbocharged 2.3-liter four-cylinder engine could possibly sound good enough to thrill Mustang fans.
The answers are yes, and maybe.
But let us elaborate a bit: Our screaming-yellow test vehicle was equipped with the model's optional Performance package. So it wore Z-rated 19-inch P Zero summer tires, sized 255/40. These rollers covered upgraded brakes (which also serve as the GT's standard stoppers). The Performance package also adds fixed four-piston front calipers and larger, thicker rotors at all four corners. It also brings a 3.55:1 final-drive ratio for ­livelier acceleration (lesser EcoBoost Mustangs carry either 3.15:1 or 3.31:1 final drives). The ride height is slightly lower than ­standard, and the new stretched-out body seems to hunker down on its tires in a stance that is decidedly more sports car than the outgoing Mustang's taller, muscle-car mien. There is just a tiny wisp of air between the top of the tires and the wheel-well lips.
Ford estimates that even with the Performance package, a four-banger Mustang will cost about $29,000. That the test car also came with optional Recaro seats and a navigation system means it probably will just top $30,000.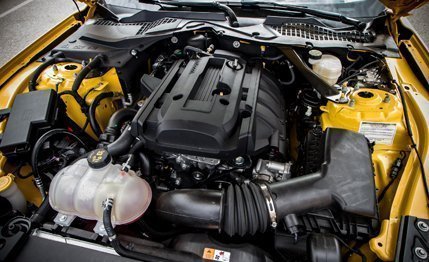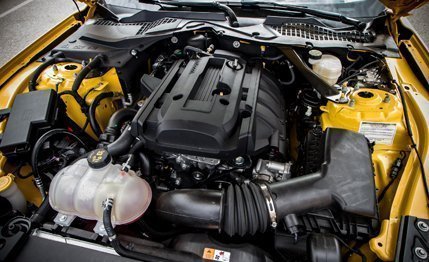 Ford is still in the early stages of an intensive engine-cover beautification project.
Our first test was to gauge braking performance. Unfortunately, we could not strap our GPS-based testing gear to the vehicle (hell, Ford still won't even acknowledge a final horsepower figure, noting only that it will be more than 305). So we can't quote for you the number of feet it took to come to a halt. What we can say: It stops hard and, more surprisingly, flat. Thanks to the new independent rear suspension and a redesigned strut front suspension, the car no longer kicks its tail into the air under hard braking. Pericak says the new suspension systems bring double the resistance to dive and squat as the old setup. No longer does the Mustang feel like one of those tippy, spring-suspended horsey toys you rode as a child.
Clearly this improved body control also benefits handling, as we found out on the handling course. The body heels over in turns only enough to give you a sensation of speed. Otherwise, every motion feels like it's in the horizontal plane. There's none of the pitching or nose-lifting that accom­panied all but the most performance-tuned of the current Mustangs. Swift, controlled, and balanced, the new Mustang feels like the "legitimate sports car" Pericak describes it as. And, keep in mind, he was the man behind the Boss 302, so he knows how to make cars turn. The Recaro seats (still manually adjustable) in our ride certainly added to the sense of security.
A trip over several of Ford's lumpy, broken, ride-quality assessment roads suggested that this Mustang doesn't pay too great a price for its flat handling. The car exhibits no head toss over whoop-de-dos, and sharper-edged bumps are registered and quickly forgotten. Any earlier Mustang as tied down as this one would not have fared as well.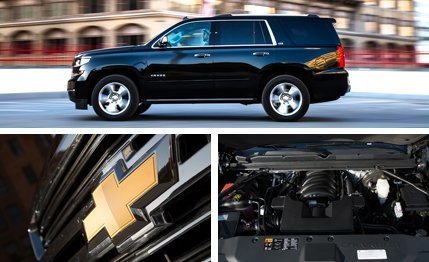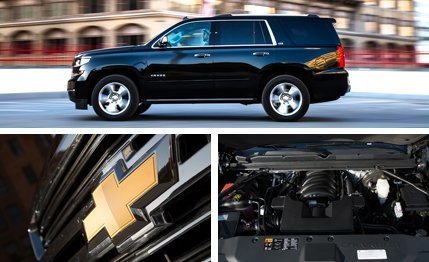 But what about the power and the sound? Well, the Mustang exhibits both of these things. The car pulls smoothly, even through its six-speed automatic (in sport mode). The engine feels torque-rich (Ford estimates the engine will make more than 300 pound-feet of peak torque) and unencumbered by the as-yet unspecified weight of the car. The autobox shifts quickly and firmly enough, either through the standard steering-wheel-mounted paddles or when left in full-auto mode, so you needn't feel embarrassed about purchasing the automatic. But you still should opt for the manual.
Ford has been agonizing about the noise the EcoBoost Mustang makes. According to Pericak, despite the fact that the company has conducted a number of consumer clinics to help fine-tune the engine and exhaust note, Ford hasn't finalized the sound. But we're assured that what we experienced was close to final. We were very concerned when we heard the car at idle from outside. It ticks and clacks away as do many modern, direct-injected engines. It is, at least, noticeably quieter than BMW's similarly configured 2.0-liter turbo four. And just poodling around, the engine's voice doesn't get much better, sounding very pedestrian and, well, like a four-cylinder. Get into the throttle, though, and the sound signature improves considerably, with a determined, mid-register "grrrr!" Still some work to do here.
Consider what we experienced an amuse-bouche, which is a fancy French way of saying hors d'oeuvre, to the heavy feast of Mustangness to come. There is much we still don't know. What we can say definitively is that the key-fob alert is going to be awesome.