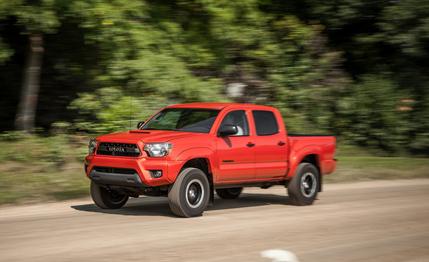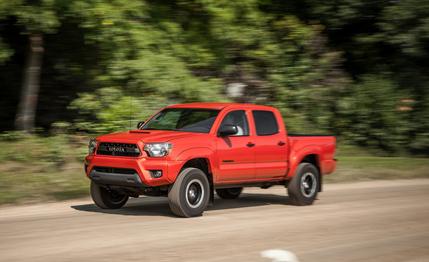 Instrumented Test
It's fitting that our 2015 Toyota Tacoma TRD Pro Series arrived wearing California license plates, because for a large swath of the late-boomer/early Gen-X population and beyond, the Tacoma and its Hilux precursor were an integral part of the California scene. It's no coincidence that Marty McFly lusts after a butched-out Toyota Pickup in Back to the Future, despite having free access to a flying DeLorean capable of time travel.
As the de facto vehicle of choice for the extreme-sports nation, a Toyota truck on mega-tires could be found wherever off-roaders, surfers, hang gliders, and other Golden State outdoorsy-types ventured. This wasn't lost on Toyota, whose TRD division has produced numerous special versions of the off-road-focused pickup trucks over the years, the latest iteration of which is the 2015 Toyota Tacoma TRD Pro Series double cab tested here.
Inferno is the New Black
Judged solely by its zesty and trendy red-orange Inferno exterior paint (Attitude Black Metallic and Super White are the only additional color options), you might not guess that the 2015 Toyota Tacoma TRD Pro Series double-cab pickup is a decidedly old-school affair. But from the separate key and fob—no push-button start here—to the manual seats, it's clear that any room in TRD's budget for the Tacoma Pro Series was reserved for enhancing the truck's off-road capabilities. Dubbed "Taco Supreme" by TRD, our Tacoma Pro Series double-cab short-bed test truck came equipped with 16-inch beadlock-style aluminum wheels with 265/70 BFG All Terrain AT K/O tires, proudly displaying the latest version of the familiar chunky off-road tread pattern that's older than the Tacoma itself. The TRD-tuned Bilstein off-road shocks and springs and the attendant lift they provide, plus the retro "TOYOTA" grille logo, combine to deliver an aggro profile that hews pretty closely to the look of McFly's dream rig from some 30 years ago. (Well, minus the light bar and with two additional doors.)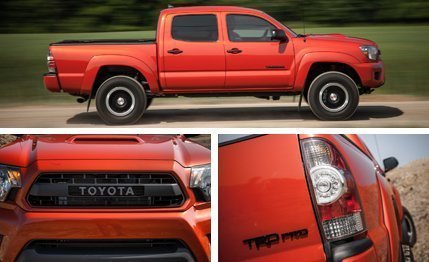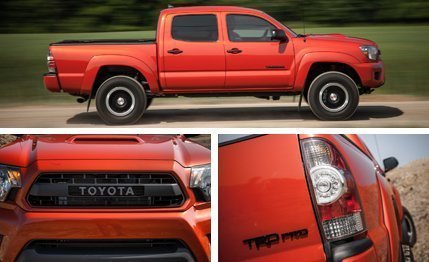 Brace for Re-entry
Although manufacturers have made great strides in making off-road-focused rides behave more politely on pavement, the Taco TRD Pro's on-road manners continue the old-school vibe. The tires howl at speeds above 20 mph, cornering is regarded as an afterthought, and braking requires making reservations with the hard, schizophrenic pedal well in advance of your desired stopping time and place. Even light applications of the brake pedal cause the front brakes to grab and the Tacoma's nose to dive; push a bit harder, and the rears lock up with startling predictability, their hold stutter-stepped by the frenzied ABS. That initial enthusiasm, unfortunately, doesn't translate into good on-road braking performance, the stop from 70 mph consuming 200 feet. Grip is equally antediluvian, our driver recording a max of 0.66 g on our 300-foot skidpad.
Motivation is provided by Toyota's proven-but-coarse-sounding 236-hp 4.0-liter V-6 mated to a five-speed automatic (a six-speed manual will chop $980 off our Tacoma double cab's $38,300 MSRP). The zero-to-60 run clocks in at 7.3 seconds, the Taco clearing the quarter-mile traps in 15.9 seconds at 87 mph. Pressing on through the whine of off-road tires and the drone of the TRD cat-back exhaust, we attained a governed Vmax of 109 mph. No high-speed touring machine, the Tacoma is more suited to a driving style comfortable with plenty of leeway in braking, accelerating, cornering, and pretty much any other dynamic trait. But the truck's resilient suspension is totally in its element wheeling over urban fixtures such as parking curbs, speed bumps, and potholes.
Country Roads
Point the Taco down a bumpy gravel road, however, and its on-road shortcomings fade away. While its ultimate performance capabilities may be less than, say, those of Ford's Raptor, the Tacoma's long-travel suspension nonetheless renders St. Bernard–sized craters insignificant, floating over them with little shock being delivered to the chassis. Smoother gravel roads have a shrinking effect on the 127.4-inch wheelbase (140.6 inches with the longbed), imbuing confidence where previously there was apprehension. Engaging four-wheel-high range via the dash-mounted control and disabling the traction control had us sliding sideways and accelerating out of corners like a very large, very orange Subaru WRX. (There's a reason Toyota staged the Tacoma TRD Pro's first drive in the Nevada desert.)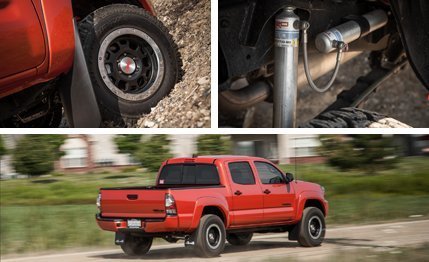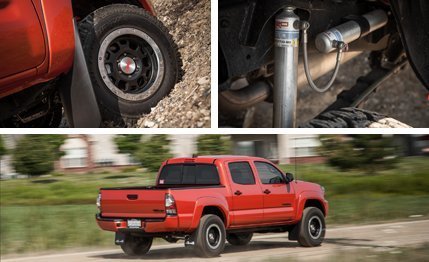 Those same suspension components and tires that recoil at the thought of street driving come into their own over the rough stuff, encouraging sideways behavior and rapid winding and unwinding of the steering wheel. The braking's overt grabbiness is mitigated by loose surfaces, and the fact that the automatic transmission provides only five forward ratios becomes irrelevant, finally giving us a taste of the Waku-Doki—a Japanese expression for "heart pumping, adrenaline racing"—phrase that Toyota used as a theme when developing the TRD Pro vehicles. (There are also TRD Pro versions of the 4Runner and Tundra.) When it comes time to climb, crawl, or tug, you can stop the truck and select four-wheel-low range, making good use of all 266 lb-ft of grunt the engine produces at 4000 rpm. Even with all the off-highway diversions, we managed 17 mpg in combined driving, which falls almost in the middle of the EPA's city/highway ratings of 16/19 mpg.
Forget for a moment that the Tacoma isn't dressed out in soft-touch surfaces, woodgrain trim, or the latest in infotainment technology. And disregard the fact that back-seat room is tight and the knees-as-high-as-hips go-kart driving position hasn't been altered in 30 years. In a personal-use market where "truck-like" is often a derisive descriptor, the old-school Toyota Tacoma stands out as the proud nail that refuses to be hammered into carlike conformity. As a result, and especially in TRD Pro Series guise, this Tacoma appeals to anyone with a Toyota small truck in their past. Above all, it's an honest vehicle, something that adventurous off-road folks of any age can appreciate, regardless of the state they grew up in.