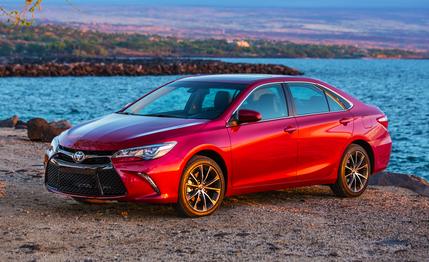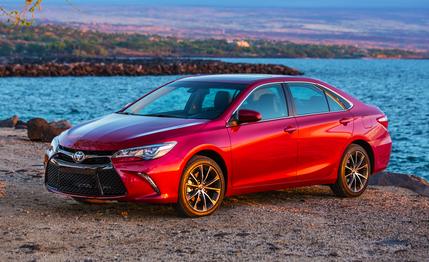 First Drive Review
The Toyota Camry is this century's brightest car star. More than 400,000 were sold in the U.S. last year, a volume topped only by Ford and Chevrolet pickups. This begs the question: Why would Toyota call for a Camry pit stop only halfway to the seventh-generation car's checkered flag?
The pat answer is because it can. With an R&D budget claimed to be $1 million per hour, the world's largest car company can afford to shower its mid-size family sedan with financial love, following CEO Akio Toyoda's guileless directive to "build better cars." There are six other reasons. Ford, Honda, Hyundai, Mazda, Nissan, and Volkswagen all offer excellent mid-size alternatives to the compulsively introverted Camry. In August, Honda loaded its shotgun with excess inventory and generous incentives to blast out 51,075 Accords, beating Camry sales by 7032 units.
Toyota Wants to Buff . . . It Up
So only three years after the last full redesign, Toyota has substantially fluffed and buffed the Camry to renew the interest of faithful customers and to (hopefully) draw fresh recruits. The 2015 edition we drove on the Big Island of Hawaii lives halfway between a normal midcycle facelift and a clean-sheet overhaul. Every exterior panel is new except the roof. Adding 22 spot welds in the cowl and around the door apertures improves the stiffness of the unibody. The previous base L model is dead, and there are more versions with an "S" in their name to celebrate Toyota's discovery that even Camry buyers may be entertained by more assertive driving dynamics. Cost-conscious interiors have been upgraded with more soft surfaces, nicer detailing, and contemporary electronic gear. Chassis systems—steering, brakes, suspension—receive minor changes aimed at better ride and feel. The one area receiving no attention is powertrains: The Camry's 2.5-liter four-cylinder, 3.5-liter V-6, and hybrid propulsion system—all of which are dependable and proven, if not exciting—carry on without alteration.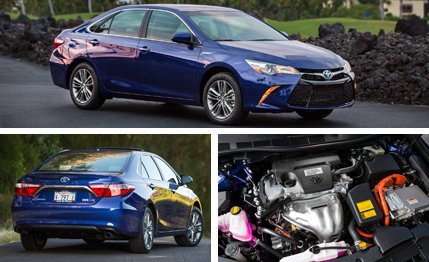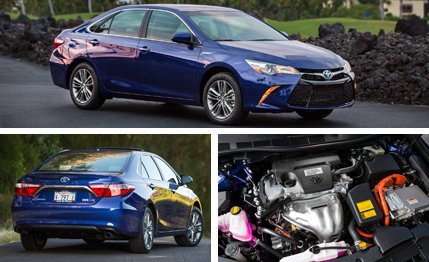 Two front-fascia designs draw eyes to this long-ignored model. There's a five-bar treatment for models with an L in their name and a honeycomb maw for those coded S. All family members have subtle hood creases and upper and lower character folds in their side surfaces. Lamp treatments—especially the running-light slashes adorning the lower front corners—border on racy. The one bit of chicanery is a faux quarter-window stuck onto each C-pillar. Ironically, Hyundai and Toyota are heading in opposite styling directions. The 2015 Hyundai Sonata has backed off some on bold exterior design just as the Camry molts its boring skin.
Inside, the Camry catches up with the affordable-mid-size-sedan times. The intent is to deliver nice-to-touch, easy-to-use surfaces throughout. Upper trim levels get French seams; all cars receive additional soft trim, clearly labeled knobs and buttons, and a rearview camera. All but the base LEs receive a 4.2-inch TFT screen between the cluster dials for driver information, navigation instructions, and warning messages. The list of available safety gear now includes lane-departure warning, automatic brake assist, a blind-spot monitor with rear traffic alert, and radar-based active cruise control. Although you don't have to search to find some residual shiny, hard, black plastic (there's some at the base of the windshield, where it causes glare), the Camry's new interior is a worthy upgrade, especially in light of the modest price increases. (Full pricing info and equipment details are available here.)
Old folks have dominated the Camry customer base, but at least there's a concerted effort here to welcome them to the information age. The Entune multimedia system includes a 6.1- or 7.0-inch touch screen with voice recognition, Bluetooth streaming, a USB port, and an extensive list of apps. By touching the appropriate icon, you can reset the clock or sync your smartphone. The top 10-speaker, 586-watt JBL sound system is way too hip for seniors thanks to less boominess and improved frequency balance. The niftiest piece of equipment that's optional in several models and standard in a few is a nonslip surface located in the center console that uses Qi technology to wirelessly recharge compatible mobile devices. Take that, Honda Accord!
Driving the New(-ish) Camry
Thanks to the more rigid unibody and 30-percent more undercarpet sound deadening, even the base Camry is a smooth, quiet runner. All front bucket seats have wrapping backrests and grippy coverings resistant to side slip. Life in back is commendably free of tire and wind noise, and the rear seat accommodates three adults in comfort. Backrests split and fold even on the hybrid to expand the roomy trunk. All powertrains are polite and reasonably well behaved though lacking in verve. If passing other cars is on your agenda, skip the 178-hp four-cylinder, as it has a tendency to leave you hanging far too long in the oncoming-traffic lane. The drone that plagues Toyota Priuses is pleasantly muted in all three Camry hybrid trim levels.
Give the Camry's engineering team credit for holding weight gain to less than 100 pounds by offsetting content additions with lighter window regulators and windshield-wiping equipment. Simplifying the trunk-hinge mechanism and combining two cargo-floor mats into a single covering also saved a few pounds. We expect acceleration and stopping performance to nearly match the outgoing Camry's. In other words, performance is adequate . . . for your parents. The manual shift mode won't hold gears at redline, although in S models it does match revs during downshifts.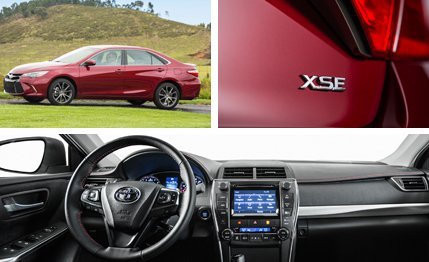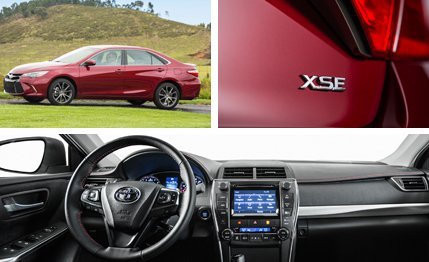 In spite of slightly wider wheel tracks, a half-inch gain in the width of the base wheels, and stiffer base-level front springs, there's no noticeable gain in handling to report. The modest suspension retune was mainly aimed at improving the ride quality over the bumps that are never hard to find around Toyota's Ann Arbor, Michigan, technical center. All Camrys ride on all-season radials that prioritize low rolling resistance, high mileage, and good wet and snow grip over dry-pavement traction. The XSE package, which includes 18-inch wheels and tires, is as good as it gets. Here, the steering effort rises slightly off-center, though further effort build and road feel are tragically absent. While there's more grip than with the 16- and 17-inch wheels and body control is reasonable, the front tires howl 'slow down!' when you get frisky on a twisty road. Brakes have been improved with a new two-stage booster, but it's calibrated for more pedal travel than we prefer for optimum modulation.
Hybrid customers can tap into the new more assertive Camry exterior design by selecting the SE edition. While they're limited to 17-inch rolling stock, at least they benefit from better front-to-rear balance thanks to the weight of the 1.6-kWh battery pack spotted in the trunk. For many Camry types, the hybrid is the smart choice thanks to its combined mileage score (41 mpg in the LE, 40 in the SE and XLE) and acceleration that beats the 2.5-liter four-cylinder.
Toyota has injected plenty of goodness into its most mainstream model. The new Camry should hold up well for another few years against the mid-size competitive crunch, not to mention the relentless crossover onslaught. The nod that the XSE V-6 edition makes in the sports-sedan direction is also encouraging. As soon as loyal customers see and feel this new model, it's possible they'll find the car enthusiast's wavelength and seek or demand a more serious driving machine when Toyota gets around to the next full Camry redesign.