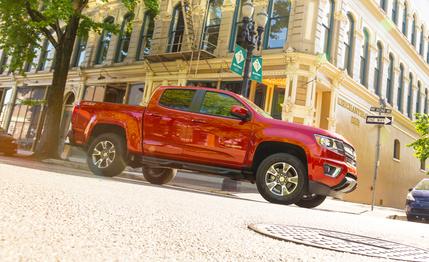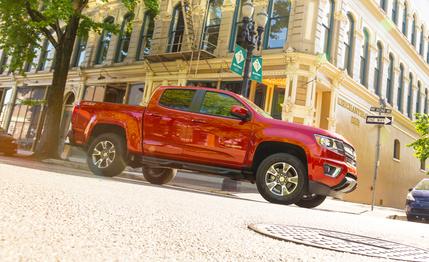 First Drive Review
One could make an argument that part of the Toyota Tacoma's stranglehold on the not-quite-full-size truck market can be attributed to its easily condensed name: "Hey brah, sweet Taco. We should totes take it on a recon mission to spot some tasty waves." Difficult to say without affecting a SoCal drawl. It's no coincidence that, by Chevrolet's estimate, the Los Angeles area alone accounts for more Taco sales than 48 other states combined (Texas is the other exception).
Of course, the Nissan Frontier—­just try to come up with an equally illustrative and organic chunk of lazy vernacular for that name—has been the only other player in the segment for the last few years, so Toyota hasn't exactly been on the offensive. (You want to include Honda's Ridgeline, too? Well, okay.) Sensing an opportunity, Chevrolet is bringing an all-new mid-size Colorado to market in hopes of stealing some of the Tacoma's juju. As numerous Chevrolet engineers, designers, and PR flacks told us, they never stopped tracking the bull's-eye on the Taco's backside during Colorado development.
Quiet Confidence
Pulling into traffic, it's immediately obvious how quiet the Colorado is inside. Brad Schreiber, ride and handling performance manager for mid-size trucks, runs down the laundry list of details that contribute to the refinement: triple-sealed doors, extensive use of sound-deadening materials, the advanced tread pattern of the Goodyear Wrangler all-terrain tires, and even special attention paid to the lower back of the cab structure to quell wind noise. Our first impression is that it's dramatically quieter at highway speeds than the Tacoma. Of course, it all starts with the fully boxed frame, which Schrieber says is downsized from a Silverado design. He adds that its sturdiness made calibrating the dampers and spring rates easier.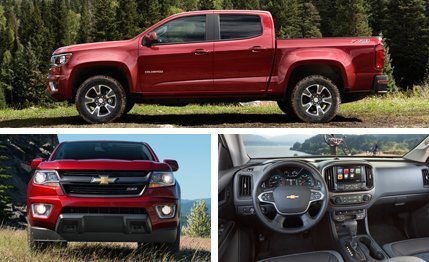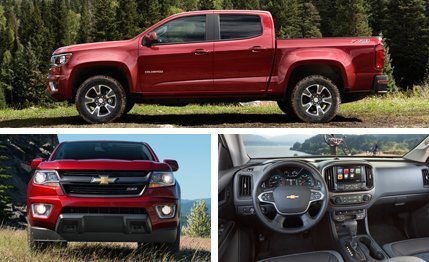 There's plenty of room for stout American body shapes to get comfortable inside, including 41.4 inches of headroom and 45.0 inches of legroom in the front seats; combined with the adjustable steering column, even six-and-a-half-footers will have no problem finding a comfortable driving position. Fabrics and plastics are understated, consisting largely of matte-finished blacks and grays.
Aside from delivery services and tradesmen, most users will want to opt for the 305-hp 3.6-liter V-6. It's no racehorse, but it pulls strong through all six of the mandatory automatic's gears. The 200-hp four-cylinder has enough power to get through the workday, but the on-road manners of the Colorado are polished enough for work and play, and the bigger engine makes both more enjoyable. (A six-speed manual will be available for four-cylinder models, but we haven't yet wiggled its shifter. Chevrolet estimates the take rate for the manual will be about five percent.)
The electric power steering offers good valley feel and weights up quickly off-center. Transitional responses are reasonably quick; close your eyes, and you might think you're behind the wheel of, okay, a mid-size pickup truck. But it's light years better than the previous Colorado or the old Ford Ranger. Likewise, braking is dramatically modern, and a firm, easy-to-modulate pedal hauls down the truck with authority, and the chassis is tuned to mitigate any brake dive.
Off-Road Ready
Although true off-roading wasn't part of Chevy's plan for the first drive, staged near San Diego, we did manage to find a dusty, rutted, and steeply inclined dirt road to get that four-wheelin' feelin' in a Z71 crew cab. Selecting low range requires shifting into neutral; it takes a second but engages without any clunking or funkiness. The Goodyear Wrangler A/T Adventure Off-Road tires dug in, and the truck crawled up the incline with little drama, thanks in part to the automatic-locking rear differential. (A 3.42:1 rear axle comes with all V-6 models; all four-cylinder trucks get a 4.10:1 ratio. You can see how we'd spec our own similar Colorado here.) The twin-tube shocks we found so compliant on the road earlier allowed the front independent suspension to flex enough for reasonable articulation, and the steering made positioning a tire atop a crusty embankment a one-handed job. Stretching out on a flat section revealed a planted feel with well-proportioned braking in the dirt; sadly, we never found the right off-road terrain to fully assess the capabilities of the suspension during our drive. As a final test, we backed up the incline and then let the Z71's standard hill-descent control determine our fate on the way back down. We lived.
Pulling Power
All Colorado models have a 3500-pound tow rating by default, but buyers of the V-6 models can double that number to 7000 pounds for a paltry $250 by selecting the Z82 trailering package (essentially a two-inch receiver and a wiring harness), which is money well spent. Starting with the heaviest items and working backward, we tugged a 4500-pound fiberglass boat, a pair of Jet Skis, and, in a scenario that should paint a misty-eyed picture for an entire generation of Tacoma owners, a pair of dirt bikes on an open trailer.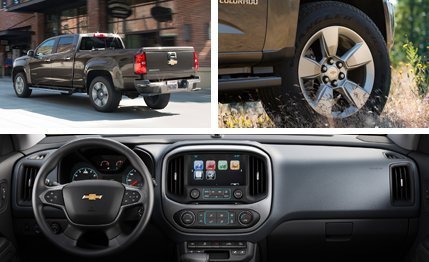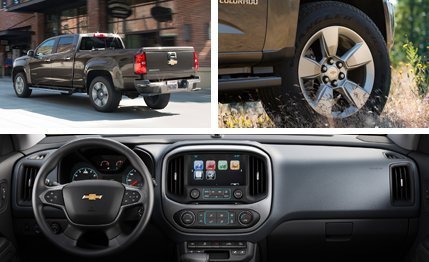 The tow/haul mode (not available on four-cylinder trucks) does a good job of selecting the right gear to keep the engine in the meat of its torque curve, although the engine does get a tad raucous at higher rpm. Are its abilities comparable to those of an HD diesel or even a big gas V-8? Nope. But the Colorado is about doing more with less and about adding some versatility to the basic pickup formula at the same time.
Chevy has bet this particular bank on the theory that "people will buy as much truck as they need if given the choice." If nothing else, the Colorado will serve as a real-time-analysis model of the concept. As one would expect, the Jet Skis proved to be of little burden and the dirt bikes were barely noticeable from the helm, both trailers tracking smartly behind the Colorado. Chevrolet's GearOn system (a dealer-installed option, yet it's covered under the Colorado's warranty and you can roll the price into the financing) provides sturdy mounting for kayaks and bicycles and other gear, although the kayaks in particular can really howl when vehicle speed and wind conditions are right.
The goal for the Colorado was simple: offer improved NVH, decent payload and towing capabilities, and a quiet cabin with more amenities and content than the competition. But the Taco's image has long surpassed its spec sheet, and vanquishing a near-icon might take more than just logic. But comments made to us by a pair of sunbaked enthusiasts lugging outrigger kayaks along the beach of affluent Del Mar, California, indicate that the maker may have hit the sweet spot: "Dude, is that the new Chevy mid-size truck? It looks awesome." We just wonder if Chevrolet should have named it the 'Rado right out of the gate.
This story has been updated to clarify the Colorado's available rear-axle ratios.