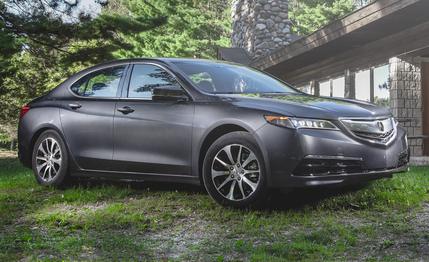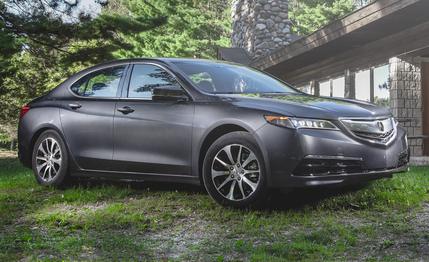 Instrumented Test
Acura brokered a one-for-two deal for 2015: Looking to add some much needed clarity and distinction to its sedan lineup, the maker went double down in reverse, trading the nearly redundant TL and TSX mid-size sedans for a single new nameplate, the TLX. The first step on the path to revitalizing the brand's sedans, the TLX is available in two strengths, either a 206-hp 2.4-liter inline-four or a 290-hp 3.5-liter V-6. We snagged one of the former and put it through its paces.
Tech Talk
Shoppers may be surprised to find that the four-cylinder TLX comes in only two trim levels, Base and Tech. Both are front-wheel drive and feature a new eight-speed dual-clutch automatic, 17-inch aluminum wheels, and common segment amenities like cruise control, speed-sensitive intermittent wipers, a leather steering wheel, heated front seats, and dual-zone climate control. Selecting the Tech package allotted to our test car adds a suite of features. Highlights include leather seats and door trim, a navigation system with voice recognition, rain-sensing wipers, and a premium 10-speaker audio system with voice activation. There are also safety items such as Lane Keeping Assist, blind-spot and rear cross-traffic monitoring, and forward-collision mitigation. With an MSRP of $35,920, our 2015 Acura TLX Tech commanded a $4030 premium over the $31,890 base car.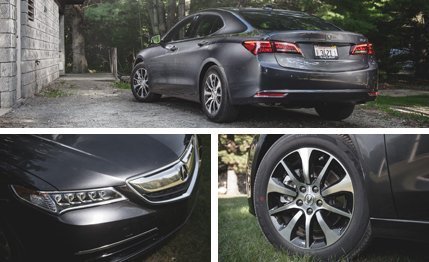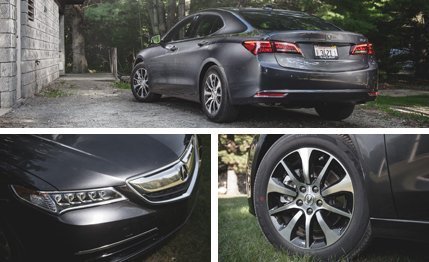 Copious LED illumination and the familiar Acura beak accent the otherwise buttoned-down exterior. LEDs are used exclusively, not only for headlamps and taillamps, but also for the license-plate lights and the puddle lamps that reside on the bottom edge of the exterior mirrors. Acura says LEDs save on bulb replacement costs and energy use; the headlamps alone draw 41 percent less power than traditional halogen bulbs
Déjà vu
Blipping the throttle in the TLX elicits an eager, free-revving response from the direct-injected four-holer, indicating that it's ready to play. If it seems familiar, it's likely because the 2.4-liter is a near carbon copy of the engine used by the Honda Accord. Bestowed with a slightly higher compression ratio of 11.6:1 and a dual-stage intake manifold for TLX duty, it requires a steady dose of premium fuel; the payoff is 206 horsepower, an increase of 17 over the Accord. Although the Accord's slick-shifting six-speed manual didn't make the transition to the TLX, users can still get a shift-for-yourself fix via the eight-speed dual-clutch automatic's manual-shift function. The trans incorporates a torque converter to smooth out operation and to permit torque multiplication from a standstill, and it otherwise does all the things that make dual-clutches good dance partners. It holds gears to redline, matches revs on downshifts, and rewards tugs on the appropriate wheel-mounted paddle with near-instantaneous downshifts; in short, it does a damn good job of almost making you forget about the lack of a third pedal. Almost.
Acura's Integrated Dynamics System (IDS) offers Econ, Normal, Sport, and Sport+ settings, which tailor the electric power steering, throttle response, shift points, and Acura's P-AWS all-wheel-steering system. The aggressive Sport+ mode holds gears longer and swaps them with firm authority. Matting the pedal from a stop produced a 6.8-second 0-to-60 time, and leaving it lodged to the floorboard returned a quarter-mile time of 15.4 seconds at 93 mph. Those numbers fall behind the aforementioned Accord manual, trailing in the 60-mph sprint by two-tenths and giving up one-tenth in the quarter. There's more power but also 211 pounds more car and the different transmission. Deceleration is handled with poise but not much force: This TLX required 179 feet to erase 70 mph, six feet more than did our long-term Accord Sport and hardly performance-sedan territory. Pedal action is on the firm side of indifferent, and repeated applications produced no fade.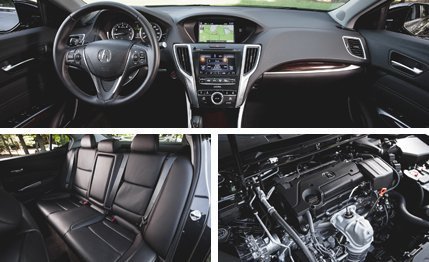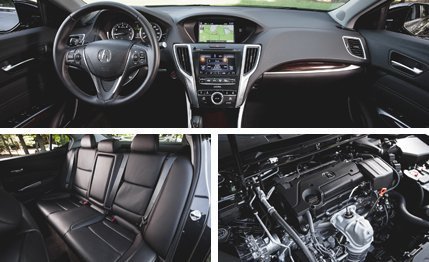 Running wild in Sport+ mode on two-lane back roads clipping apexes and cresting rises, the TLX momentarily transcends its spec sheet and decklid nomenclature. The steering is quick and direct and weights up nicely in bends, while torque steer is reduced to a term in a technical manual. Operation of the all-wheel-steering system is hard to detect at a hurried pace, but exacting drivers sense its subtle assist when stretches of left-right-left turns begin to stack up. Stability control intruded on our 300-foot skidpad, holding our test driver to only 0.83 g, whereas both Accord Sports did 0.87. Our tester rated TLX understeer as "moderate."
As good as it can feel, and with all its technology, the TLX turned in a lackluster track performance. The Accord Sport did better with a manual transmission and a few less horsepower wrapped in a less ostentatious and feature-rich package, for nearly $12,000 less.
Nor can you make much of a case for the TLX's ostensibly upscale interior. The TLX doesn't come close to the refined vibe offered by the BMW 3-series and the new Mercedes-Benz C-class. Combined with the schizophrenic dual-screen infotainment system and its anti-intuitive mix of hard and touch-screen controls, it adds up to a package that feels like it's trying too hard to convince itself that it's more than an Accord with a thicker, richer layer of frosting. Ultimately, Acura needs to step even further away from Honda by offering products that might compel buyers to shop Acura first and foremost, as it did in the brand's heyday. If the TLX is the first step in that direction, it's a baby step.