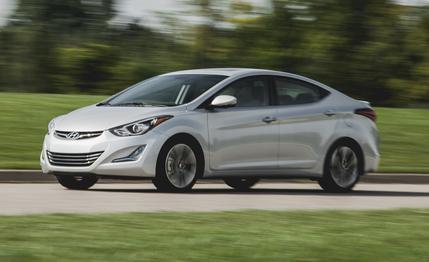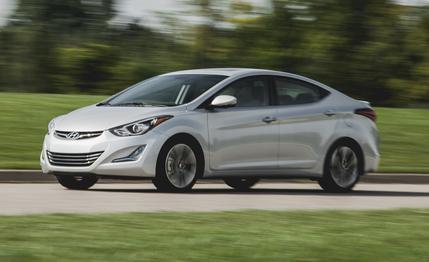 Instrumented Test
"Sport" as applied to the revised-for-2014 Hyundai Elantra sedan's trim level should not be misconstrued. An Elantra Sport is not a sports sedan. It isn't even a sporty sedan, really, despite boasting "sport-tuned" suspension and steering. Instead, the 2014 Elantra Sport is a label that denotes the four-door model with the Elantra lineup's biggest available engine, a 173-hp 2.0-liter four-cylinder that's standard in the Elantra coupe and GT hatchback. Sport is applied here in the same way that "deluxe" means your burger comes with fries and slaw. They had to name it something.
The Sport joins the SE—previously the GLS—and Limited trim levels in the sedan lineup. Every 2014 Elantra wears mildly enhanced fog lights and new wheel designs. In addition to its direct-injected 2.0-liter four—with its 28 horsepower and 24 lb-ft of torque advantage over the 1.8-liter four in the SE and Limited—the Sport also employs a thicker 23-mm front anti-roll bar (versus 22 mm) and stiffer dampers. Front spring rates are identical to those on non-Sport Elantras and the rears are barely stiffer, but the steering ratio is quicker and the electric assist retuned for less friction for better accuracy. Unlike other Elantras, which offer selectable steering modes, the Sport has just one setting.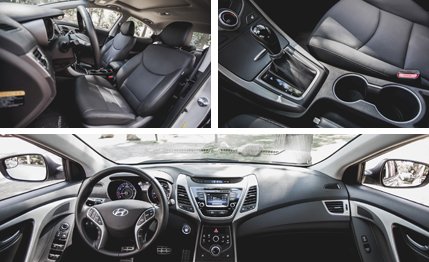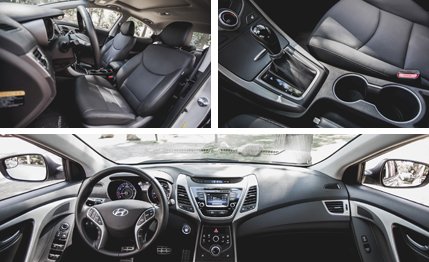 Still, for enthusiasts, all of the sport-this and sport-that leaves much to be desired. The car flops during hard cornering, the steering is lifeless, and the engine moans disinterestedly. The trip to 60 mph takes 8.0 seconds, matching the times we've squeezed from the Elantra coupe and GT hatchback, give or take a tenth. (It's 1.4 seconds quicker than the 1.8-liter–equipped 2014 Elantra Limited sedan we tested earlier this year.) Braking from 70 mph took 180 feet—about class average—and the sport suspension and steering teamed up for just 0.82 g of grip on our skidpad. These numbers are five feet longer and 0.03 g lower than what we recorded for the 2014 Elantra Limited without the sport bits but with identical Hankook tires.
A manual transmission is available for those who'd like to knock $1000 off the price and exert more energy making the car go, but we found the six-speed automatic on our test car to be contextually appropriate. The slushbox is slow to downshift and generally fumbles around for a bit looking for the right gear when called upon, making it a far better match for the slow-reacting chassis. More driving pleasure in a compact-sedan package can be found in a Ford, Mazda, or Volkswagen dealership.
Driven like a commuter, the Elantra Sport feels more cohesive. There's lots of space inside, and while it's starting to appear dated, the circa-2011 cabin's curvy style isn't boring and it's rendered in decent materials. The bigger engine hustles the Elantra into traffic gaps with more gusto than the 1.8-liter four and netted 27 mpg in our testing, exactly the same as the slower Elantra Limited. Few Elantra drivers will notice that abrupt road imperfections trigger secondary vertical wheel motions and body float; what will matter to them is that, on the whole, the suspension feels compliant.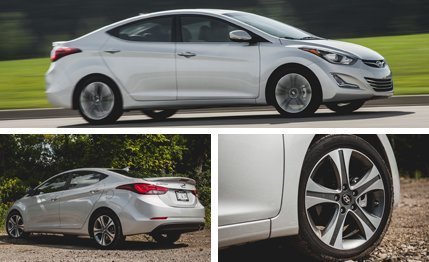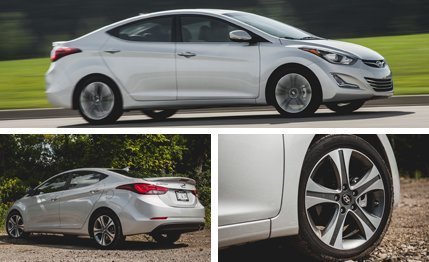 As we've come to expect from Hyundai, the Sport's list of standard equipment stretches far. Leather wraps the seats, steering wheel, and shift knob; LEDs accent the headlights and illuminate the taillights; and the wheels are attractive 17-inch jobs. There's also a sunroof, a power driver's seat, keyless entry with push-button ignition, aluminum pedals, and a 60/40 split-folding rear seat. A 4.3-inch touch-screen display with a backup camera also is part of the mix, but it's tiny; happily, switching among major functions is accomplished via hard buttons that flank the screen. All of this gear comes wrapped in an eminently affordable, $23,510 package, and the only option our car carried was floor mats, for an extra $125.
That's a lot of sedan for the price, but just remember that actual sportiness isn't included.