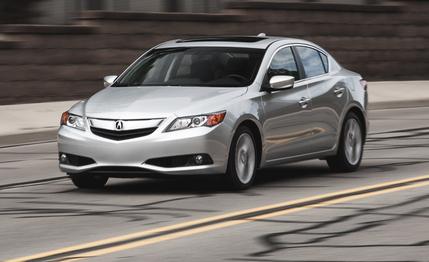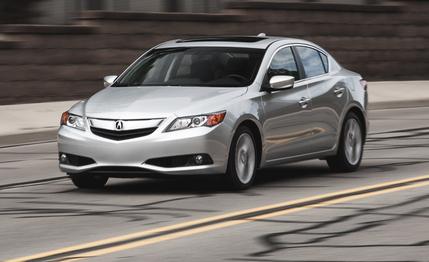 Instrumented Test
Although Acura's current buzz centers on the new TLX mid-size sedan and the upcoming NSX sports car, the luxury brand's lineup still starts with the entry-level ILX. An all-new 2016 version will bow soon and the update can't come soon enough: After spending 40,000 miles with both a long-term 2013 ILX 2.4 and a 2013 Honda Accord Sport, we concluded that the compact Acura's greatest challenge is that the larger and value-packed Honda is a better car in every meaningful way.
Meager Drive
The ILX is based on the Honda Civic sedan but dressed in classier-looking garb. Our long-termer was a top-end 2.4-liter model packing the 201-hp four-cylinder and six-speed manual gearbox from the Civic Si, which made it pleasantly athletic in a straight line, if not buzzy on the highway. The base model, however, gets along with just a 2.0-liter four and an antiquated five-speed automatic transmission as its only powertrain choice. With no third pedal and only 150 horsepower and 140 lb-ft of torque on hand, fun is not part of the equation.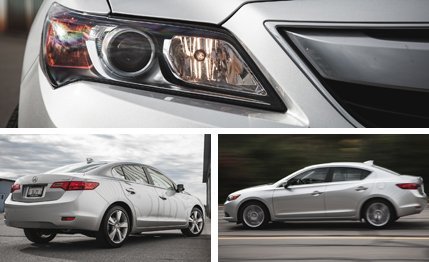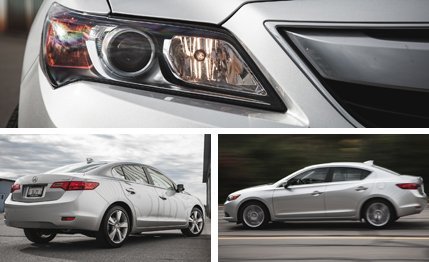 Being a Honda, the Acura likes to rev, and our 2.0-liter test car had adequate grunt for most real-world situations. But an 8.3-second zero-to-60 run and 16.6 seconds to cover the quarter-mile at 85 mph aren't figures that excite anyone. Despite this car's trim 2951-pound curb weight, that's well behind the 2.4-liter car's 6.4- and 15.0-second times, as well as those for every four-cylinder Honda Accord sedan we've tested in recent years, including our $24,180 long-termer with the available six-speed manual. The 2015 TLX's new eight-speed dual-clutch automatic would surely help here, as the ILX's five-speed 'box can't keep the little 2.0-liter in the meat of its narrow powerband. The base Acura does hold a slight performance advantage over the Honda Civic, but the latter has a 143-hp, 1.8-liter four and a continuously variable transmission.
Minimal grip from 17-inch Michelin all-season tires doesn't help the ILX's cause, limiting lateral stick to a middling 0.82 g on the skidpad and braking ability to 170 feet from 70 mph. Ride quality is decent and the electric power steering is direct, but the Acura lacks the poise in transitions and overall tactility of the 10Best-winning Accord, as well as the outright grip. And that's to say nothing of the superb Audi A3 with which this Acura directly competes. We observed a respectable 28-mpg overall, which is spot-on with the 2.0's EPA combined rating but no better than our long-term 2.4 model's average or the larger and more powerful Honda's.
You Can Do Better
As with the exterior, the ILX's cabin is simple and a little boring. The look is getting stale compared with Acura's newer offerings, with low-res displays and a haphazard scatter of buttons across the center stack. The 2.0's optional navigation system is a plus, however, because Acura curiously doesn't offer that feature in conjunction with the 2.4's manual transmission. Overall comfort is good, despite front seats that have too much lumbar support and greater road noise at highway speeds than we'd prefer. But the ILX is still a small car and lacks the expansive back seat and trunk of a mid-size sedan, not to mention the design and execution of other similar-size cars. These include the 10Best-winning Mazda 3 and Volkswagen Golf, as well as the aforementioned A3.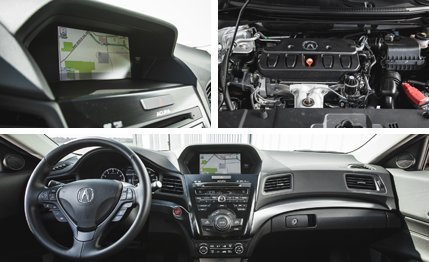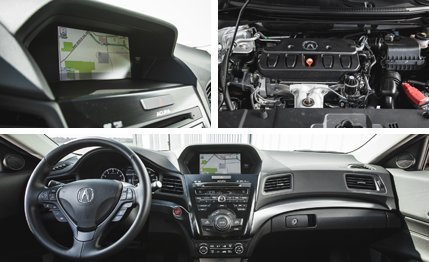 Price is another key point in our ILX/Accord analysis: While base 2.0 ILXs start at a substantial $27,970, our 2.0 Tech model came to $32,670, some $1655 more than a top-level 2.4-liter Accord EX-L with Navigation. This ILX's sticker included a wide array of expected luxury-car features, as well as the Premium (satellite radio, auto-dimming interior mirror, xenon headlights, and fog lights) and Tech (navigation, upgraded ELS audio system, and GPS-linked climate control) packages. But that's simply too much money for a small car that's doesn't stand out in any significant manner.
What Is Acura?
Until the brand clearly defines what a modern Acura is—and engineers compelling reasons to buy into the bottom rung of its product ladder—the ILX makes little sense among the plethora of excellent small- and mid-size cars available today. Acura's upcoming revisions for 2016 may unwind the riddle of the ILX, but until then just buy a Honda Accord.