Instrumented Test


From the January 2015 issue of
Car and Driver
Car manufacturers sometimes stray from established paths in their quest for market growth, occasionally birthing creations that surprise us with vision, excellence, and healthy profits (see Porsche Cayenne and Cadillac Escalade). Other times, however, the process yields a dud, such as the BMW 5-series GT. While Mercedes-Benz's extra-strength GLA45 AMG is certainly more exciting than BMW's Quasimodo, it's no less confusing.
The star atop the new-for-2015 GLA-class lineup, this AMG 45 is what Mercedes calls a high-performance compact luxury crossover. But it's really an anabolic hatchback perched on its tippy-toes, stewed in the same hot-rod sauce as its mechanical twin, the CLA45 AMG sedan. At just 58.2 inches tall, the GLA45 could hide in the shadow of a Ford Taurus.
Indeed, at 175.0 inches long, the GLA is diminutive—seven inches shorter than the already tidy CLA250—with only a slightly elevated seating position. The five-door body offers greater versatility and about the same cargo space as the sedan, as well as improved rear headroom. But this is still a small vehicle with limited rear-seat space. Think of it as a Nissan Juke NISMO RS on steroids.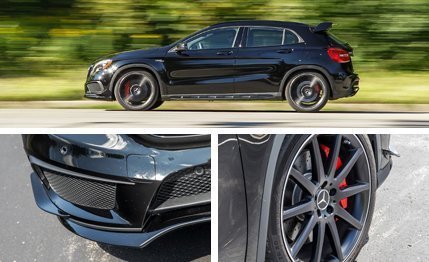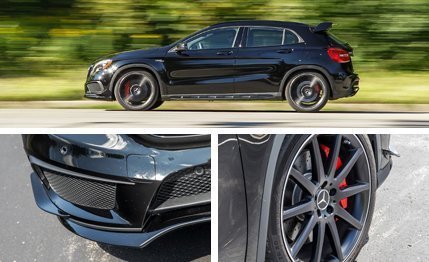 Top: The GLA45 might be strange, but it's also righteously quick. Bottom left: The optional dive planes are not, you know, necessary.
Sharing its guts with the high-test CLA, the GLA45 packs the same transverse M133 2.0-liter four-cylinder fed with up to 26.1 psi of boost from a twin-scroll turbocharger. Output is the same bonkers 355 horsepower and 332 pound-feet of torque, along with a flat and raucous exhaust note unlike that of any of AMG's melodious V-shaped engines. A new crankshaft and pistons and a stronger aluminum block are among the upgrades over the regular GLA250's 208-hp unit.
Chalk up some of the 45's provocative noise to our test car's $450 AMG perform­ance exhaust, which emits a sharp brraap on full-throttle upshifts that's loud enough to startle pedestrians. Perform­ance is provocative, too: The blown four can move the 3589-pound GLA45 with the same authority as in the CLA45. Although it's primarily a front-driver, launch control and a four-wheel-drive system that can route up to 50 percent of the power to the rear axle catapult the AMG hatch like a proper sports car. Zero to 60 mph takes just 4.2 seconds, and the quarter-mile run gets done in 12.8 at 109 mph.
Rapid-fire shifts from the standard seven-speed dual-clutch automatic somewhat counter the considerable lag from the turbo, but at the expense of low-speed drivability. Three driving modes (eco, sport, and manual) tailor the shifts from relaxed to aggressive, but the GLA45 always feels high-strung and buzzy. Wafting down the road is not its thing. We managed only 20 mpg over nearly 1500 miles of mixed driving, well below the EPA's 23-mpg city and 29-mpg highway ratings.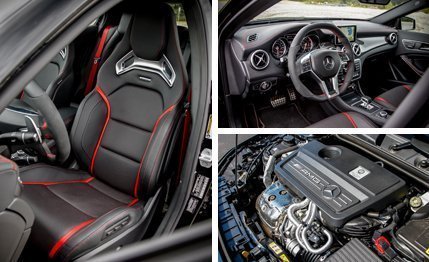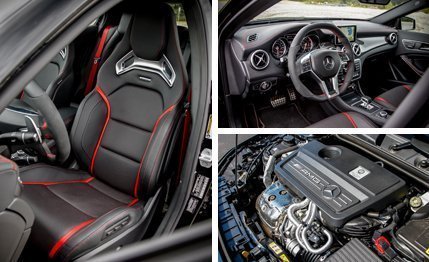 Left: The excellent AMG-Recaro seats cost an extra $2250. The leather on them is a further $1500.
The GLA45 sits 1.8 inches lower than the regular GLA250 4MATIC on firmer springs, dampers, bushings, and anti-roll bars. Our particular model wore $850 20-inch wheels wrapped in Continental ContiProContact 5P performance rubber (19s are standard). The body control and outright grip on the skidpad (0.96 g) are impressive, and the upgraded brakes from the CLA45—13.8-inch rotors in front, 13.0 inchers out back—bring things to a halt from 70 mph in just 151 feet. But the suspension is awfully taut and limited in travel, resulting in painful crashes over cratered roads. The electric power steering is firm and quick at 2.5 turns lock-to-lock, but its lack of tactility and on-center feel makes highway cruising rather busy.
And when cruising, don't expect many thumbs up from the traditional Benz crowd in their gilded chariots. Festooned with a big rear wing as well as canards on its front fascia—all included in our test car's $1950 Aerodynamics package—the GLA45 looks like a punk, particularly with its $720 Cosmos Black paint, $300 red brake calipers, and the $750 AMG Night Styling package (gloss-black trim and black-chrome tailpipe surrounds).
Our example also had a $500 AMG faux-suede steering wheel, excellent $2250 AMG-Recaro seats, and the $1500 Black "Red Cut" leather package (black leather seats, red stitching and seatbelts, and a black headliner). But you don't have to look hard to find some cheap plastics.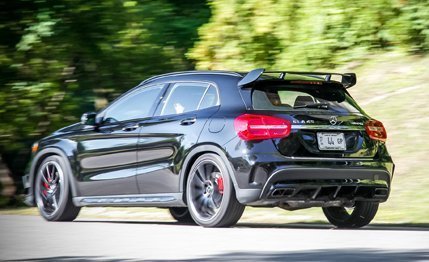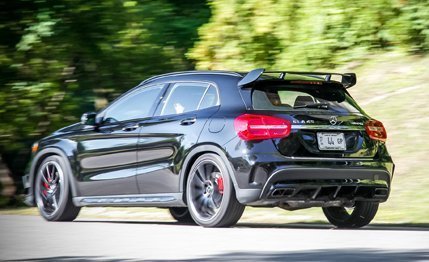 Check out my wing, brah!
The $2500 Driver Assistance package (blind-spot and lane-keeping assists and Distronic Plus cruise control) and the $2480 Multimedia package (seven-inch screen, voice-controlled navigation, a rearview camera, DVD player, and more) were also included on our car. We wish the Premium package (auto-dimming mirrors, upgraded audio system, dual-zone climate control, and heated front seats) were standard at this price, but it costs another $2300, and a parking-assist system runs an additional $970.
The GLA45's base MSRP of $49,225 is less than a grand more than its CLA counterpart's, and the crossover is our pick of the two given its added utility. But opting for one like our test car requires a breathtaking $67,695, enough to acquire a nice Mercedes M-class ute or a new BMW M3.
Granted, the GLA45 is a serious, real-world performer, and many of its options are frivolous trinkets. Mercedes will surely sell a few to speed-addled middle man­agers looking to brandish an AMG key fob at the divorcé bar. Yet the 45 lacks the ­dignified aura of other fast Benzes, as well as the cohesion of arguably the best hot hatch on the market, the Volkswagen GTI. That the VW costs half as much and is more enjoyable to drive, albeit at a reduced pace, makes AMG's runt seem as silly as the dive planes on its front bumper.