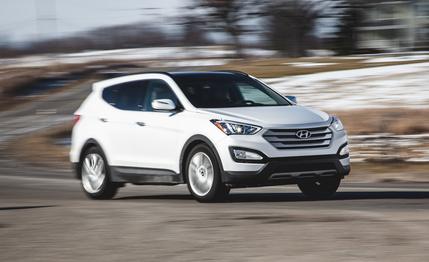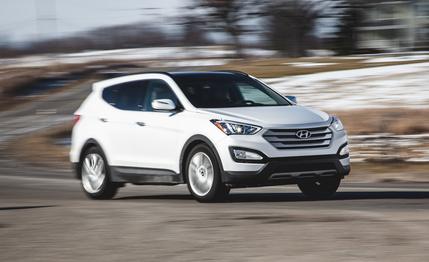 Instrumented Test
Sport is a word that's affixed to a lot of unlikely iron, particularly in the world of SUVs. But the latest Sante Fe Sport may just be worthy of the designation.
Perspective: This Hyundai comes in two sizes, the two-row, five-passenger Sport and the three-row, seven-seat model, which is badged simply Santa Fe. Riding a 106.3-inch wheelbase, the Sport is, predictably, lighter and handier than its bigger cousin, which has 3.9 additional inches between its axles.
However, the word "lighter" merits an asterisk. Hyundai lists curb weight for this particular Santa Fe as 3706 pounds, not too porky for an all-wheel-drive crossover in this class. However, our test unit weighed in at a rather pudgy 4021, partially thanks to a substantial load of optional features. Mass, of course, is the implacable foe of performance, but the Santa Fe surprised us with a zero-to-60-mph sprint of 6.6 seconds.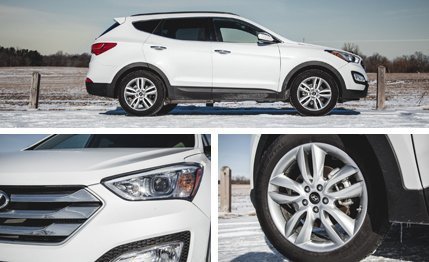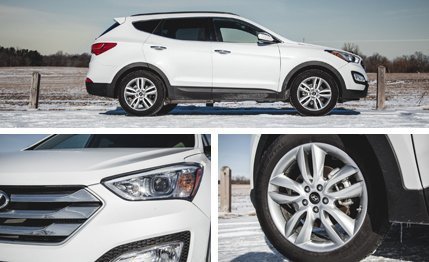 That's pretty close to tops in this class, a tribute to the power traits of the optional 2.0-liter turbo. At 264 horsepower and 269 lb-ft of torque, its output is robust by compact-SUV standards. But its most endearing virtue is midrange response. The turbocharger comes online almost instantaneously, delivering a habit-forming surge, and if the six-speed automatic isn't particularly gratifying in manual mode, its programming makes it intuitively responsive when it's operating in full automatic.
Fuel economy for the 2.0T is so-so by class standards at 18 mpg city and 24 highway, per the EPA. We averaged 18 mpg in mixed driving.
Surprisingly Nimble
It's always easier to enjoy a vehicle that's quicker than most of its ilk, but it's easier still when its responses aren't reminiscent of a dinghy struggling through a riptide. Hyundai has made a few subtle tweaks to the Santa Fe's suspension for 2015—firmer bushings, revised rear geometry—that lend a little more urgency to its zigs and zags.
The chassis team also enhanced the electric power steering system with a new microprocessor that lends a little more sense of connection when the driver switches to the Sport setting of the program. The ratio could be a little quicker—it's three turns lock-to-lock—but its accuracy stacks up well versus competing crossovers.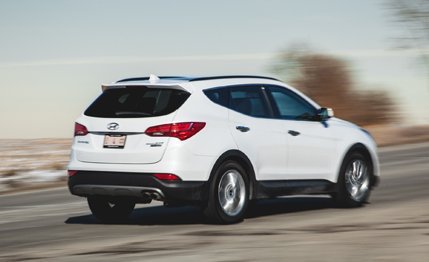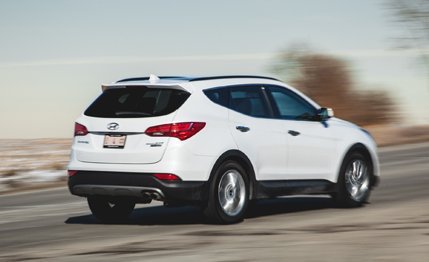 Downsides? The damping could benefit from some attention, as a little more compliance would be helpful on lumpy pavement and freeway expansion joints. Braking performance is respectable at 168 feet from 70 to zero mph, albeit with hints of fade after repeated stops. But both braking and grip would improve with a more aggressive tire than the all-season rubber worn by our test example.
On the other hand, the 235/55-19 Continental CrossContact LX Sports made the most of the Santa Fe's all-wheel-drive system and were remarkably effective during a Michigan snowstorm that put many SUVs into the ditch (and also kept us off of our test-track skidpad).
Back to that "Sport" label. Does the Santa Fe measure up to the unerring footwork of the Mazda CX-5? Not quite, but the distinction isn't huge, and the Santa Fe is quicker. In this teeming segment, the Santa Fe exhibits more sport than most, and it doesn't give away much, if anything, on the overall agility index.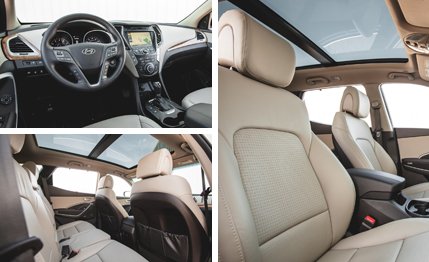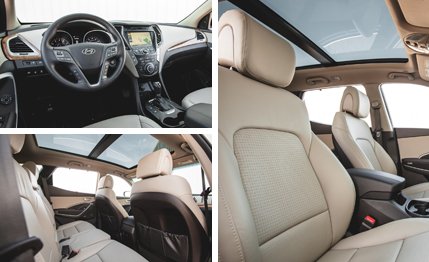 Hyundai Family Value
Typical of Hyundai, the Santa Fe offers good value for the money, provided the buyer exercises some restraint. A basic front-drive Santa Fe, with the naturally aspirated 2.4-liter four, starts at $25,825. Base price for a 2.0T with AWD is $33,875, which includes a lot of cool standard features—a power rear liftgate, leather, heated front seats, electroluminescent gauges, and driver-selectable steering modes among them. Not to mention handsome interior decor and lots of interior volume—enough to swallow a snow blower, important during an upper-Midwest winter.
Our Santa Fe was equipped with the Ultimate package, which added, among other goodies, 19-inch aluminum wheels, navigation with an 8.0-inch touch screen, a panoramic sunroof, a 12-spreaker Infinity audio system, ventilated front seats, heated rear seats, and a heated steering wheel, which is as welcome to cold-weather dwellers as heated seats.
The package also added $4350 to the bottom line, and at $38,350, it's a little harder to perceive the Santa Fe as a bargain. But it's still easy to perceive it as one of the more desirable entries in the compact-crossover derby.