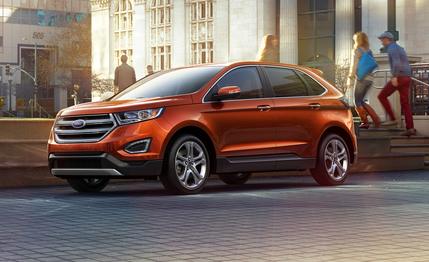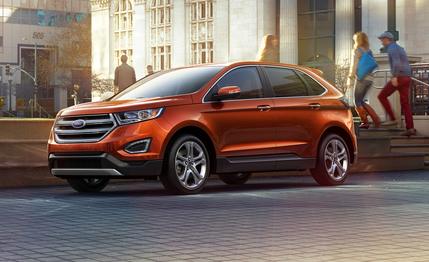 First Drive Review
Some new models arrive to great fanfare, instantly obsoleting their predecessors while shifting customer perception of the brand. This is not one of them. The new Ford Edge quietly takes its place in dealer showrooms this month, smack in the middle of the model year, the redesign mostly concerned with putting the model back on par with the rest of the contemporary Ford lineup.
The Escape influence shows in the Edge's sculpted sides and straked hood, while the grille looks borrowed from a Taurus. The instrument panel and switchgear were taken directly from the corporate larder, and the door inserts could have been poached from a Mustang. Underhood, the Edge's new top-of-the-line engine is donated by the F-150, while the Fusion's CD4 platform provides underpinnings. The old Edge is even represented, its cake-pan-like silhouette having been retained in the redesign.
Higher-quality ingredients abound, most noticeably in the interior finishes, yet the recipe is happily consistent with what's been served before. The Edge continues as a five-seater, offered at the same $28,995 base price as last year, while Ford's marketing team still directs third-row seekers to the Explorer and the Flex. Three choices again appear on the engine menu in the form of a turbo four and two V-6s, with front- or four-wheel drive available.
New Engines
Last year's base engine, the naturally aspirated 3.5-liter V-6, is now a $425 option. A new iteration of Ford's EcoBoost 2.0-liter four, a $995 upcharge last year, is standard. And for the first time, the four-cylinder is available with four-wheel drive and an optional tow package.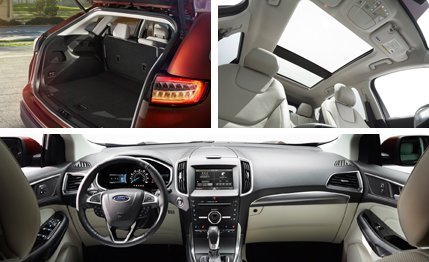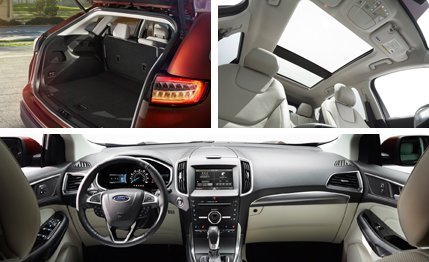 The 2.0-liter has been substantially overhauled and its turbocharger is now of the twin-scroll variety, which helps produce 245 horsepower, five more than in last year's 2.0-liter EcoBoost. It's worth noting that, although Ford says its EcoBoost powerplants do not require premium fuel, power ratings for these engines are calculated while using 93-octane gasoline; customers who pump regular will be making do with less horsepower. So, too, will buyers of the optional 3.5-liter, as this V-6 takes a five-horsepower hit from last year. It now makes 280 horses due to differences in packaging and tuning.
The Edge Sport continues into this generation, losing a liter of displacement and gaining two turbos. It is now fitted with the first transverse application of the EcoBoost 2.7-liter V-6, rated at 315 horsepower and 350 lb-ft of torque. It's exclusive to this trim. Sport models also get monotube rear shocks, stiffer springs and anti-roll bars, and a distinct front fascia. The Edge Sport starts at $38,995 and can push past $45,000 if you load it up with equipment.
New Gadgets
Ford offers nearly every feature and technology at its disposal here. All Edges employ a six-speed automatic updated with steering-wheel-mounted paddle shifters and a Sport mode. Optional advanced safety equipment includes blind-spot monitoring, cross-traffic alert, adaptive cruise control with lane-keeping assist, inflatable rear seatbelts, and a 180-degree front-view camera. An advanced version of Ford's parking-assist technology will not only parallel park your Edge for you, but also pull you out of the space or back your vehicle into a perpendicular spot.
MyFord Touch also lingers on the option list, and, as in other new Fords, its capacitive touch controls have been jettisoned in favor of two neat rows of little round buttons. Edge shoppers who want Ford's promised-to-be-improved Sync 3 system might well wait and see if it appears in the 2016 model arriving this fall. As it requires new hardware, it will be incompatible with what's currently offered, meaning there will be no ability to upgrade a 2015 Edge. Ford says it will start rolling out the new infotainment system later this year.
New-ish Personality
The Edge drives much like the Fusion with which it shares its front strut and rear multilink suspension design. Its steering is light and quick, creating the impression of a smaller vehicle, at least until cornering forces build. Wheelbase has grown by an inch to 112.2, matching the Fusion's, while an additional 3.9 inches of length over last year give the new Edge boosts in both passenger and cargo volume. Aluminum lower control arms and increased use of high-strength steel help drop stated curb weights on most models, although all but the most basic Edge will still top two tons. But that weight is well controlled, and the Edge delivers a plush ride.
The twin-turbo 2.7-liter is a worthy replacement for the old naturally aspirated 3.7-liter. It even sounds the part, the only one of the three engines whose exhaust and intake notes do much to penetrate the quiet cabin. At the other end of the spectrum, acceleration from the four-cylinder remains adequate but unimpressive. While it does boast a 3-mpg improvement in EPA combined fuel economy compared with either of the V-6 engines, our experience shows that turbocharged, small-displacement engines often fall short of those estimates in the real world. The 3.5-liter V-6 offers better throttle response and a more linear power delivery, and so it seems like $425 well spent, especially compared with the much higher cost of the Sport.
The Edge is one of Ford's stalwart products, a model that has historically topped 10,000 sales per month. This modernized version may not break new ground, but it does offer incremental improvements in nearly every area. It looks and feels more refined, and the equipment upgrades alone should keep buyers interested.