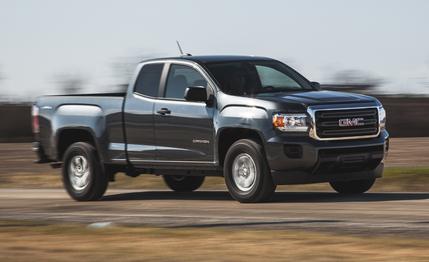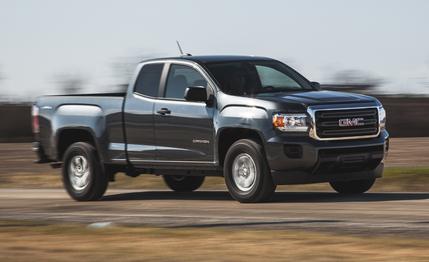 Instrumented Test
Six cylinders. That's what we've found to be a requirement as we've made our way through the various available configurations for the Chevrolet Colorado and the GMC Canyon, General Motors' highly anticipated, recently introduced mid-size pickup twins. The 2015 GMC Canyon tested here has just four cylinders, and it isn't exactly the full-size truck replacement for adventurous weekend warriors that GM thinks it is.
But Look at Its Fuel Economy!
GMC will tell you that the Canyon's standard-issue 2.5-liter four-cylinder will net you the best fuel economy of any mid-size pickup, with an EPA rating of 20 mpg in the city and 27 on the highway. That's great, until you consider the Canyon's (and the identically rated Colorado's) decade-old competitive set. (A new Toyota Tacoma and Nissan Frontier are on the way, however—as well as a second-generation Honda Ridgeline.) And things decline from there: Add four-wheel drive, like our test truck had, and the EPA figures drop to 19/25 mpg. Not only is that just 2- and 1-mpg better than the far more powerful V-6 4x4's numbers, but it's also not far enough above the thriftiest full-size Chevrolet Silverado and GMC Sierra 4x4 trucks (17/22 with the base V-6) to seem worth it.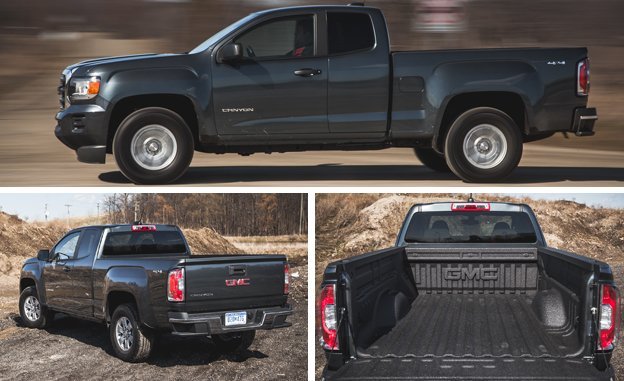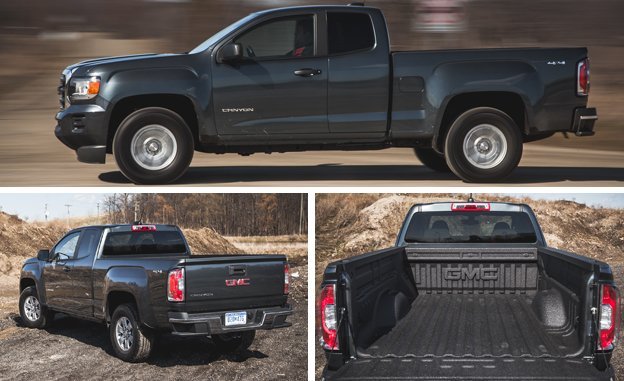 In this test we saw 18 mpg, with the 2.5-liter four fighting a multi-pronged battle against the axis of weight (4158 pounds), a six-speed automatic whose overriding goal was to grab the highest gear possible, and torque and horsepower peaks (191 lb-ft and 200 horsepower) situated too close to redline to be useful. For comparison, a V-6–powered Canyon 4x4 crew cab we recently tested got 17 mpg, and a Chevrolet Silverado crew cab 4x4 V-6 managed 16 mpg. Those trucks also happened to be 1.7-and 1.5-seconds quicker to 60 mph than this Canyon, while also offering useful back seats.
Cruising at speed, the Canyon required a downshift (or two) to maintain 75 mph when encountering a slight grade, and even then, the engine sounded coarse and displeased with the request. Should you be hooking up a trailer, the V-6 Canyon can tow up to 7000 pounds, while the six-cylinder Silverado/Sierra can lug as much as 7600 pounds. Given that our four-banger test truck can pull only 3500 pounds, the other trucks' real capability seems worth the sacrifice of 1 or 2 mpg.
Six-y Dreams
In fact, we're not even sure why GMC sees fit to offer the four, especially given how the brand's pricing structure practically begs buyers to upgrade to the 305-hp 3.6-liter V-6 that's optional on every Canyon save for the base SL. On the second-rung-up Canyon (curiously, GMC's trim-level structure moves from SL to "Canyon" to SLE, then SLT), the V-6 commands $1235, plus the required $650 six-speed automatic for a total of $1885; on the SLE, where the automatic is standard, the six also costs $1235; finally, on the top-flight SLT, GMC charges just $950 for the same engine.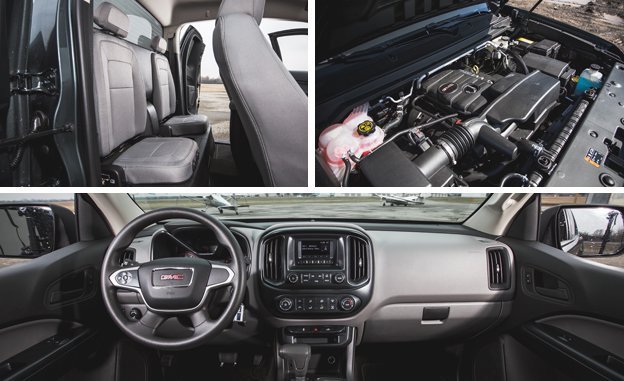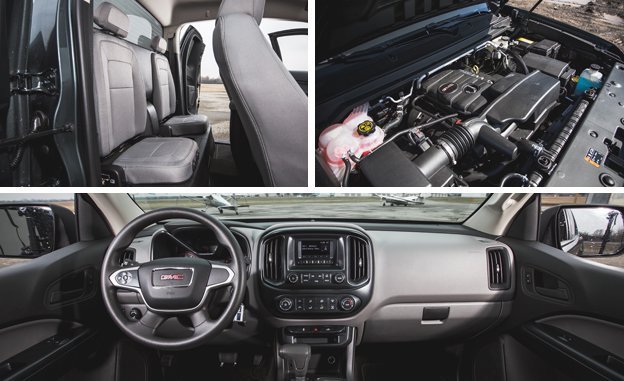 Being 5.7 inches narrower, 17.1 inches shorter, and 3.6 inches lower than an equivalent extended-cab Sierra, you'd think the Canyon would be more maneuverable, but your first three-point encounter with a perpendicular parking spot quickly banishes that hopeful thought. GMC says the Canyon's turning circle is 41.3 feet, which, while not as bad as a Sierra's 46.9, is still less than nimble.
Are there upsides? Sure, the Canyon rides well, although the body and chassis don't feel as ingot-solid as do those of a Sierra, and the truck is willing to round corners even when traveling at a quick pace. The interior looks pleasant, even if all the materials are generally bland and hard to the touch, and—somehow—power mirrors aren't included on a truck with an as-tested price of $30,200.
All of this isn't to totally shoot down the Canyon. Like the Colorado, trim-level-for-trim-level, it's several thousand dollars cheaper than an equivalent Sierra or Silverado. And while it doesn't redefine the segment, despite having a head start on the competition, it is newer and offers many more modern conveniences. Just do yourself a favor and get the V-6.