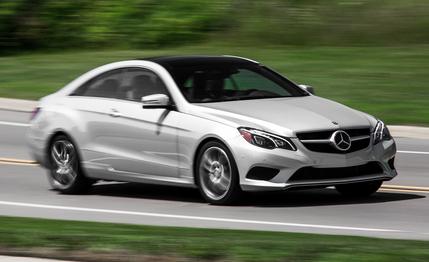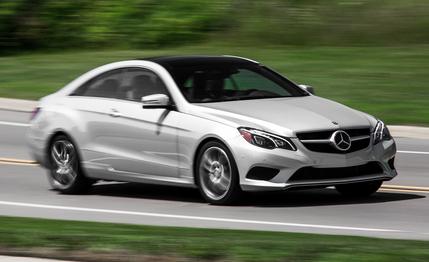 Instrumented Test
Well, this is refreshing, a Mercedes coupe that's actually a coupe—with two doors. It's one of four available E-class body styles, joining a traditional four-door sedan, a station wagon, and a convertible. It's an extensive lineup with a number of engine options that brings the total available models to 14, including a thrifty 2.1-liter turbo-diesel and a big-output twin-turbo V-8 in the E63 AMG at the top of the range.
Propelled by a 3.0-liter twin-turbo V-6, the E400 ranks a couple of rungs from the summit in terms of zero-to-Omaha. The E63 AMG sedan and wagon, for example, churn up as much as 577 horsepower and 590 lb-ft of torque and can reach mile-a-minute velocity in less than 3.5 seconds. Sending every ounce of its 329 horsepower and 354 lb-ft to all four wheels, the E400 coupe's V-6 is capable of cracking the five-second barrier in the benchmark sprint.
So if acceleration is your thing, the E400 may seem a little tame compared with its AMG cousins. But 4.9 seconds to 60 is pretty darn quick, and if that's not quite good enough the E-class coupe also has the option of a 4.7-liter twin-turbo V-8 in the rear-drive-only E550, adding 73 horsepower to the equation (as well as about six grand to the base price of a rear-drive E400). But in any case, the E400's dynamic virtues lie elsewhere.
Agility Index
Despite the E in its badge, the bones of the E400 coupe are from the previous-generation C-class's warehouse, and its dimensions are tidier than the E-class sedan's. But at just over two tons with 4MATIC all-wheel drive it's no wraith. This makes its responses and its surprisingly high cornering limits all the more gratifying. Body motions are subdued, with very little up and down movement or body roll, a pleasant surprise at the first set of abrupt corners, and made that much more impressive by the civilized ride quality.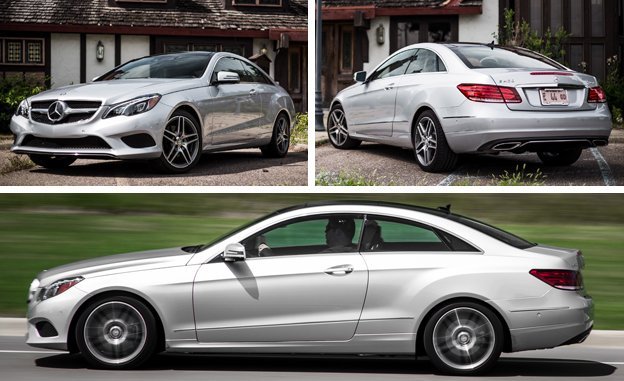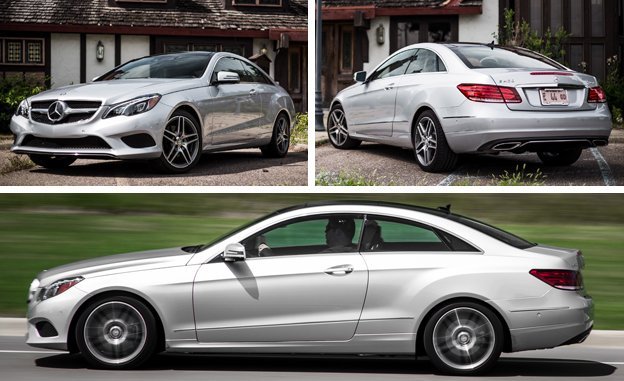 In addition to solid foundations, the key to all this is Agility Control, a Mercedes suspension system featuring dampers that adapt according to what the driver is doing with the car. Bend the Benz into a sweeping turn at hold-your-breath speed and it hunkers down and tracks through faithfully.
A set of staggered, 18-inch Dunlop SP Sport Maxx GT summer tires (235/40 in front and 255/35 at the rear) contributes to the coupe's composure in fast action, providing 0.90 g of lateral grip on the skidpad as well as laudable braking performance of 157 feet from 70 mph. As to the latter, our series of stops didn't vary more than five feet, with never a hint of fade. Some absolute purists might cite the coupe for understeer in hard cornering. But while our test sheet describes this as "mild," for typical drivers mild understeer—plus absolute predictability—would be a welcome failsafe.
The seven-speed automatic, a universal E-class feature, is nicely programmed for prompt response to the driver's right foot in full auto mode. Response to paddle-shift inputs is relaxed but reasonably satisfying. If there's any questionable element in the coupe's dynamic résumé, it's the electromechanical rack-and-pinion power steering. At low speeds, its function has a nerveless feel reminiscent of a 1990s Lincoln Town Car. It gets better at higher speeds, but the improvement is one of steering weight, and more than enough of it, rather than actual tactile information.
On the other hand, the steering is quick at 2.5 turns lock-to-lock, and it's one of those idiosyncrasies that owners adapt to over time. This is also true, probably, of the automatic engine stop-start feature, which is a little intrusive and very insistent. If the car is standing still, the engine must be dormant. No exceptions. Don't ask.
Elegance within
Like that of the sedan, the coupe's interior looks and feels like luxury, and traditional luxury at that. The classic black-on-white instruments are highly legible, while the soft, nappa-leather-covered seats ($1370) provide lateral support that stops just short of overtly sporty. The black and beige décor is punctuated by tasteful silvery trim, and a center stack with an extensive array of buttons—42 of them—and one knob (audio volume) nevertheless manages to be both functional and attractive.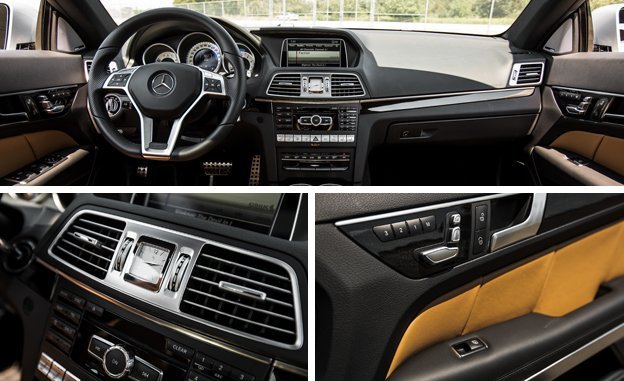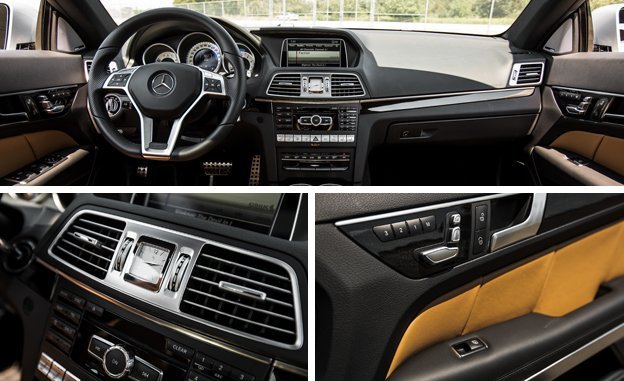 In addition to being handsome and luxurious, the E400 is also very quiet in operation, particularly at freeway cruising speeds. If there are any interior demerits, they're the snug back seat—accommodating a couple of standard-issue adults back there requires willingness to compromise by those up front—and the close proximity of the ignition switch to the column-mounted gear lever. (This is admittedly a very minor quibble.) Our car didn't have push-button start—that's a $650 option—and the ignition slot is reluctant to let go of the key when the car is switched off; the closeness of the lever exacerbates the difficulty of disembarking.
From a curbside perspective, the eyes have it. The proportions are sporty, the sheetmetal creases suggest a racy soul, the shape is fluid, and the droopy snoot also affords excellent forward sightlines for the driver. At $70,075 ready to rock, our test coupe definitely falls into the realm of luxury, an automotive confection for those with ample disposable shekels. That total outlay does include $13,300 in options.
The biggest ticket on the option list is the $3430 Premium 1 package, which includes items Benz believes consumers most want. In the case of the E coupe, that's navigation, premium audio with satellite radio, a power rear sunshade, power-folding mirrors, and a backup camera. In the smartphone era, do you need in-car navigation and satellite radio? Probably not. Then there's the $2800 Driver Assistance package, which adds adaptive cruise control, brake and steering assist, and active lane keeping. How much assistance do you need? Or want?
Chop off a couple of additional options and, without any real sacrifice, our as-tested price could easily be whittled down by nearly nine grand, although we consider the nappa leather and Sport-package seats to be close to indispensable. But however you spec it, the E400 coupe is a handsome car with dynamics to satisfy the discerning driver.