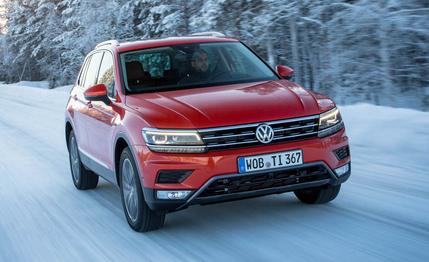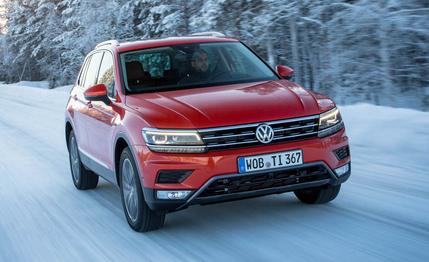 Prototype Drive
Driving new vehicles before they officially go on sale often requires asterisks. Option packages and pricing typically aren't finalized, EPA fuel-economy numbers may not have been released. The disclaimers for our first experience with the 2017 Volkswagen Tiguan, on the other hand, read like those for reality court TV, where everything's true, except the names, places, and events have been changed. To that point, the prototype European-spec Tiguan we drove on frozen roads and lakes in northern Sweden is essentially the same as the American-spec model coming stateside in summer 2017, only the wheelbase, engine, transmission, and suspension will be different.
Americans will be offered their Tiguans with only the longer of two wheelbases, although our drive was restricted to the shorter European version with 4MOTION all-wheel drive. Its seven-speed dual-clutch automatic transmission and turbocharged four-cylinder engine (and adaptive electronic dampers) also will stay on the Continent; our Tiguan will use a newer version of Volkswagen's EA888 turbo four working through an eight-speed torque-converter automatic transmission. (Our spec panel for this story reflects the version we expect to see in the States.) To paraphrase Obi-Wan Kenobi, this is not the Tiguan you're looking for. Still, our drive offered a useful preview.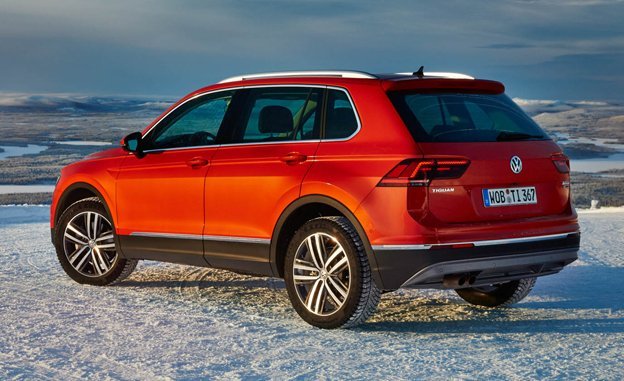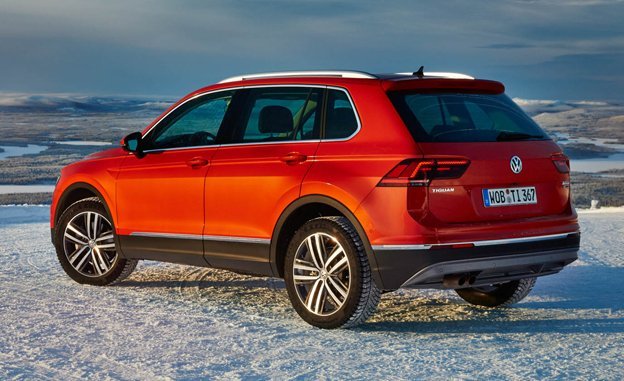 A Larger, More Affordable, Taller Golf
Before turning a wheel on the roads of Arvidsjaur, it's obvious Volkswagen worked hard to address the old Tiguan's foibles, namely cramped interior dimensions and a segment-topping price tag. Those demerits cost Tiguan sales to ever-improving segment stalwarts such as the Honda CR-V, Ford Escape, and Toyota RAV4. The new one is larger in every way, and we expect it to be competitive price-wise, starting around $23,000.
Helping to cut costs is VW's modular MQB vehicle architecture, which also sits beneath the Golf and Audi's A3. Improved packaging affords generous interior room front and back even in the short-wheelbase model, which, compared with the outgoing Tiguan, has three extra inches between the wheels and a body 1.2 inches wider and 2.4 inches longer. (The U.S. version will have an additional 4.3 inches or so of wheelbase and, naturally, will be longer.) The returns are satisfying; Volkswagen says rear-seat passengers have an additional 1.1 inches of knee room, but that's underselling things massively. A nicely placed lower cushion, gobs of headroom and legroom, a USB port and a 12-volt power outlet, and generously sized rear windows make the back seat an airy, pleasant area. A third-row seat option will also be available for Americans.
Functional touches in the enlarged cargo hold include easy-to-reach release levers for folding down the rear seats, a multi-position cargo floor, and 12-volt and household power outlets. The driver and front passenger, too, have access to a USB port, a 12-volt plug, and more usefully shaped bins and stowage cubbies than before. The dashboard follows Volkswagen's understated, angular design ethos, and everything is assembled from high-quality rubbers and plastics. It isn't yet known whether the European Tiguan's 12.3-inch TFT gauge-cluster display will be sold to Americans, but we definitely won't be offered that version's head-up display. It's possible we will get a huge, 9.2-inch center-stack infotainment screen with gesture control, although it likely will be restricted to the most expensive trims.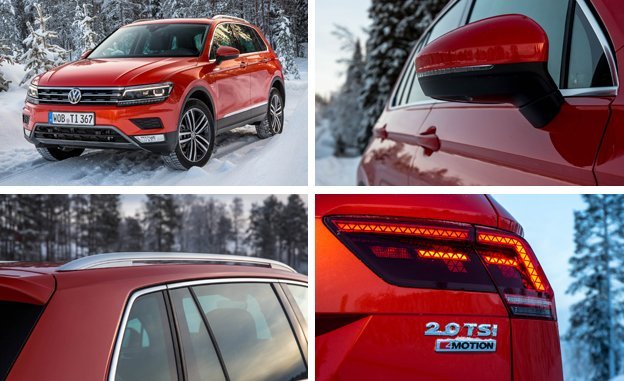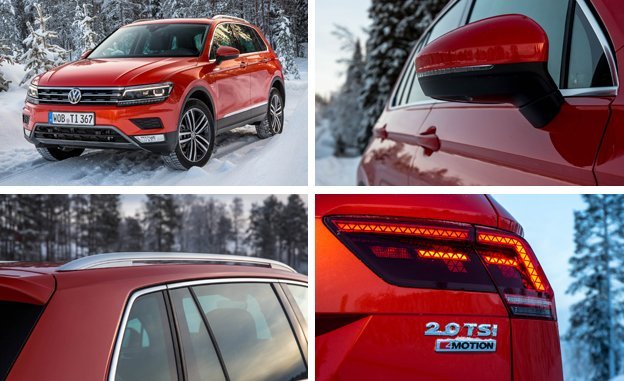 What We Will See
From behind the wheel, the Tiguan's relatively low cowl and generous glass area offer commanding visibility in any direction. The MQB bones bestow a stiff-feeling structure, and there's little noise intrusion from the suspension and tires, even over crunchy packed-snow roads. VW claims the new Tiguan is about 110 pounds lighter, and it drives that way. And yet our handling impressions are stunted by the non-finalized (yet light and accurate) variable-ratio electric power steering, the comfortable adaptive suspension we won't get, and having driven not one mile on paved roads.
The majority of our drive was instead spent exploring the nuances of the Tiguan's 4MOTION all-wheel drive, which will come to America. (Front-wheel drive will be standard.) The Haldex system is similar to the one in the 292-hp Golf R, with a clutch pack engaging the rear axle when necessary. The torque split front-to-rear isn't fixed, and up to 100 percent of engine torque can be sent to the front or rear axles as needed. New is a 4MOTION Active Control knob on the center console that cycles through four drive modes (snow, paved roads, off-road forays, and driver-programmed individualized off-road settings), altering the behavior of not only the 4MOTION drivetrain, but also the transmission, steering, throttle mapping, stability-control system, and a cornucopia of acronym-intensive driver-assist functions.
Frozen Time
A groomed frozen lake offered the perfect opportunity to compare the differences among drive modes, if not the full envelope of their capabilities. Snow mode held higher gears while also braking individual wheels to stabilize the car or distribute engine torque fore-and-aft or side-to-side to maintain the driver's intended path on slippery curves. It dutifully kept the Tiguan on course even at higher-than-recommended speeds, although truly ham-fisted driving triggered stability control to scrub speed with vigor.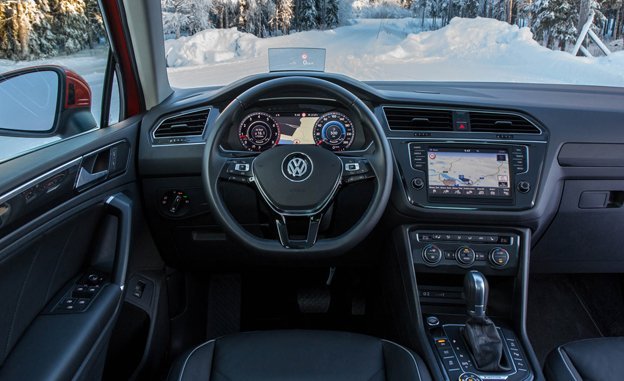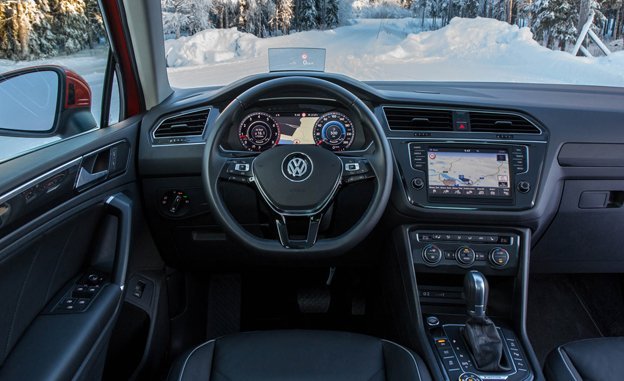 Selecting the road setting and its "sport" sub-option enabled us to overcome the Tiguan's inherent understeer with dabs of computer-monitored bumps of power to the rear axle at lower speeds on ice. But forget dreams of snow-drifting your Tiguan; stability control can be fully defeated only in the Off-Road setting, where slower throttle response made it more difficult to trick the 4MOTION system's brain into sending power to the rear axle. More to the point, no matter what combination was selected, the default slick-road reaction at the limit was safe, controllable understeer. For a family crossover, this is entirely appropriate; of greater import is that the various drive modes actually changed the Tiguan's attitude at all.
Through it all, we weren't left wanting for more power from the turbocharged 2.0-liter engine. With 177 horsepower, the Euro engine is just a few ponies shy of the version of the same engine that will power American Tiguans. Still, final powertrain impressions—especially those of the eight-speed automatic transmission we weren't able to try—are forthcoming. We've also been told that we will get a TDI diesel version provided the whole emissions-cheating thing has been resolved by then.
Even in light of a few question marks, the new Tiguan clearly retains a premium feel despite its lower MSRP. Let's just hope the Americanized version we drive on solid pavement can maintain that impression with its unique component set and extra mass.