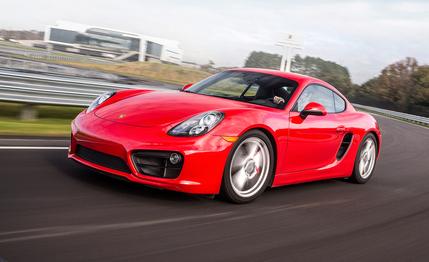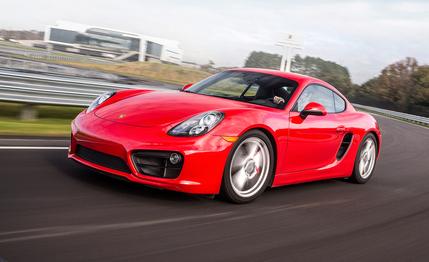 Long-Term Road Test Wrap-Up
I stood beside a Porsche public-relations man at the company's Atlanta headquarters looking for the last time at our long-term Cayman S, determinedly not saying what I wanted to say, which was, "How much money would it take to make this my personal car?"
Even with 40,000 miles on its clock, I knew the Guards Red, lightly optioned Cayman S was out of my reach. Turns out, the PR guy was going through the same quiet calculations: "If the car started at 72 grand and I could get it for its auction price, then . . ." But the math didn't work for him, either.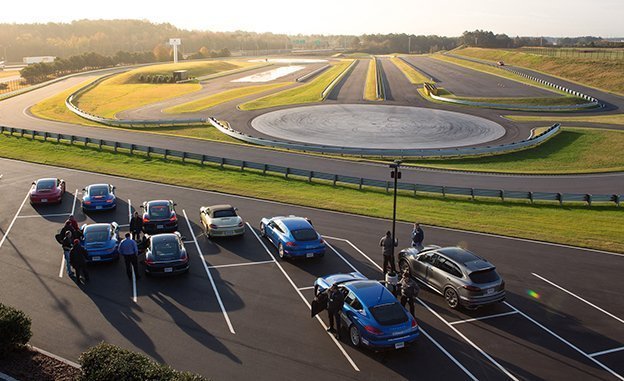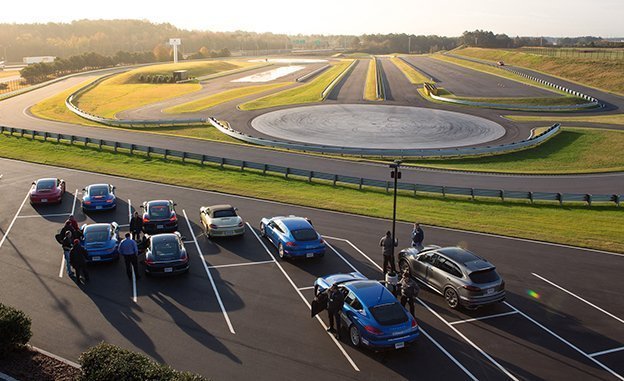 In 27.4 acres by the Atlanta airport, Porsche has crammed a mile-long handling course and various other driving-school facilities.
I had just driven the thing from the frigid north down to Porsche's tiny bit of Germany in America as a sort of homecoming (and to goof around on the company's little road course). It was like one of those Saturn homecomings in Spring Hill, Tennessee, more than a decade ago. But instead of mediocre economy cars and the people who felt inexplicably passionate about them, I was driving arguably the best all-around sports car on the market. My passion was justified, and I would be leaving without what I'd grown to think of as mine.
I arrived in Atlanta on the very day Porsche announced the Boxster and Cayman would get a new name (718) and confirmed what everyone already knew: That the model would lose, in about a year's time, its gem of a naturally aspirated flat-six in favor of a new turbocharged flat-four. So integral to the appeal of the Cayman is its delicious exhaust and intake noise that the thought of it going silent—of not getting to experience it again in this particular car or in any future Cayman—was genuinely saddening.
That engine noise was the reason that, when we had optioned our long-termer 15 months before, we chose the $2825 sport-exhaust option to amplify the aural pleasure. This on a car we were desperately trying to keep to a reasonable sticker price. It's a frivolous option only to those who have no ears.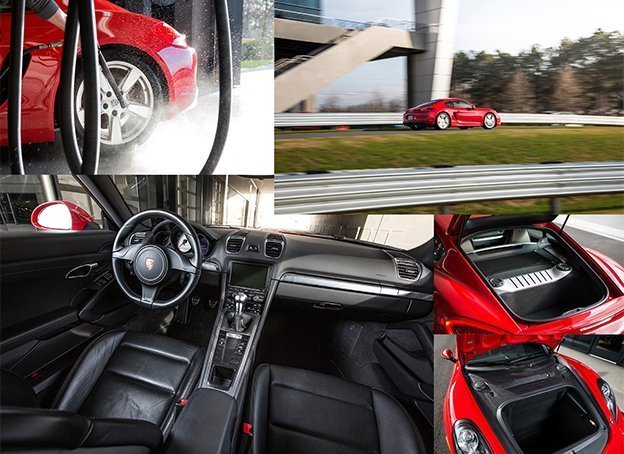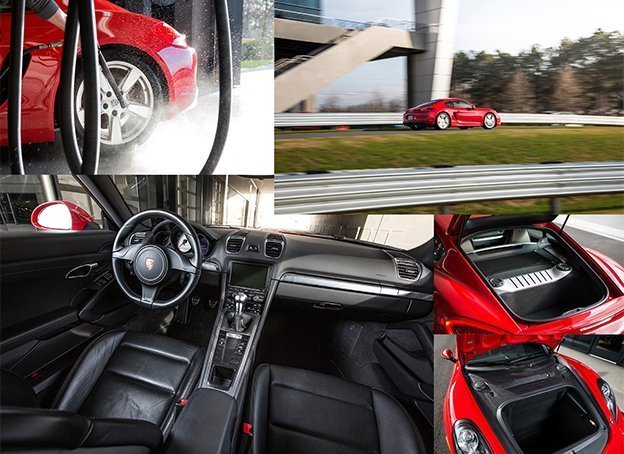 Otherwise, we resisted the reams of splendiferous options Porsche offers for the Cayman S (and every other model it produces). We focused on performance-enhancing fare and ended up with a $72,545 Cayman S. That's up $7750 on the base sticker of $64,795 for a 2014 model. While almost $8000 is not a small amount of money, it's nothing compared with what's on most Cayman Ss that we see, which regularly top $90K. Ours included Porsche Torque Vectoring ($1320), the nonadjustable Sport Suspension ($1235), the $800 partially power-adjustable sport seats, and the aforementioned Sport Exhaust System.
Throw in $670 for satellite radio and the $900 Convenience package, which included the totally necessary heated seats and the utterly pointless two-zone climate control, and we had a livable, focused sports car, even if we had no USB port, Bluetooth connectivity, or navigation system, and the cheapest-looking steering wheel we've ever seen in a modern Porsche. We also let stand the standard six-speed manual transmission (because we like to roll our own) and the standard 19-inch wheels (because we wanted to maintain some level of ride comfort). Had the GTS model been available at the time we ordered, we would have just opted for that, as it brings a large load of standard equipment for a moderately sized load of extra cash.
One of our staffers hated the standard five-spoke wheels; another wished we'd ordered the adjustable shocks; a few quibbled about the lack of connectivity; most complained at one point or another about the ugly steering wheel; and virtually everyone was amazed at how few creature comforts $72K buys in a modern Porsche. But one drive in the thing and all was ­forgiven. Its perfectly weighted hyper-accurate steering, smooth clutch takeup, certain shifter, linear power delivery, and neutral handling turned out to be more compelling than a USB socket. Go figure.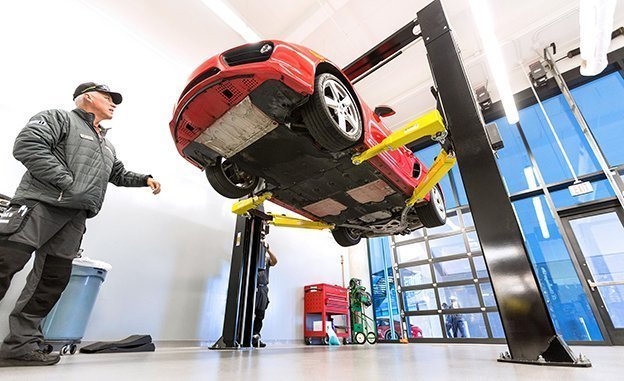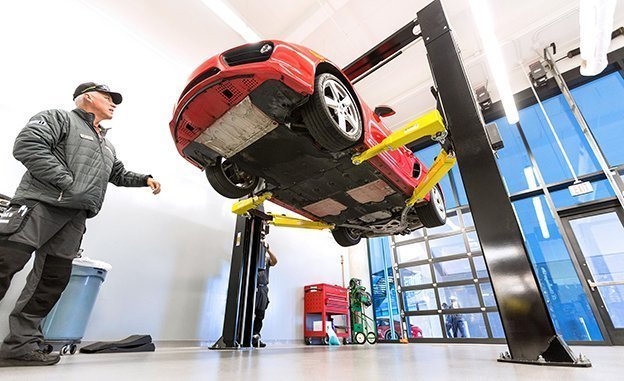 There might have been some head shaking on the part of Porsche employees while looking at the scarred belly of our Cayman S.
The notebook quickly filled with hosannas. "Perfect," "a doll," "delicious," "splendid," "fantastic," "excellent." We pretty much wore out the list of positive adjectives in the synonym section of dictionary.com. And we accumulated miles quickly thanks to the Cayman S's surprisingly practical two-trunk scheme. This was one sports car that saw plenty of road-trip miles, including journeys to Virginia, Pennsylvania, and North Carolina, among other destinations in the eastern half of the U.S. Our final road trip to Atlanta was by way of the glorious roads of the Blue Ridge Mountains.
While we maintain that a Cayman S is more of a holistic sports car than a platform for delivering stunning performance numbers, the 325-hp 3025-pound Cayman S posted solid test-track figures. Once properly broken in, our car ran a 4.2-second zero-to-60-mph sprint and a 12.7-second quarter-mile time at 112 mph, both a few tenths of a second off the times of the 2014 Chevrolet Corvette Stingray that we also had in the fleet, but the Cayman's engine never blew up, either. The Porsche circled the skidpad with a near neutral demeanor and 1.03 g's worth of grip and stopped in a stunning 145 feet from 70 mph with zero fade. With 40,000 miles on it, the Cayman matched its earlier acceleration and cornering performance but added nine feet to its braking distance. Several laps of Porsche's mini road course at its Atlanta HQ revealed that the Cayman S has lost none of its capabilities, grace, or hunger for fast driving. Our only complaint was with the Goodyear Eagle F1 tires. We suspect a different tire would have provided more progressive breakaway characteristics. But the Goodyears were the only summer tires available with the 19-inch wheel package for 2014.
Sports cars are not without their compromises, though. And here we're not talking about this vehicle's lack of creature comforts. We opted for the nonadjustable sport suspension in our Cayman S, which drops the car 0.8 inch compared with the already low-slung standard car. It sat there hugging the ground like a pretty red scarab. The downside, other than the occasional clumsy exit from the driver's seat, was that we needed to approach even moderately steep driveways with the care normally reserved for bomb-squad operations. Our car's chin bore the scars of the momentarily careless. Worse, someone managed to punch a dent in the underside of the body roughly the shape and size of the speed bumps in our office complex.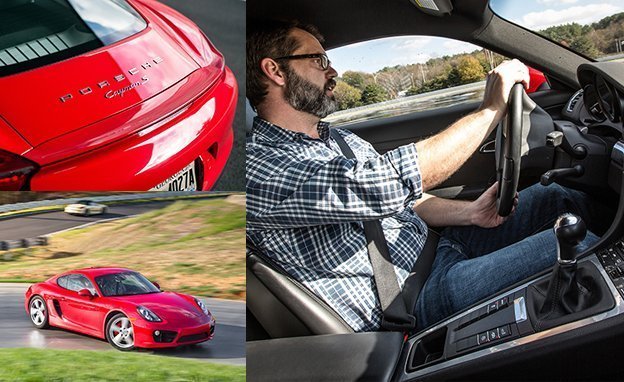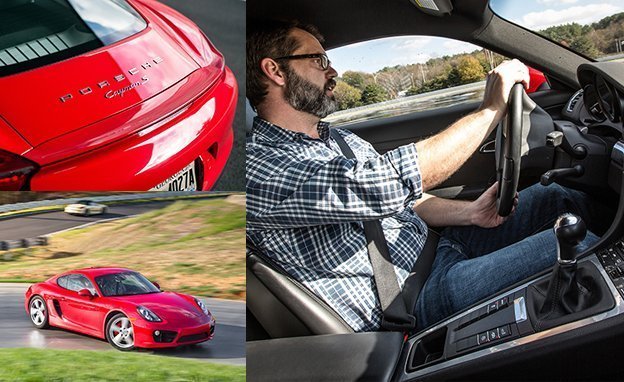 Top left: Spoiler rises at 75 mph. Bottom left: Drifting shots are the best. Everyone knows that. Right: Why is that man's mouth open?
But the world was not done abusing the belly of our little beast. We found a titanium-bladed kitchen knife jammed, somehow, into the underside of our Cayman. The blade was lodged between two panels on the passenger's side and was easily removed. The knife was either craftily inserted by a miscreant or was kicked up from the road in the most improbable way. Neither explanation makes much sense, frankly. But the only lasting damage was to our understanding of physics and/or our faith in humanity.
Otherwise, the Cayman S was a better real-world car than the Stingray with which it shared space in our long-term stable. A brutal, face-blisteringly cold winter presented no particular challenge. The Cayman S started quickly and ran flawlessly. It was even fun to drive in the white stuff while wearing its Michelin Pilot Alpin PA4 winter tires, assuming the snowdrifts weren't too high.
This is not to say there were no problems. We had a vexing engine-oil-level issue. We added Mobil 1 three times in our first 16,000 miles at the behest of the oil-level sensor, which pops up the dire warning: "Oil level below min. Refill oil at once. Do not drive on." It happened at 1881 miles, again at 7643 miles, and again at 15,774 miles. Then, intermittently, we started getting a warning about the oil level being "above maximum." We drained about a quarter of a quart, even though the warning had already gone away. We took it to the dealer who said the oil level was still almost two quarts too high. We weren't sure if the oil-level sensor was schizophrenic or if we were. But after 16,000 miles we had no further warnings and added no more oil. We suspect we'd gotten bum low-oil readings from the sensor and added oil when it wasn't necessary. Most frustrating: This all probably could have been avoided if the Cayman had a dipstick, which it doesn't.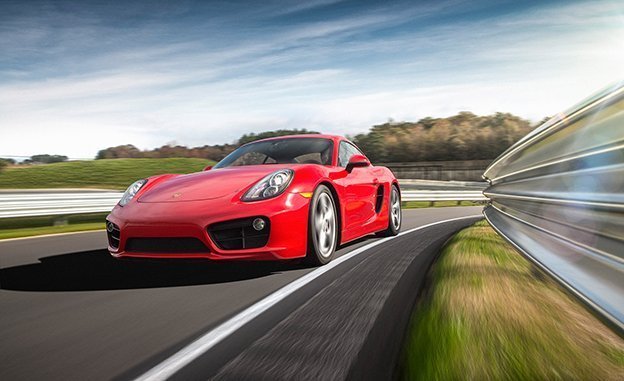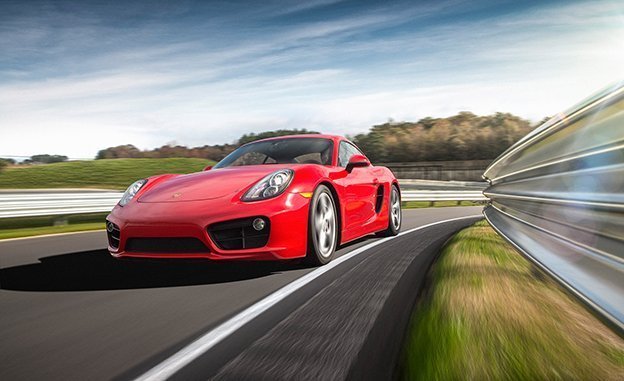 At 17,785 miles, we took it to the dealership to replace, under warranty, a broken washer-fluid line. At 29,637 miles we returned to the dealership to investigate a rattling noise we began to hear coming from the steering column or dash. Turns out the culprit was a left-front-strut upper bearing and support, which the dealer replaced under warranty. By the end of its stay with us, the Cayman's Cayman-shaped remote key fob locked and unlocked doors only intermittently. The dealer replaced it free of charge.
Other repairs included a new windshield to replace the rock-shattered original. That ran us $880. At 34,880 miles, the rear tires were riding on the wear bars and making a helluva racket. Those cost a total of $814 to buy and have mounted.
The only bills that seemed excessively high, though, were those for routine service. Simple oil changes and inspection visits cost us $324 at 10,000 miles (including $188 in labor costs) and $348 at 30,000 miles. At the 20,000-mile service, the dealer did the normal oil change and inspections but also included two engine air filters and a cabin air filter. That cost a staggering $776, $540 of which was the labor charge. The 40,000-mile service, which included an oil change, air-filter changes, cabin-air-filter change plus spark plugs, windshield-wiper inserts, and fresh brake fluid, cost $1646.
On the upside, we paid for nothing else but wear-and-tear items. So, y'know, may­be I could make the monthly nut on a used Guards Red Cayman S. It's just money.
---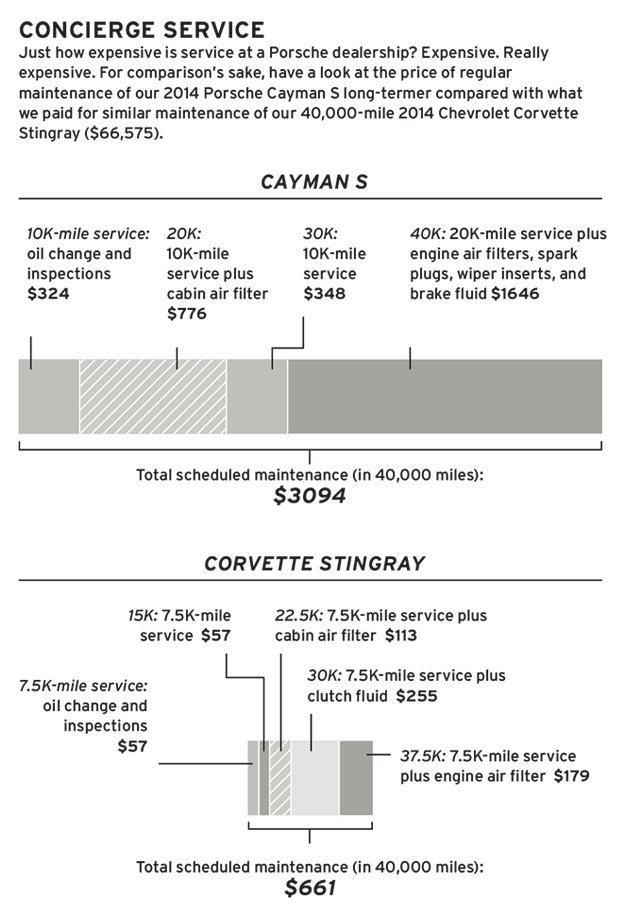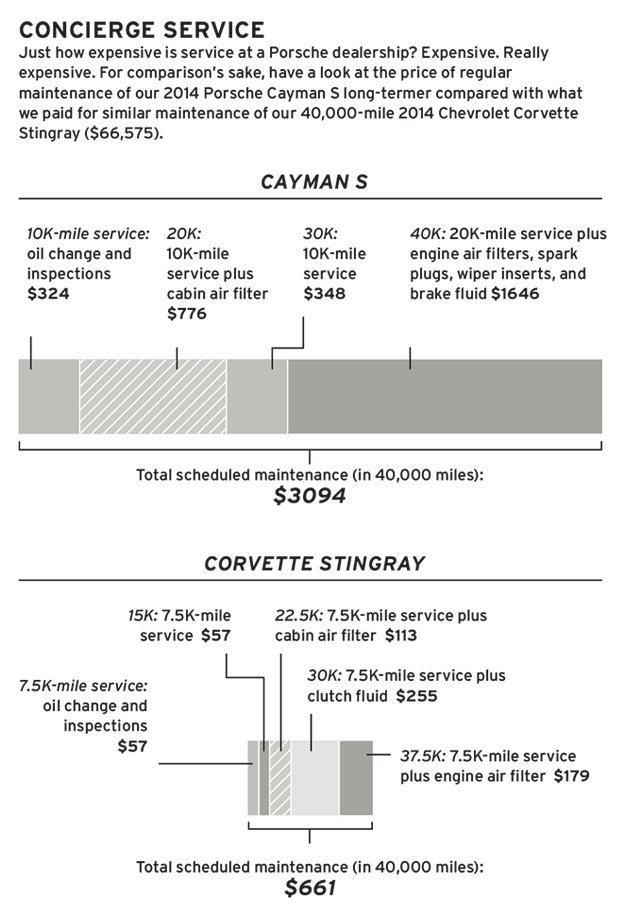 ---
Rants and Raves
Erik Johnson: I need more flat-six noise in my life.
K.C. Colwell: The cup holders are located too far from the roll axis, so a tiny, one-degree disruption results in a coffee volcano.
Jeff Sabatini: The steering wheel is an abomination. The Sport Design wheel was only $250. We should have ordered that.
Eric Tingwall: The suspension is extremely taut, but the damping takes the bite out of every impact.
Don Sherman: Driver's back pain starts after four hours in the saddle.
Alex Stoklosa: The base sound system isn't bad. I had to check twice to make sure it wasn't the sell-your-children Burmester setup.
K.C. Colwell: People may think this is a starter Porsche, but they are asshats. This is the real McCoy.
Jennifer Harrington: I wish it had an actual dipstick for the engine oil.
Carolyn Pavia-Rauchman: Well, that was fun.
Jared Gall: You can fit probably 10 bags of water-softener salt in the frunk.
Rusty Blackwell: The Cayman's engine sound surely plays over the loudspeakers in heaven. At least, my heaven.
Eddie Alterman: Astounding body control and transitional behavior. Nothing else under $100K feels this natural.
Tony Quiroga: Drive it and all its faults are forgiven.