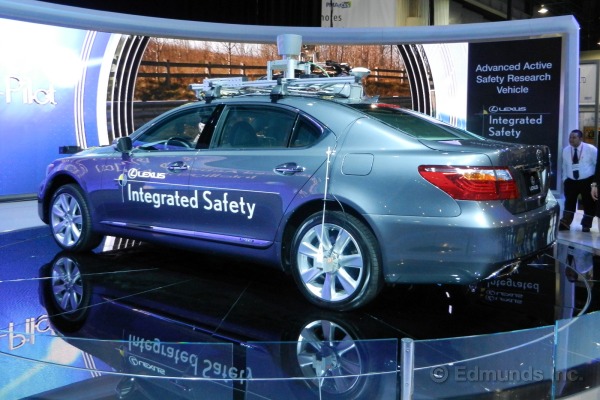 If you thought that self-driving cars were a distant vision of the future, the 2013 Consumer Electronics Show (CES) in Las Vegas proved that many of the pieces are already in place and that these cars may be hitting the road sooner than expected.
CES 2013 also was a showcase for Garmin and Chevrolet's latest developments in natural speech recognition. Delphi and Kia showed off ways that data gathered from a vehicle can be put to use for diagnostics and even help parents keep track of errant teen drivers.
A few trends from last year's CES carried over, confirming their importance to consumers and carmakers. Auto manufacturers and electronics companies are finding more ways to safely bring content and apps from smartphones into vehicles and have them display on the vehicle screens. Many high-tech features such as Wi-Fi hotspots and Google maps were once only features in high-end cars. But now they are making their way to more affordable vehicles, too.
Connected Cars
Chrysler's booth featured a Ram 1500 truck that used a 3G connection to provide a Wi-Fi hotspot: perfect for someone on a construction site who needs to make the finishing touches to a file on his laptop and then e-mail it to the office. The last car we saw with an available Wi-Fi connection was the 2011 Audi A8, which cost nearly twice as much as the Ram.
The UConnect Access package on the Ram also includes the ability to tap into Bing, Microsoft's search engine, for an always up-to-date list of points of interest. A free trial of up to 12 months is included with the vehicle, but beyond that owners will have to pay a monthly subscription fee for the 3G coverage.
If 3G is too slow for your tastes, you might want to consider the upcoming 2014 Audi A3 sedan. The A3 will be the first vehicle to have an available high-speed LTE wireless connection as part of its Audi Connect package. (LTE stands for Long Term Evolution. It's a 4G technology that promises speeds 10 times faster than 3G.) Audi Connect will use this high-speed connection to display Google Earth images and Google Maps Street View in its navigation system. The LTE connection will also be used to provide a Wi-Fi hotspot. As in the Ram, data connection fees in the Audi A3 will apply once the trial subscription ends.
Smartphone Applications, From Phone to Car
More and more, cars are being equipped with in-dash screens that provide a better visual interface than the old dot-matrix readouts. It's now possible to add features beyond a stereo and navigation system.
Nearly every automaker, including those that were not present at the show, is working on a form of smartphone app integration in their vehicles or already has one. The more basic apps allow access to Pandora streaming music, sports scores and weather reports.
In an effort to expand the number of apps for its vehicles, Ford and Chevrolet announced at CES that their software development kits were available for anyone to download. These apps from outside developers must go through a certification process to ensure that they don't interfere with the operation of the vehicle.
As an example of what owners can expect from new apps, Ford showed off one that read aloud selected articles from The Wall Street Journal and USA Today. Additionally, the selection of streaming music apps has expanded to iHeartRadio, Amazon Cloud Player, Aha Radio and more.
Chevrolet showed off its entry-level 2013 Spark hatchback to illustrate an interesting trend. It is partnering with BringGo to offer a $50 smartphone navigation app that, when connected to the car, will display in the dash as if it were a factory-installed system. This is a nice alternative to paying $500-$1,500 for the original equipment system.
There is no doubt that these apps will offer an amazing set of music and entertainment options in new vehicles to come. But there's one thing to remember: While the apps may be free, your phone's data connection isn't. As these apps become more popular, they will begin to chew up more of our data plans and unless you have unlimited data, this could be costly.
For example, if you listened to Pandora for an hour each day on your commute, you would use about 1.76GB of data per month according to PC World. This alone would put you over the limit on a number of smartphone data plans.
Automated Driving
Audi and Lexus showed off their latest developments in self-driving cars. Both automakers stressed that the technology is there to assist drivers rather than be a substitute for them. As Lexus puts it, the goal is to have an "intelligent, always-attentive co-pilot whose skills contribute to safer driving."
These concept cars use a number of existing safety features in addition to the high-tech sensors and cameras mounted atop the roof.
A simulator at Audi's booth demonstrated how one of its vehicles could navigate through stop-and-go city traffic while the driver watched a movie on the infotainment screen. Once traffic cleared and speeds reached higher than 36 mph, the car would pause the movie and prompt the driver to take over the wheel. Similarly, if the driver wanted to take over and change into another lane, all he'd need to do is steer into the next lane and the system would let him take over.
Lexus' advanced active safety research vehicle was not drivable, but the company detailed how the car would communicate with its surroundings. For example, the large sedan, based on the 2013 Lexus LS 600h, is equipped with three high-definition cameras that can scan ahead to detect a red light. If the system detects a light and the driver has not hit the brakes, the driver would receive an alert inside the cabin.
Both concepts are largely seen as intermediate steps before the true self-driving cars arrive. At least one expert, Daimler Research Chief Thomas Weber, predicts that could be as early as 2015. Others say self-driving cars will take another decade to be road-ready.
Natural Speech for Music and Navigation
Drivers often struggle with car voice-recognition systems that have extremely rigid command structures. If you don't give them exact prompts, the systems will not respond. Automakers are working on better approaches.
Chevrolet's upcoming 2014 Impala sedan is smart enough to understand how most people talk. You can tell the Chevy MyLink system that you want to listen to a certain artist and it will search your media for matching content. This is a huge improvement to be able to say, "Play Kanye West," rather than "Audio on, USB/SD Card, Play artist Kanye West." It is also programmed to understand certain accents that befuddled voice-recognition systems in the past.
Garmin's "Real Directions" is an example of a navigation trend that we believe will become increasingly popular. When the system gives you turn-by-turn directions, it will base them on landmarks, not measurements of distance. For example, rather than saying "Turn left in 500 feet," it will instead say "Turn left at the gas station."
Leveraging Data From Your Vehicle
A modern vehicle's computers are capable of monitoring all sorts of important data. CES featured two bits of technology that let you take a peek under the computer's virtual hood.
Vehicle Diagnostics by Delphi is a small plastic device that plugs into the onboard diagnostic (OBD-II) port in any 1996 and newer vehicle. You then download an app onto your smartphone or tablet. Once connected, Delphi's device gives you access to vehicle health reports, the ability to unlock your car remotely and even set geo-fences that alert you once the car goes past a certain mile radius: a feature that's offered as a way to keep tabs on the teen drivers in the family. The data is transmitted wirelessly through the Verizon network, so you'll need to be an active Verizon customer and add the device to your data plan.
The 2014 Kia Sorento will be the first to debut the automaker's new telematics service, called "UVO eServices." The UVO system can give owners vehicle health reports, provide a maintenance history and even schedule a service appointment. If the vehicle needs roadside assistance and the driver makes the call from inside the vehicle, the UVO unit will send GPS coordinates to help a tow truck better locate the car. This information is accessible through the in-dash display or via a free smartphone app.
---
.