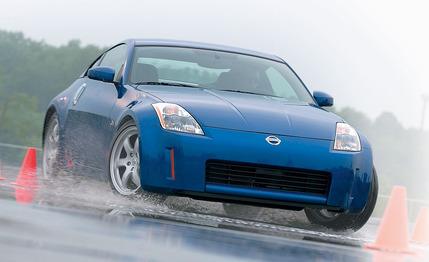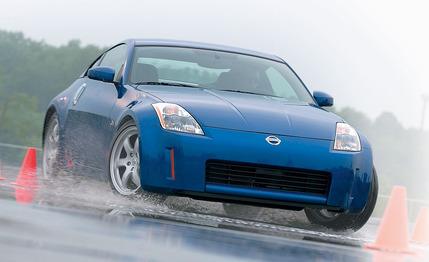 Road Test
All you need to know about this new Nissan 350Z is that when it comes to its price-and-performance quotient, it is a re-creation of the segment-busting Datsun 240Z that set the sports-car world on its ear in 1970.
When that original Z-car appeared, sports-car aficionados basically had two choices. On the one hand, they could spend less than $4000 and choose from an assortment of Fiats, MGs, Opels, Triumphs, and the Porsche 914/4, all of which had about 100 horsepower and not enough performance to keep up with a Chevy Impala that didn't know it was racing. On the other hand, if they wanted serious speed, they had to spend well over $5000 for a Corvette, Jaguar E-type, or Porsche 911. The 240Z, which came with a 150-hp, 2.4-liter in-line six and a price of $3601, neatly split the difference and established a new category all its own.
Fast forward to today. For $21,800 you can get a 142-hp Mazda Miata. For a couple more grand, there's the similarly powerful Toyota MR2. But if you want serious grunt -- over 250 horsepower these days -- in a true sports car, you have to step up to the $42,420 Corvette.
The new Nissan 350Z completely fractures this horsepower hierarchy. With a base price of $26,809, the resurrected Z-car costs barely 10 percent more than a Mister Two, yet it has more than double that little Toyota's power. In fact, the 350Z's total of 287 horsepower is only a few ponies shy of what is offered in a Porsche 911 that costs two and half times as much as the Nissan.
Even the top-of-the-line Track model tested here -- with its front and rear spoilers (eliminating front and rear lift and cutting the drag coefficient from 0.30 to 0.29), Rays Engineering forged-aluminum 18-inch wheels (saving a total of almost 18 pounds of unsprung weight), Brembo brakes, viscous limited-slip differential, aluminum pedals, and raft of nonperformance upgrades -- goes for only $34,619, $7810 more than a base Z.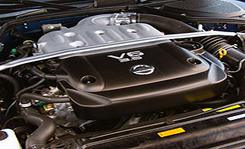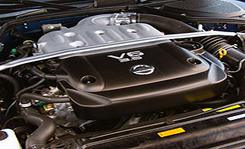 This remarkable bargain is possible because the Z employs mass-produced components from Nissan's parts bins. The Z's V-6, for example, is the ubiquitous 3.5-liter, 24-valve, quad-cam unit that sees duty in everything from the Altima to the Infiniti QX4 sport-utility. For use in the Z-car, Nissan engineers have retuned this engine with slightly hotter camshafts and freer-flowing intake and exhaust systems. The resulting 287 horsepower at 6200 rpm is about 10 percent more than the Infiniti G35 engine musters.
This engine resides in the nose of a version of Nissan's FM platform that was recently introduced in the G35. The designation "FM" stands for "front mid-engine" and means that the engine sits fully behind the center line of the front wheels, providing decent weight distribution. For use with the Z-car, this platform has had about eight inches chopped out of its wheelbase, which at 104.3 inches is still on the long side, about the same as a Corvette's.
As you'd expect from a brand-new design, the FM chassis employs a sophisticated independent suspension with multilink geometry front and rear. Except for the rear diagonal links, all the suspension components, including the rubber-isolated rear subframe, are made of forged aluminum. The FM platform also includes rack-and-pinion steering, anti-lock brakes, and on this Track model, electronic stability control incorporating a welcome "off" switch. Compared with the G35 application of this chassis, the ride height is set lower for the Z, with more negative camber all around.