2005 Pontiac GTO vs. 2005 Ford Mustang GT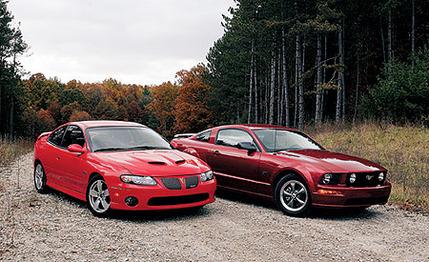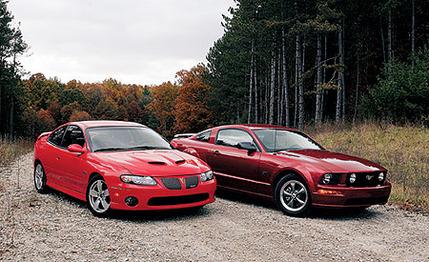 Comparison Tests
The selection process for this comparison began with a mental gathering of four-seat coupes costing from $25,000 to $35,000. Included were the 238-hp Mazda RX-8 and the 298-hp Infiniti G35 coupe, and even a 240-hp Honda Accord V-6 coupe was briefly considered. In the end we decided you had to have a V-8 to play, so we were left with two cars-the Ford Mustang GT and the Pontiac GTO.
The all-new Mustang is about as all-new as you can get these days. Loosely based on the Lincoln LS platform, the Mustang received some much-needed solidity and modernity. Having a solid rear axle is a cost-cutting move that may turn off some car buyers, but with 300 horsepower for $24,995, transgressions can be forgiven. Fresh off a 10Best victory, the Mustang looked like the clear favorite, but we hadn't yet driven the enlivened 2005 GTO.
Sales of the Australian-built GTO amounted to a trickle in 2004, but the Goat's unremarkable skin hides a refined and fast performance car. As in the Mustang, a near-luxury-sedan platform underpins the GTO-it's a massaged version of the Cadillac Catera architecture. This platform's independent suspension remains intact, as does its solid and refined nature, but those advantages come at a cost-its as-tested price is about $5000 higher than the Mustang's.
Many upgrades were lavished on the GTO for 2005. The major change is under the hood, but there are sprinklings of changes throughout. It's a stronger participant, but is the GTO hot enough to take the Mustang?