Motorcycle Repair: Need help identifying Honda ca77
Question
Pic 1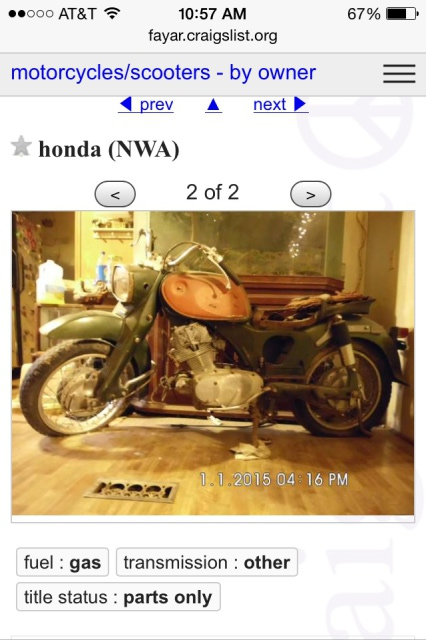 Pic 2
Just bought a honda ca77 off a guy in north Arkansas that was cleaning out his storage unit. I can't figure out what year it is. All the motor says is ca77e 105920. Also, I would like to know if there is any significance in the fact that the frame of the bike is an army greenish color and the tank has the same color green as well as a khaki color. It could have been that someone just pained it that color but it looks like it could have possibly been a military bike. I'm looking to restore it. This will be my first bike to restore
Answer
Jacob, the bike is a 1964 production model. The frame numbers are down on the left side of the frame, near where the footpeg bracket attaches to the frame. The frame number will show CA78-105XX. You can see that the primary color of the bike was red, beneath where the side covers attach. Honda offered Dreams in white, red, blue and black color options. Honda didn't supply green Dreams to the US govt or any other govt that I know of. They did build some specific Police models, made from the CB77 Super Hawk chassis, however.
I offer a comprehensive CD/Download Restoration Guide package, in PDF format. If you print out all the pages, you will need about 2,000 sheets... or 1,000 double-sided! Check my site for details.
Dreams are pretty easy to restore, but the engines can be expensive to rebuild, depending upon the mileage on them and the kind of maintenance and treatment it has had through the years.
Bill Silver
www.vintagehonda.com